The attack that took 12-year-old Hala's life also stole her little sister's voice.
The pair had ventured onto the street near their Syrian home when a blast decapitated the girl as her sibling Leen, 7, watched.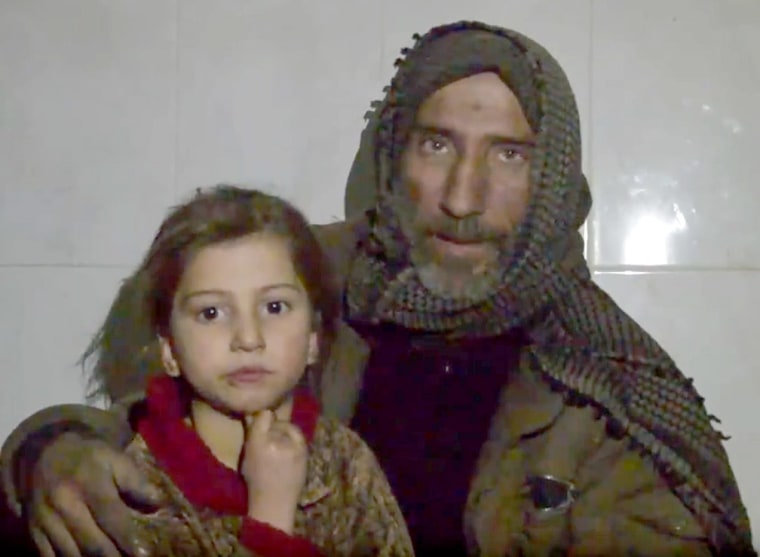 "Before the strike she was talking like a nightingale," their father Mohammed Abu Kassem said, his eyes filling with tears, in video footage obtained by NBC News. But the incident left Leen "traumatized."
"They brought her to me and she couldn't speak," the garbage collector added, a mute and wide-eyed Leen cradled beside him. "She broke my heart even more than when her sister was killed."
Abu Kassem said the rocket attack occurred on Dec. 30. NBC News could not independently confirm the the family's account, but since mid-November forces loyal to President Bashar al-Assad have intensified a siege in the Harasta suburb of Damascus where they live.
The 44-year-old said the onslaught forced him, his four remaining children and wife Raeda al-Omar underground.
Harasta is located in eastern Ghouta, where fighting has caused severe shortages of food, fuel and medicine, and forced much of the rest of the enclave's population underground too.
"What can we do? The bombs, the shells, the rockets and all different kinds of weapons," said Abu Kassem, who moved his family to Harasta from nearby Douma three years ago because of the heavy bombardment there.
In the footage, his children can be seen crouched in the darkness nearby, the camera's dim light illuminating grimy faces, filthy clothes and skinny bodies. They say that they often go to bed hungry.
While the area has been under Syrian army siege since 2013, in mid-November fighting intensified as government forces pushed into eastern Ghouta — home to some 400,000 people, according to the Associated Press.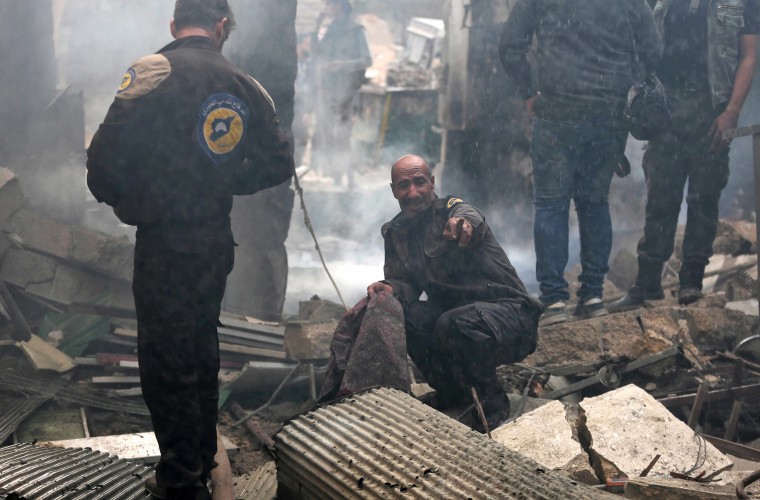 With the support of Iran and Russia, Assad has consolidated his control over some key parts of the country but has not been able to dislodge some rebels from the area close to the capital. So while Damascus is relatively secure, rebel rockets and mortars periodically shatter the sense of normalcy there.
The director of the Harasta local council, Hussam Beiruty, said 3,000 families were trapped in Harasta, among them 3,500 children. He said the bombing lasts up to eight hours a day, but it isn't shelling desperate residents are most afraid of.
"People aren't afraid of being injured or getting killed," he told NBC News via WhatsApp from the local council's underground office. "All they fear about is not having enough food for the next hours."
With the intensifying onslaught, residents say they now rarely venture outdoors.
"I wish my children could go out and breathe some fresh air," Abu Kassem said. "I hate myself — I wish I could die."