Nikki Haley, U.S. ambassador to the United Nations, ripped into Russia during a U.N. Security Council meeting Wednesday for what she deemed an inept response to a suspected gas attack in Syria.
As Russian and Syrian officials looked on, Haley accused Moscow of being complicit by choosing to "close their eyes to this barbarity." She launched into a harsh rebuke by holding up photos of victims of Tuesday's slaughter, in which activists say about 100 people, including 25 children, were killed and another 400 were injured.
Related: Trump: Syrian Chemical Attack an 'Affront to Humanity'
"How many more children have to die before Russia cares?" Haley asked. "The U.S. sees yesterday's attack as a disgrace at the highest level — an assurance that humanity means nothing to the Syrian government."
Images and videos from Syria's Idlib province appear to show victims convulsing, others lifeless after a gruesome attack in a rebel-held area — the latest atrocity to afflict Syria since its civil war began six years ago between the government of President Bashar al-Assad and rebel fighters.
Russia, which remains a key ally of Assad, said it believes a Syrian government airstrike smashed a rebel workshop in the town of Khan Sheikhoun, and that caused a cache of chemical weapons to leak.
A local activist who recorded the incident on video said it appeared two planes were involved in the strike — Syrian and Russian.
Related: U.S. Officials: Syria Gas Attack Consistent With Nerve Agent
A doctor volunteering in a hospital outside of the ravaged town told NBC News the victims appeared to have been exposed to a nerve gas.
U.S. officials also confirmed the chemical weapon used was a nerve agent, quite possibly sarin — the same agent that killed hundreds of civilians in a Damascus suburb in 2013.
Haley said the attack "bares all of the hallmarks of Assad's use of chemical attacks," and pinned the blame directly on the Syrian government.
"We know that yesterday's attack was a new low even from the barbaric Assad regime," she added.
NBC News has not independently verified the various claims of responsibility.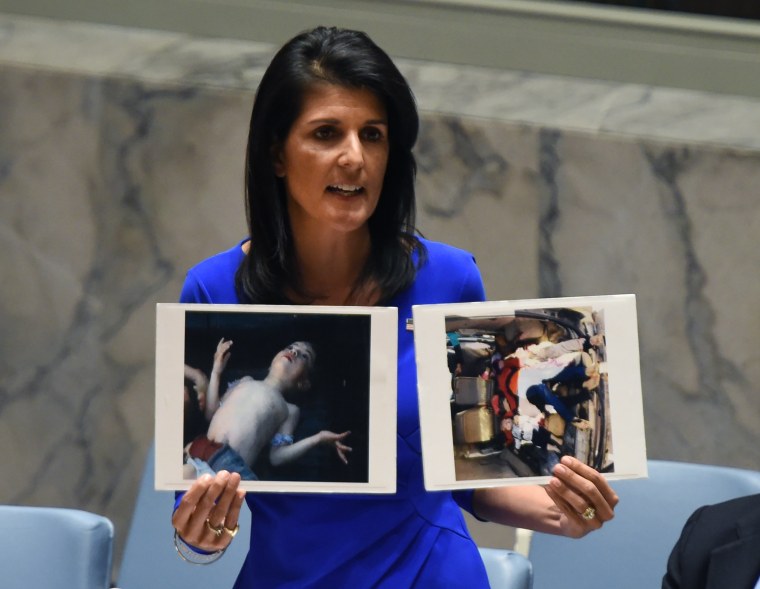 Haley's strong rebuke of Russia came as President Donald Trump offered his first spoken comments on the apparent gas attack Wednesday, telling reporters it was "horrible, horrible what happened" and "is a terrible affront to humanity."
When asked if there would be a new direction in how the White House deals with Syria, he said vaguely: "You will see."
Meanwhile, the U.S., the U.K. and France have drawn up a draft U.N. Security Council statement condemning the attack and demanding an investigation. Russia has the power to veto it, as it has done to block all previous resolutions that would harm Assad.
Related: Trump Pins Blame for Syrian Attack on Obama Administration
Russia's Foreign Ministry spokesperson Maria Zakharova said the proposal is "unacceptable" and based on "fake information," Reuters reported, citing the Interfax news agency.
Kremlin spokesperson Dmitry Peskov told reporters that Russia won't back down from aiding Assad against "counter-terrorist operations."
Haley accused Russia of itself employing a "false narrative" and merely shielding Syria and allowing Iran to prop up Assad's military. She issued what appeared to be a threat of unilateral action if the Security Council cannot not agree on how to handle the conflict.
"When the United Nations consistently fails in its duty to act collectively, there are times in the life of states that we are compelled to take our own action," Haley said, without elaborating.