REYHANLI, Turkey: Five brothers and sisters climb onto bunk beds squealing with laughter—it's the first time they've ever been on a bed.
But their joy has a bitter undercurrent: these children are so poor that they've been begging on the street in this town on the Syrian border, and their desperate mother has placed them in an orphanage to help them survive.
They are among the 36 children between 2 years-old and 10 living at the Beyti Orphanage (Beyti, means "my home" in Arabic). The new facility, which provides children with clean clothes, hot food, a bed, and a safe place to play, opened in September.
"To them it's like an amusement park," says Mayada Abdi, who runs the orphanage. "They want to play, they want to discover the place. We will give them some time, then we will teach them this is a place to sleep."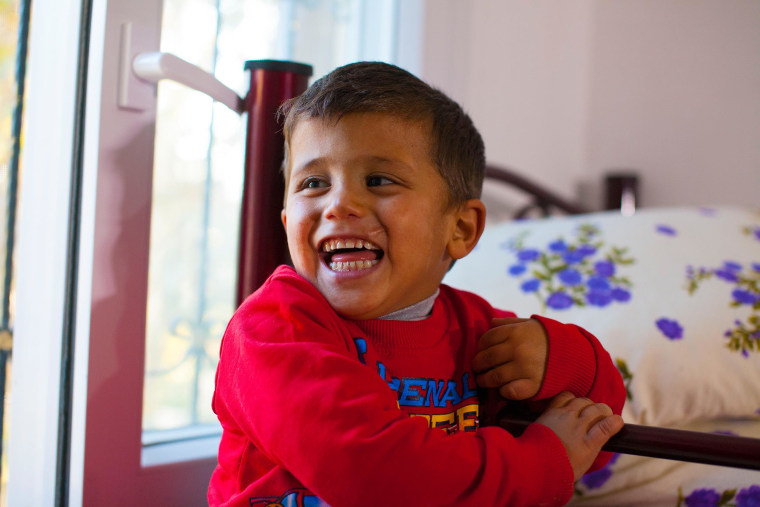 The kids – four boys and a girl who have three other siblings, still with their mother– were not in good shape when they arrived at the orphanage. They had been in "filthy living conditions.," Abdi says. The siblings – the youngest of whom, Murad, is just two years-old -- were bathed for the first time in months and given fresh clothes.
'They were living on the street in every sense of the word," says Abdi. "Begging, stealing, criminal acts."
The family fled their village in Hama a year ago after their father died fighting with rebels against government forces in Syria.
"My father was shot and killed by sniper fire," says the eldest, 8 year-old Obada, "The army started firing at our village -- they were shooting everywhere. One side was the Free Syrian Army and the other side was Assad's army. So we escaped."
But that escape only led to abject poverty and chaos. Murad's lip is scared where Obada says his sister, seven year-old Amina, hit him while playing with a stick on fire. Another brother, three year-old Mustapha, has a terrible scar on his leg where he was burned by a pot his mother left unattended.
"She was boiling water," says Obada. "He came and grabbed the pot and it fell on him."
After so much neglect, Abdi says she will have to teach the children – who will visit their mother and other siblings once a week while staying at the orphanage – just about everything.
"They have to learn by comparing themselves to the other children. How to eat, how to sleep, they will learn from their new friends."
To learn more or to help, visit maramfoundation.org.