It was the first day of classes at a school in Turkey for children driven out of Syria by the civil war there. A little girl named Najua was waiting for the bus at 6 a.m., eager to get started.
"I want to learn everything," she said.
That was June. The excitement did not last. Najua's mother must work, at $10 a day, to afford the family's one-room garage, which costs $140 a month. Her father is back from fighting in the war, but he is so psychologically scarred that he cannot work.
Her grandparents used to live next door, but Turkey is too expensive for them, and they returned to their war-torn Syrian village two weeks ago. So Najua dropped out of school after five months. Today she is responsible for looking after her three younger siblings. She is 9 years old.
She holds her baby sister, Amal, while the others play in the dirt.
"I want to go to school. I had a lot of fun," Najua says. "I learned to read. I never knew how to before. I played with my friends. We used to go on the swing and the slide."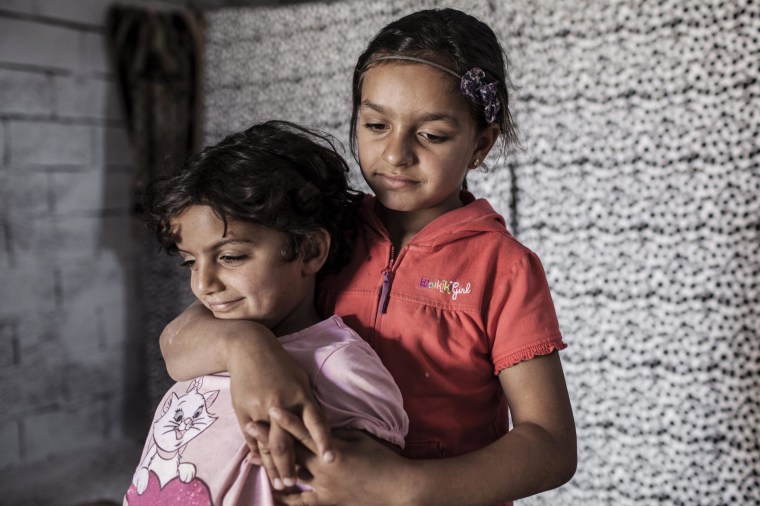 It is the second time that the war, one way or another, has cost Najua an education. This time was because of poverty. The first was direct violence: Back in Syria, her school was bombed, injuring her and killing her favorite teacher. She had been in class one week.
Najua's mother, Um Ahmed, told NBC News that her daughter was making great progress in class. She had never known how to hold a pen, but then she learned to write.
Najua herself talks about the classes she used to take — Arabic, English, math. "I don't read very well," she says. In nine years, she has spent a total of less than six months in school.
It has been a year and a half since the family fled Syria and came to Turkey. It may be a long time before they can go back. In the meantime they must wrestle with the war's impossible choices.
Um Ahmed needs milk and diapers for the baby, and there is no one else to support the family. She has to work. And they still couldn't afford to eat last night. School can provide an education, but it cannot feed a family.
"If I didn't work, my children would not live," she says. "I have four young children that need to live. I know it's tough, but what can I do?"