They know what it's like to run for their lives.
And so, when highways out of Fort McMurray began clogging with terrified residents desperate to flee the blazes devouring their oil-rich corner of Alberta, the Syrian refugees who now call Canada home immediately stepped up to help.
They posted a plea for donations on the Syrian Refugees Support Group Calgary's Facebook page for badly needed diapers, toiletries, blankets and clothing. They urged each refugee to donate at least $5 apiece — if they could spare it.
"Canadians have provided us with everything and now we have a duty we must do," group member Naser Nader wrote in Arabic. "Must help the people who lost their homes and everything in a fire (in) Oil City … Get ready, it's time to fulfill."
The Syrian expats quickly responded, with some even offering to give back the donated pieces of furniture they'd been given when they first arrived in Calgary.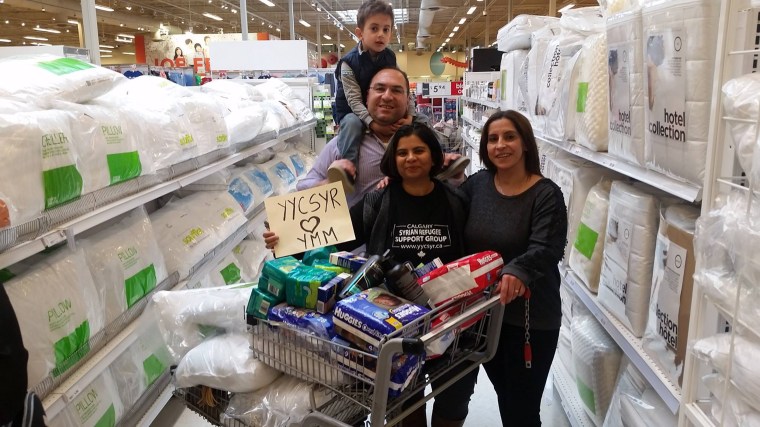 Group co-founder Saima Jamal said the Syrians were moved to act because they too lost everything.
"These people who have so little, have just arrived in Canada four (or) five months ago, are ready to give everything back," Jamal told NBC News.
So far the Syrians have been able to collect six large hampers full of basic necessities for the fire refugees.
"They are actually like you and me," Jamal said of the Syrians. "When they see a person in need, even when they have so little to give back they are ready to give back. It just exposes the real humanity of these people."
Rita Khanchet Kallas, a former Damascus resident who arrived in Calgary just five months ago with her husband and son, told the Calgary Herald they are "very thankful to the Canadian people" and want to show their gratitude by helping out now.
"We understand what they're feeling," she said. "When you lose everything, you have to start from zero. You lose your memories, your items. It's not easy. It's something very sad. We can totally understand their feeling."
The fires, which erupted Sunday, have forced some 88,000 people to flee Fort McMurray and many of them have been heading south to Calgary, the biggest city in the province.
Unlike most of Europe, the Canadian government has welcomed with open arms Syrians fleeing the civil war that has wrecked their ancient homeland.
Canada has pledged to take in 25,000 Syrian refugees. And some 30 or so Syrian families now live in Calgary.