President Donald Trump called the suspected chemical attack in Syria "an affront to humanity" that crossed "a lot of lines" during a press conference Wednesday, but declined to say if the U.S. would respond.
The president said the attack in the rebel-held town in Syria that killed about 100 people "cannot be tolerated" but would not publicly comment on any actions he may authorize against Syrian President Bashar al-Assad.
Trump continued to blame President Barack Obama for the attack, saying his predecessor's failure to respond to a similar attack in 2013 opened the door for future strikes.
"I think the Obama administration had a great opportunity to solve this crisis a long time ago when he said the red line in the sand," Trump said. "And when he didn't cross that line after making the threat, I think that set us back a long way, not only in Syria but in many parts of the world."
Obama mulled and ultimately decided not to take military action against Assad in 2013 after he was suspected of using chemical weapons against his own people.
Russia's support of the Assad regime, the rise of extremist groups like ISIS, and a lack of support among members of Congress and the public for additional military action have further complicated matters.
Trump at the time urged Obama against striking, tweeting "Do NOT attack Syria,fix U.S.A." Throughout his 2016 campaign, Trump cautioned against intervening and instead let the conflict continue without becoming involved.
Trump on Wednesday did acknowledge he has "responsibility" now that he is in the Oval Office, and said the attack on children had a "big impact" on him.
"Yesterday's chemical attack, a chemical attack so horrific in Syria against innocent people including women, small children, and even beautiful little babies, their deaths was an affront to humanity. These heinous actions by the Assad regime cannot be tolerated," Trump said.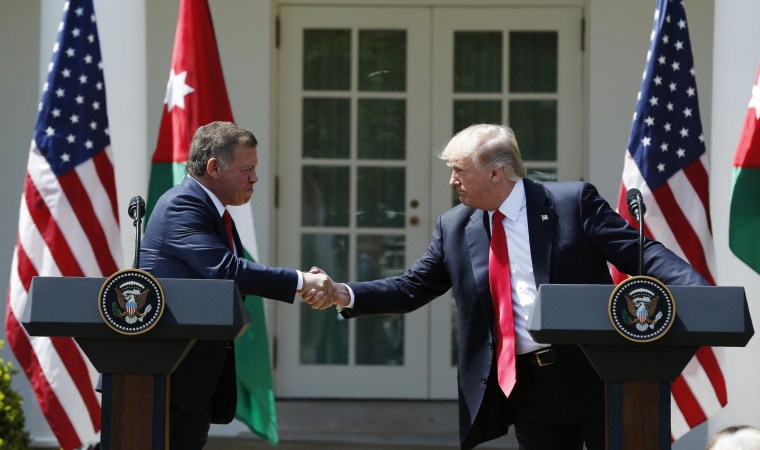 "My attitude toward Syria and Assad has changed very much," he added.
Both Trump and King Abdullah II of Jordan condemned the attack. Abdullah called it a failure of the international community to not more strongly intervene in the ongoing conflict.
"This is another testament to the failure of the international diplomacy to find the solutions to this crisis that I believe under your leadership we will be able unravel this very complicated situation," Abdullah said, adding that it had become a "proxy war."
U.S. officials have ratcheted up the pressure on Russia, a key supporter of Assad, following the attack.
"Just a few weeks ago, this council attempted to hold Assad accountable for suffocating his own people to death with toxic chemicals. Russia stood in the way of this accountability. They made an unconscionable choice," U.S Ambassador to the U.N. Nikki Haley said in a speech to the U.N. Security Council earlier in the day.
"Russia cannot escape responsibility for this," she added.
A Russian official on Wednesday blamed the gas attack on a leak from chemical weapons belonging to the Syrian rebels.
Abdullah and Trump also expressed their unity in taking on ISIS, with Trump saying it will be "a shorter fight" than many expect before the terror group is destroyed. They also expressed optimism in the prospects of striking a peace agreement between Israel and Palestine.
During the joint press conference, the Jordanian leader echoed Trump's talk of sharing global responsibilities amongst U.S. allies and relieving America of some of its obligations overseas.
"The role of the U.S. is key to all the issues that we have around the world. But it's not just the fact that we should expect the United States to do all the heavy lifting. The heavy lifting has to be done by all of us in the international community," Abdullah said.
"Working together, the United States and Jordan can help bring peace and stability to the Middle East and, in fact, the entire world," Trump said. "And, in fact, we will do that."