As she struggled to push a disabled dinghy overloaded with refugees through frigid waters off the Turkish coast last summer, Yusra Mardini looked up at a frightened 6-year-boy and flashed him a goofy smile.
Mardini, 18, didn't want him to see that she, too, was scared to die.
A competitive swimmer for most of her childhood in Syria, Mardini thought how cruel it would be to perish in the water. Her country's civil war had left her family homeless, and she and her sister were among 20 people in the boat — and millions overall — trying to reach Europe. Their gateway, the Greek island of Lesbos, was invisible in the dark. When the boat's motor stopped, the sisters, realizing that they were among only three or four passengers who knew how to swim, jumped in.
There was no time to be afraid. "I will die anyway," Mardini remembers telling herself. "I had to try."
It took three hours to push the boat to shore. Mardini and her sister, along with a family friend, continued from Greece to Macedonia, then through Serbia, Hungary, Austria and finally into Germany — a 25-day trek that ended in September 2015 in a Berlin refugee camp where they reunited with their father and found a local swimming club to take them in.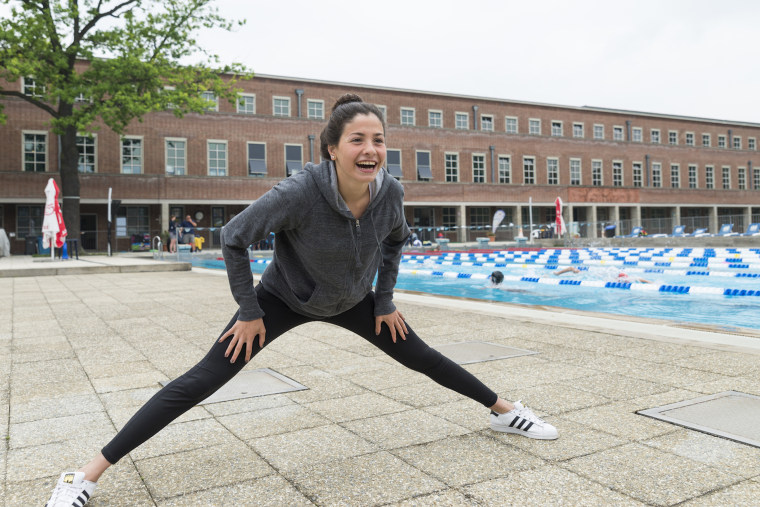 By force of will and the help of strangers, she will soon swim in the Rio Olympics.
Instead of representing Syria, she is one of 10 athletes — winnowed from a pool of 43 candidates — on the Refugee Olympic Team, made up of men and women who've been forced from their homelands by war or persecution and brought together by the International Olympic Committee. The point is to give them a chance to compete while also raising awareness about the worst refugee crisis since World War II.
"By welcoming the team of refugee Olympic athletes to Rio 2016, we want to send a message of hope for all refugees of the world," Thomas Bach, the German head of the IOC, said earlier this year.
Mardini and the others, including a second Syrian swimmer, Rami Anis, will march in the opening ceremonies under the Olympic flag, to the Olympic anthem, and will live in the Olympic village among the thousands of other athletes.
Her first event will be the 100-meter butterfly on Saturday, Aug. 6.
Related: 'Symbol of Hope': First Ever Olympic Refugee Team to Compete in Rio
All of this has unfolded much faster than Mardini and her German coach, Sven Spannekrebs, expected. When they first met, there was no talk about the Olympics, just working on getting her back to form after a two-year break from training. Then, as she improved, they agreed to focus on trying to reach the 2020 Olympics in Tokyo. Then they heard about the IOC's 2016 initiative, and Mardini made the cut.
Spannekrebs acknowledges that Mardini is not in top form, but said he has been consistently surprised with her focus, determination and gains. "She's really amazing as an athlete — not just as a person, too," he said.
Mardini does not appear burdened by her role; rather, she seems to embrace it. Her quiet charm and breezy public demeanor — along with the ability to toggle between Arabic and English — makes her an easily relatable symbol of the crisis. She maintains her disarming smile, and manages to find humor in her journey.
Asked recently about being stopped by border police in Hungary, she said she and her sister burst out laughing as the guards questioned her. She recalled thinking, "We were, like, gonna die in the sea and now we're going to be afraid of you?"
The memories dissolve in the racing lanes.
"All of us in the water, you will forget who you are, what you did in your life, and which country you are from," she said. "You are a swimmer, and whoever is next to you is a swimmer, too, even if it is a world champion."
In that sense, she says, she's like any other competitive athlete.
But, of course, she's not.
She dreams of a medal, but she also wants to make all refugees proud of her.
"All of them have dreams like I do," she said.
"I hope I can do something really good for them, so I can give the people hope and inspire them that you can't stop, even if you lose someone, even if it's war, even if you lose your house, you have to continue."