KAKUMA, Kenya — From the flames of war in southern Sudan, five young runners who survived violence, displacement and the confines of a refugee camp are preparing to make history at the Rio Games.
The three men and two women make up half of the first refugee Olympic team. They never imagined they would ever make it this far.
The first time Anjelina Nadai Lohalith heard about the Olympics was when she found out she made the team.
"What is a Rio?" she recalled asking. "We didn't know whether it is a country or a name of a person. We didn't know. It was just like a dream."
Now it's a reality.
Born in an area that is now part of South Sudan, Lohalith's passion for the sport began when, as a girl, she would run into the fields to collect milk from her family's cows. She says she loved hearing the sound of her feet beating down as she ran.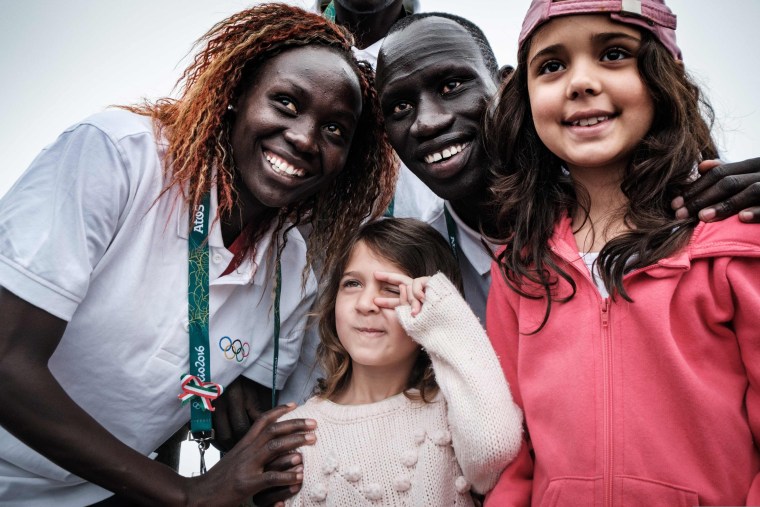 Those happy moments came to an end when the country's bloody civil war swept into her home village.
"Everything was burned," she said, remembering how soldiers from a rival tribe torched the houses and laid landmines in the surrounding area. In 2002, she escaped with a relative to the safety of Kakuma.
But in this sprawling camp among tens of thousands of other refugees, life was lonely for Lohalith. She was homesick for her parents who she left in southern Sudan.
So she focused on her education, never thinking that a passion for running would ever lead her anywhere.
Then the unexpected: A group organized by Kenyan long-distance runner Tegla Loroupe, an Olympian herself, came to Kakuma to recruit runners for a refugee team to train in Nairobi.
Related: Complete Coverage of Team Refugees
Lohalith made the cut, running the fastest time in the 15-kilometer (9.3 miles) trial.
Now when she runs, she knows its not just for herself, but as an example to other refugee women. She explained that she channels the frustrations and worries of a refugee woman into a drive to succeed.
"I remember my family background and some of the girls that are just helpless," she said. "That is why I fight for it."
She will run in the women's 1,500 meters in Rio, an opportunity she hopes will open more doors for her.
Her teammates have overcome similar hardships.
Like Lohalith, Yiech Pur Biel fled his childhood home becoming part of a generation of refugees known as the "Lost Boys" — children who escaped the civil war that preceded the independence of South Sudan.
In 2005, Sudanese helicopters from the government-controlled north attacked southern rebel positions near his home in the town of Nasir.
"I have a mission to tell the world we refugees are human beings like other people"
At just 10 years old, Biel fled into the wilderness with his mother and younger siblings, surviving on wild fruit and eating leaves off trees.
"Sometimes there is insecurity, there's no food, there's no shelter," he said. "These things [are] common in life as a refugee."
Related: The Story of Refugee Olympic Team
The U.N. rescued Biel and took him to live with relatives at Kakuma refugee camp, while his mother and the rest of his family went to Ethiopia. He has not seen them since.
Knowing he shares these hardships with refugees around the world, Biel proudly sees himself as a refugee ambassador.
"I have a mission to tell the world we refugees are human beings like other people," he said. "And if you give us a chance to participate in anything we can prove that to be called a refugee is only a name."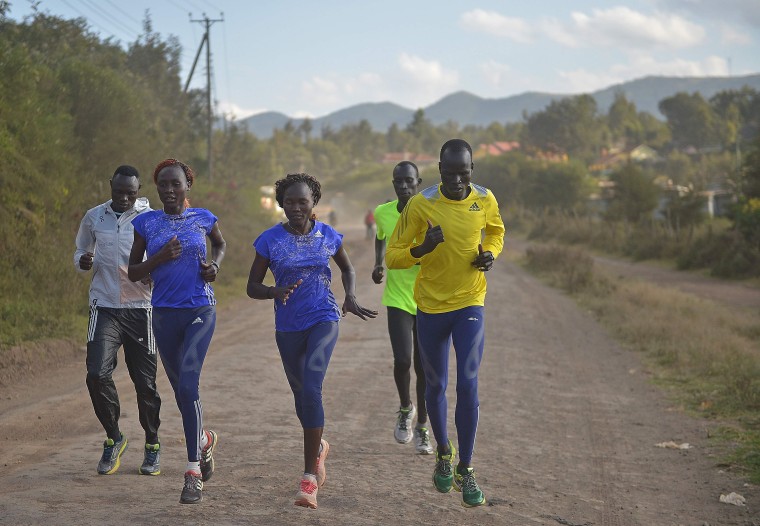 On August 12, Biel will make his Olympic debut in the 800-meter race.
The U.N. and the U.S.-funded charity group FilmAid are looking for ways to broadcast the Games at the Kakuma camp so refugees can watch their team compete.
In the camp, a heat-baked expanse of mud-walled houses home to 192,000 refugees, sports are a release from the boredom and the constraints of refugee life.
But running is not the sport of choice there. In Kakauma, soccer is king.
Every day, after school lets out and the first breeze blows in, kids and adults form teams on the dirt playing fields and play soccer. Some games are organized while others appear chaotic.
This is where the kids who would grow up to win a place on the refugee team learned to compete — kicking up dust and celebrating goals until the last of the evening light.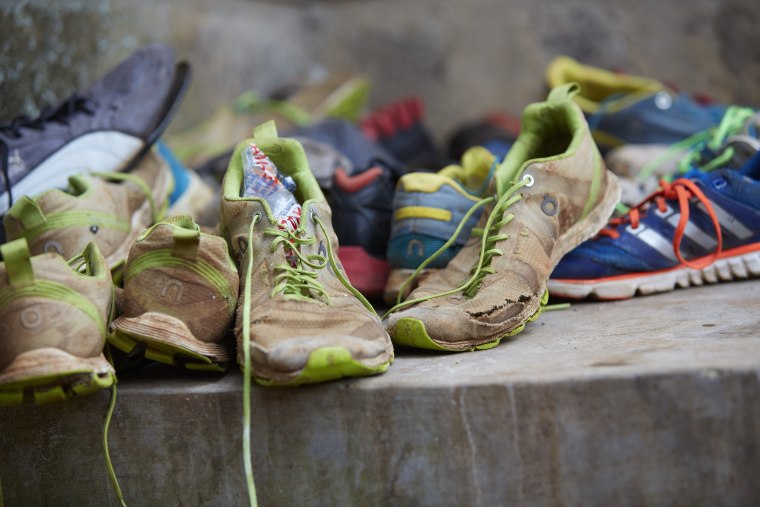 Robin Masinde Lyambile, a U.N. community outreach officer at the camp, said that before this year, few refugees at the camp really knew about the Olympics.
"Initially, it was a vague concept," he said.
But now that five refugees from the very same camp will be competing, it's suddenly very personal.
"Because I'll be looking for somebody I know I've worked with," Lyambile said. "And I think it's the same and even bigger for the refugees."
The Olympics may bring some hope and recognition for Kakuma's refugees, but it comes at a difficult time.
South Sudan is again caught in another cycle of violence, as a peace deal reached between rival political factions has imploded. Recent fighting around the capital, Juba, has sent thousands fleeing for the borders. Kakuma is preparing for a new influx of refugees.
"According to me, there is no difference. It is just the same war," said James Nyang Chiengjiek, another member of Team Refugees, comparing today's conflict to the civil war he fled years ago.
Another "Lost Boy," Chiengjiek fled southern Sudan in 2002, a few years after his father, a soldier, was killed in fighting.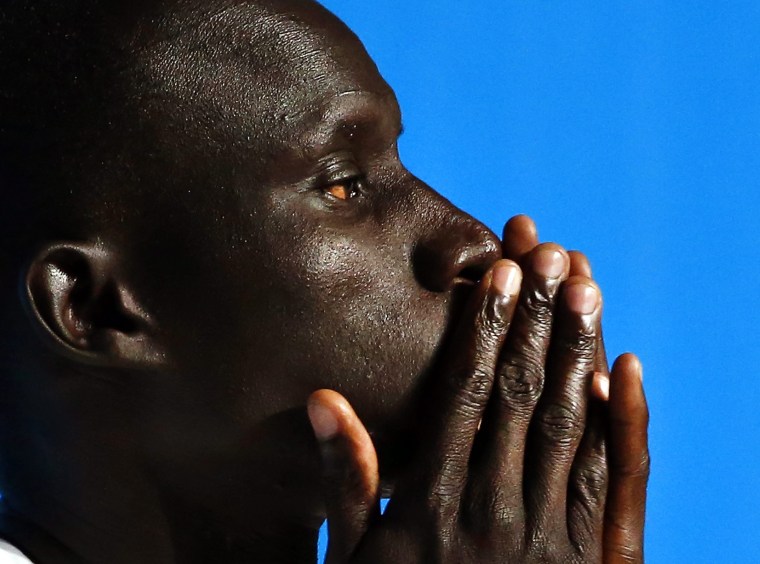 Just 13 at the time, he was afraid he would be forced to become a soldier, too.
"As long as you can carry a gun, [the army] can take you," he says.
As his old homeland descends into violence once again, Chiengjiek knows that his race in Rio is about more than just putting on his track shoes and running 400 meters.
He knows the odds are against him.
And while he hopes for a better future for himself, his fellow refugees, and his countrymen after Rio, he also knows that just by competing, he's made history.
"The most important thing, according to me, is not to go and win golds," Chiengjiek says. "The most important thing is to spread the peace."