SUTHERLAND SPRINGS, Texas — The words had been spoken before in Newtown and Columbine and Aurora and now in a place called Sutherland Springs.
And the essence was this: We thought our town was too small, too peace abiding, even too faithful, to suffer violence like this.
But the few hundred residents of this south-central Texas community were delivered a terrible lesson Sunday after a gunman stormed into a church and shot dead 26 people, including at least 12 children — no place is beyond the reach of a disturbed person with bad intentions.
"'Holy Mary, Mother of God, you got to bless all these people that need our help right now,'" Gail Carlisle recalled declaring, on hearing the terrible news Sunday.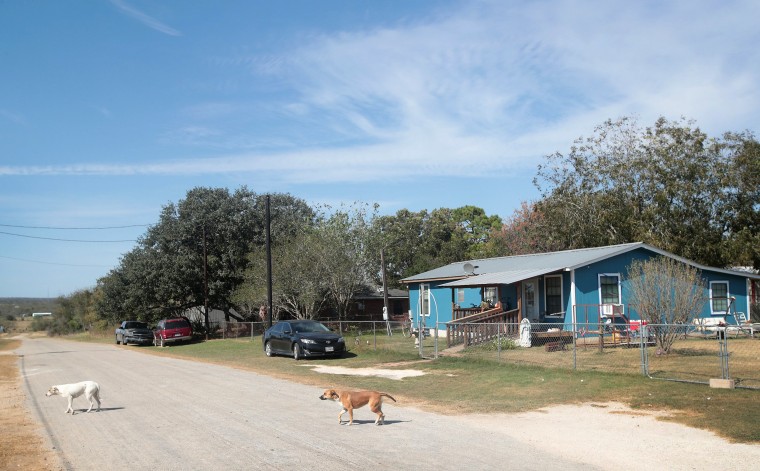 Carlisle said she had been at her own church, St. Jerome in nearby China Grove, when she learned the unthinkable. She said she was leaning heavily on her faith to get by.
Gallery: Two Dozen Parishioners Killed in Texas Church Shooting
Sutherland Springs hadn't previously given people much reason to pay it any attention. About 21 miles east of downtown San Antonio, locals said it was once prime cotton land and is still dotted with farms and oaks, sprinkled between low-slung ranch homes and trailers.
Less than 400 people lived here at the time of a recent census, in a community still small enough that it never incorporated into a town or city.
On Monday, like the scene of the Connecticut preschool shooting of 2012 and the mass Colorado shootings of 1999 and 2012, Sutherland Springs found itself the sudden home of an armada of television satellite trucks and a small army of reporters.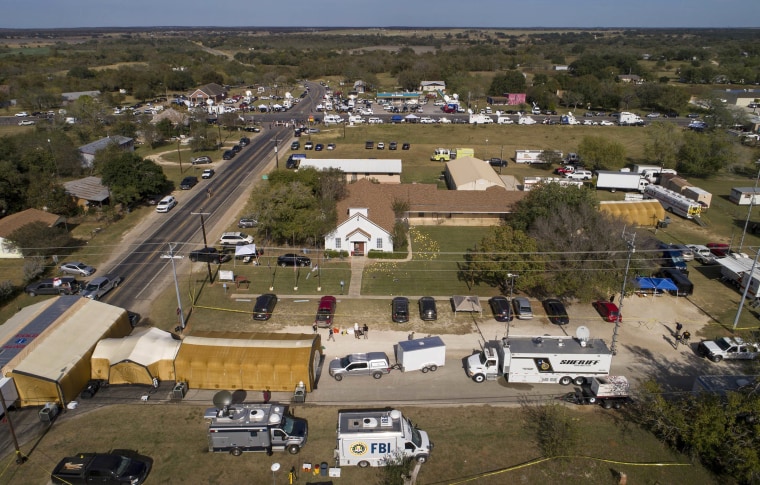 Jose Anguiano moved here from Austin six months ago to live in semi-retirement after a career in construction and to enjoy a slower pace. He's just a couple of doors down from the Valero gas station where gunman 26-year-old Air Force reject Devin Kelley stopped before heading to the church.
"We started hearing the noise and my daughter says, 'Are those shots,' " Anguiano said. "We opened the door and started looking that way and we could hear the 'pow, pow, pow, pow.' It would hesitate for a little while and then it started again."
When he moved to the fly speck of a town with his family "we just wanted nice and quiet," Anguiano said. Despite the shock of Sunday, he said he would not consider moving. "You just got to take it," he said. "What are you going to do?"
Related: Air Force Failed to Report Texas Church Gunman's Domestic Violence Convictions
Mike Roberson, 46, had been at another Baptist church, in nearby New Braunfels when the shooting broke out in Sutherland Springs. He carried a cut fuchsia rose in his hands Monday, saying he wanted to pay his respects.
"My daughter she had a cheerleader competition and she won this rose," Roberson said, "and I felt it would be better use over here."
The killings wouldn't weaken his faith or drive him out of church, Roberson said. "There's nothing that's going to make me think any different. I'm going to keep on keeping on," he said.
He seemed of a like mind with Carlisle. Once the media attention diminishes and the investigation is complete, Carlisle said the town will do what it usually does: "We'll just start to help the families who need it," she said.
Mike Gonzales, who was helping to stage a memorial Monday night, said he retired in Sutherland Springs to "get away from the war zone, to get away from the issues of the big city." Now he realized that was not possible.
"It followed us here," Gonzales said. "Count your blessings" he said, but also "never let your guard down, especially now in America."
Suzanne Gamboa reported from Sutherland Springs, Texas, James Rainey reported from Los Angeles, California.