Gun control advocates slammed President Donald Trump on Monday as a hypocrite for having signed a bill earlier this year that rolled back a regulation making it harder for people with mental illnesses to buy firearms even as he blamed the mass shooting in Texas over the weekend on "a mental health problem."
"Trump is wrong — study after study show that stronger gun laws can save lives — and a hypocrite of the worst kind," Peter Ambler, the executive director of Giffords, the gun control group started by former Rep. Gabrielle Giffords, told NBC News. "One of his first actions as president trashed a new regulation that would have prevented potentially irresponsible and mentally incompetent people from being able to buy guns."
Ambler added, "Blaming mental health is a tactic straight out of the gun lobby's playbook that's meant to paralyze Congress. Donald Trump's goal is to make people think our leaders don't have the power to prevent gun violence."
Sen. Richard Blumenthal, D-Conn., echoed those remarks, telling NBC News, "Any link between mental health and gun violence in a particular situation cannot be used as an excuse for inaction on common sense gun violence measures."
"It is the height of hypocrisy for President Trump — who called the latest tragic mass shooting 'a mental health problem at the highest level' — to have rolled back a rule specifically designed to prevent some gun violence deaths," Blumenthal added in a statement.
In February, just weeks into his presidency, Trump signed a bill eliminating an Obama-era regulation that made it harder for people with mental illnesses to purchase a gun.
Related: Trump Signs Bill Revoking Obama-Era Gun Checks for People With Mental Illnesses
The rule, which had been finalized in December 2016, added people receiving Social Security checks for mental illnesses and people deemed unfit to handle their own financial affairs to the national background gun-check database. Had the rule fully taken effect, the Obama administration predicted it would have added about 75,000 names to the database.
The National Rifle Association applauded Trump for signing the bill. Chris Cox, the group's chief lobbyist, said at the time that it marked "a new era for law-abiding gun owners, as we now have a president who respects and supports our arms."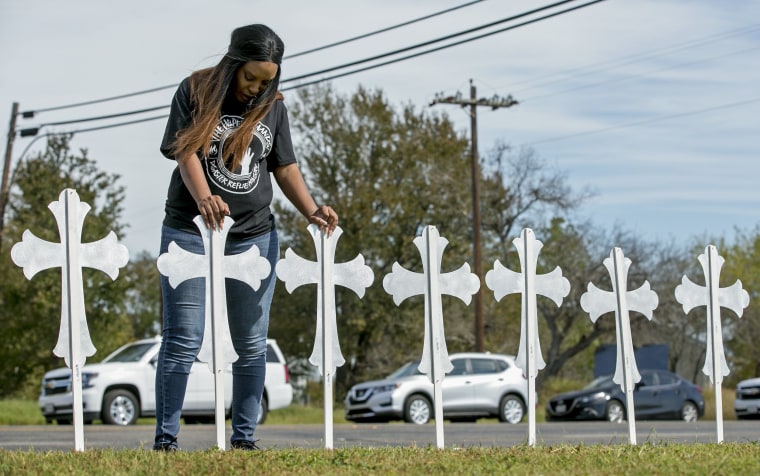 Obama proposed the now-nullified regulation in a 2013 memo following the mass shooting at Sandy Hook Elementary School. At the time, the measure was hotly contested by gun rights advocates who said it infringed on Second Amendment rights.
It isn't clear whether the now-eliminated rule would have applied to the gunman in the Texas church shooting, identified as Devin Patrick Kelley. Kelley had a turbulent past, including a court-martial from the Air Force for assaulting his first wife and child, an animal cruelty arrest and a habit of harassing ex-girlfriends.
Earlier Monday, Trump said that Sunday's mass shooting at a Texas church — the largest in the state's history — "isn't a guns situation" but instead "a mental health problem at the highest level."
The massacre left 26 people dead, including up to 14 children, and 20 more injured.
"Mental health is your problem here," said Trump, who was speaking in Japan at a joint press briefing with Prime Minister Shinzo Abe.