An armor-clad gunman opened fire inside a rural Texas church on Sunday, killing more than two dozen people in the largest mass shooting in the state's history, officials said.
Twenty-six people were killed during the shooting at First Baptist Church in Sutherland Springs, Texas Gov. Greg Abbott said. He told TODAY on Monday morning that there was "information surfacing" about why that particular location was chosen.
"That information may be coming out today or tomorrow, in the coming days, but I don't think this was a random act of shooting," Abbott said.
The massacre in Sutherland Springs, which is 30 miles southeast of San Antonio, was the deadliest ever at a house of worship in the United States. In addition to the dead, at least 19 people were hospitalized, according to three area hospitals.
The shooter was later found dead, officials said. Law enforcement officials identified him as Devin Patrick Kelley, 26, of neighboring Comal County.
Related: A Short History of Mass Shootings at Houses of Worship
Kelley was a former member of the Air Force, discharged for bad conduct in 2014. Ann Stefanek, a spokeswoman for the Air Force, confirmed that Kelley was court-martialed in 2012 on two charges of assaulting his spouse and their child. He was confined for a year and reduced in rank to airman basic E-1 before his discharge, she said.
Abbott called Kelley "very deranged."
"He seemed to have a troubled past even before he enlisted," Abbott said on "TODAY."
Federal officials said the motive for the shooting was unclear. According to Wilson County Sheriff Joe Tackitt, Kelley's in-laws attended the church, although they weren't there at the time. The in-laws were speaking with investigators, Tackitt said.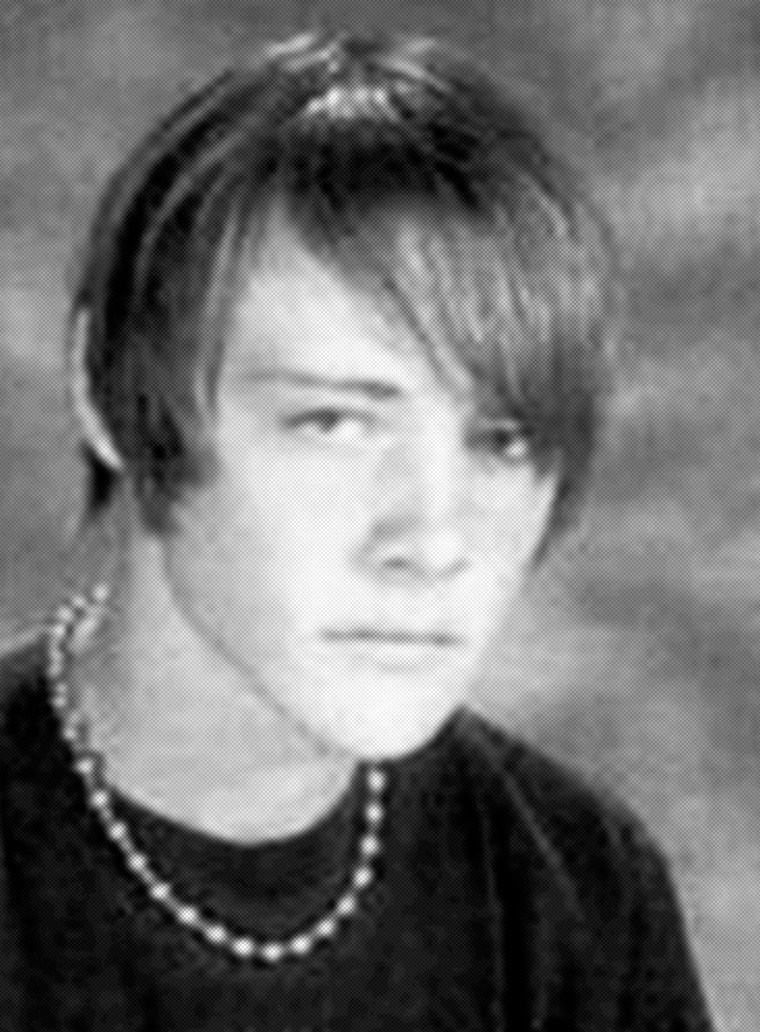 Dressed all in black and wearing tactical gear and a ballistic vest, Kelley first began firing outside the church at around 11:20 a.m. local time (12:20 p.m. ET) before he continued his shooting spree inside, said Freeman Martin, a regional director with the Texas Department of Public Safety. He was armed with a "Ruger AR assault-type rifle," Martin said.
An unidentified resident confronted the gunman after the shooting began, "grabbed his rifle and engaged that suspect," according to Martin.
The gunman dropped the rifle and then fled as another local, identified as Johnnie Langendorff, noticed something amiss. Langendorff and the other man drove after the gunman.
"They said there was a shooting. I pursued and I just did what I thought was the right thing," Langendorff said.
Gallery: Scenes of Shock and Grief After Texas Church Shooting
As law enforcement responded, the suspect ran off the road in his car at the Wilson-Guadalupe county line and crashed, while exchanging shots with the unidentified resident, Martin said. The suspect was found dead in the vehicle.
It wasn't clear whether Kelley died of a self-inflicted gunshot wound or of a shot fired by the man with Langendorff, officials said.
Police found multiple weapons inside the vehicle. Abbott said Kelley had applied for and been denied a right-to-carry permit from the state of Texas.
"It was after that that he was able to buy this gun ... so there's ongoing information that needs to be gathered," Abbott said.
Earlier, authorities had said victims were 5 to 72 years old; on Monday, Martin clarified that those were the ages of injured victims who were hospitalized, and that of the dead, the youngest was just 18 months, and the oldest was 77 years old.
Joe and Claryce Holcombe lost eight members of their family in the shooting, including children, grandchildren and great-grandchildren, The Washington Post reported.
Among the dead were Joe's 60-year-old son Bryan, who had been preaching at the church, his wife Carla, 58, and Joe's granddaughter-in-law, Crystal Holcombe, who was pregnant. Three of Crystal's children, Emily, Megan and Greg, were also killed. Crystal's unborn child also did not survive.
A grandson, Marc Daniel Holcombe, and his infant daughter, about a year old, also died, Joe told the paper.
Martin said that 23 people were found dead inside the church, two were found dead outside the church and that another person who had been transported from the scene had died.
Founded in 1926, the church has 267 members and has an average attendance of around 180 people, according to a listing on the Southern Baptist Convention website.
"Everybody has a connection to that church," Wilson Country Commissioner Albert Gamez Jr. said on "TODAY." "It's a family town. Anywhere you go, everybody recognizes everybody."
Sherri Pomeroy, the wife of church pastor Frank Pomeroy, told NBC News in a statement that their teenage daughter was among the victims. She said she and her husband were out of town in different states at the time of the shooting.
"We lost our 14-year-old daughter today and many friends," she said. "Neither of us have made it back into town yet to personally see the devastation."
Sandy Ward told MSNBC that four of her grandchildren and her daughter-in-law were inside the church. The youngest child, a 5-year-old, was in surgery, and her 7-year-old granddaughter died.
Ward was waiting with her son at a hospital for answers.
"He's a wreck, of course, as you can imagine," Ward said. "I'm just in shock."
"I'm numb," she added. "My whole body's just numb."
Rep. Vicente Gonzalez, D-Texas, said that he did not believe the incident was related to Islamist terrorism but "was some kind of other incident that has to do with the church or the community."
"It's a rural community and a conservative [one], mostly farmers and ranchers and people who work out in the oil and gas patches," he said, adding that the area was "very tranquil and very safe."
Carrie Matula, who works at a gas station about a block and a half away, said that she heard "semiautomatic gunfire" and looked to see what was going on.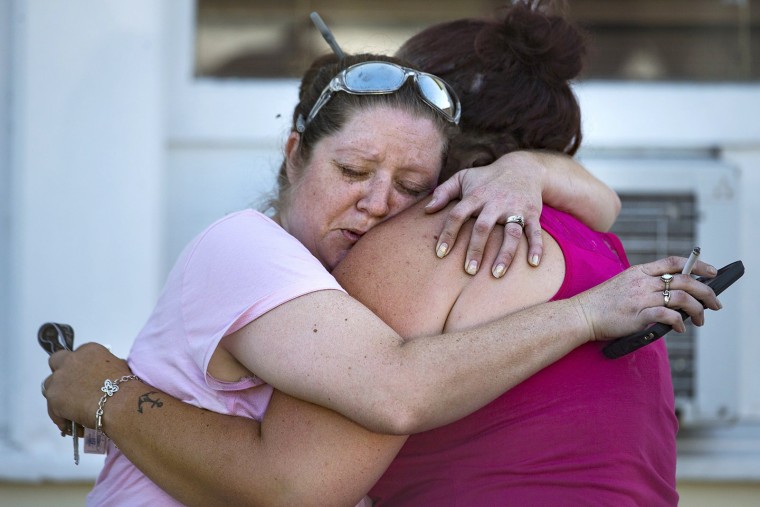 "It's a small Baptist church. It's an older building. I don't know that they would have security cameras or anything high-tech like that. And I know they didn't have security in the parking lot," she said.
"I never thought it would happen here," Matula added. "This is something that happens in a big city. I would never have thought this would have taken place here. It's just too tight a community. It doesn't make sense."
The federal Bureau of Alcohol, Tobacco, Firearms and Explosives said agents from Houston and San Antonio were responding to the scene.
Relatives of the gunman said they were shocked by the news.
"I never in a million years could've believed Devin could be capable of this kind of thing," Dave Ivey, the shooter's uncle, told NBC News. "I am numb. ... My family will suffer because of his coward actions. ... I am so sorry for the victims in Texas."
President Donald Trump, who is traveling in Asia, said in Tokyo that the shooting was a "murderous attack" and promised that "we will never, ever leave" the families' sides.
Former President Barack Obama shared his condolences over Twitter.
"We grieve with all the families in Sutherland Springs harmed by this act of hatred, and we'll stand with the survivors as they recover," Obama tweeted. "May God also grant all of us the wisdom to ask what concrete steps we can take to reduce the violence and weaponry in our midst."
The church is a white, wood-frame building with a double door at the entrance and a Texas flag on a pole at the front area, according to its website, which was down shortly after the shooting. The website says the church schedule was for a fellowship breakfast on Sunday mornings, followed by Sunday school. A morning worship service was scheduled for 11 a.m.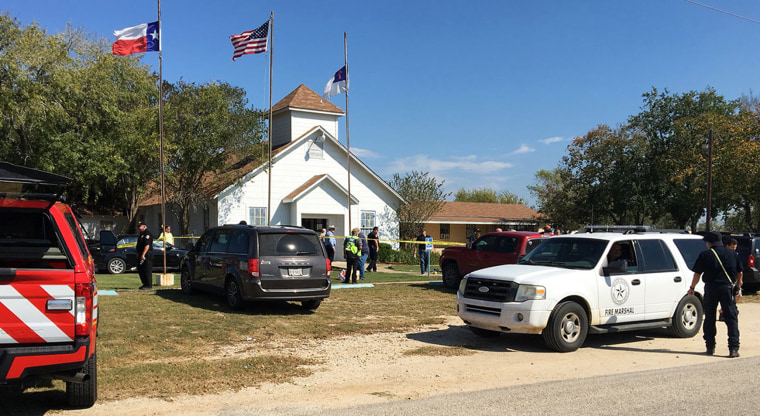 The church has posted videos of its Sunday services on a YouTube channel, raising the possibility that the shooting may have been captured on video.
In the most recent service, posted Oct. 29, Pomeroy, the pastor, began by speaking in front of a stage with two guitarists and a singer. A few children could be seen moving around and climbing onto the pews. Most people, including Pomeroy, were in jeans.
Pomeroy parked a motorcycle in front of his lectern and used it as a metaphor in his sermon for having faith in forces that can't be seen, whether it is gravity or God.
"I don't look at the moment. I look at where I'm going and look at what's out there ahead of me," Pomeroy said. "I'm choosing to trust in the centripetal forces and the things of God He's put around me."
CORRECTION (Nov. 6, 10:20 a.m.): An earlier version of this article misspelled the last name of the Wilson County sheriff. It's Joe Tackitt, not Tackett.