The gunman accused of the worst mass murder in Texas history was part of an intra-family feud and had "a purpose and a mission" when he unleashed hell with a Ruger assault-type rifle in a small-town Baptist church, investigators said Monday.
But Devin Patrick Kelley's mother-in-law, who authorities said may have been his potential target, wasn't at First Baptist Church in Sutherland Springs when he opened fire on Sunday, killing 26 people ages 18 months to 77 — almost half of them children.
Photos: Two Dozen Parishioners Killed in Texas Church Shooting
The woman is talking to investigators who are trying to come up with a motive for the deadliest massacre ever at a U.S. house of worship — and the military is trying to determine how it failed to report that the gunman had been convicted of assault, which should have barred him from buying guns.
"I think he came here with a purpose and a mission," Freeman Martin, regional commander of the state Department of Public Safety, said at a news conference Monday evening.
Martin disclosed that at least 15 empty 30-round ammunition magazines were found at the church, along with "hundreds" of shell casings" — more than he would ever need, Freeman said, to "take care of the mother-in-law."
"There was conflict between the families, but I can't say if it was revenge or not," Martin said. He did, however, rule out racial or religious motivations.
Kelley's mother-in-law from his most recent marriage, in 2014, lives in Sutherland Springs and had received threatening texts from Kelley, said authorities who wouldn't identify the woman or elaborate on the messages.
Related: 'Sick in the Head': Ex-Girlfriends Say Texas Shooter Stalked Them
Twenty-three people were killed inside the sanctuary, Martin said, adding that authorities have "a video recording from inside the church." Two more people were killed outside the building, and one person died later at a hospital.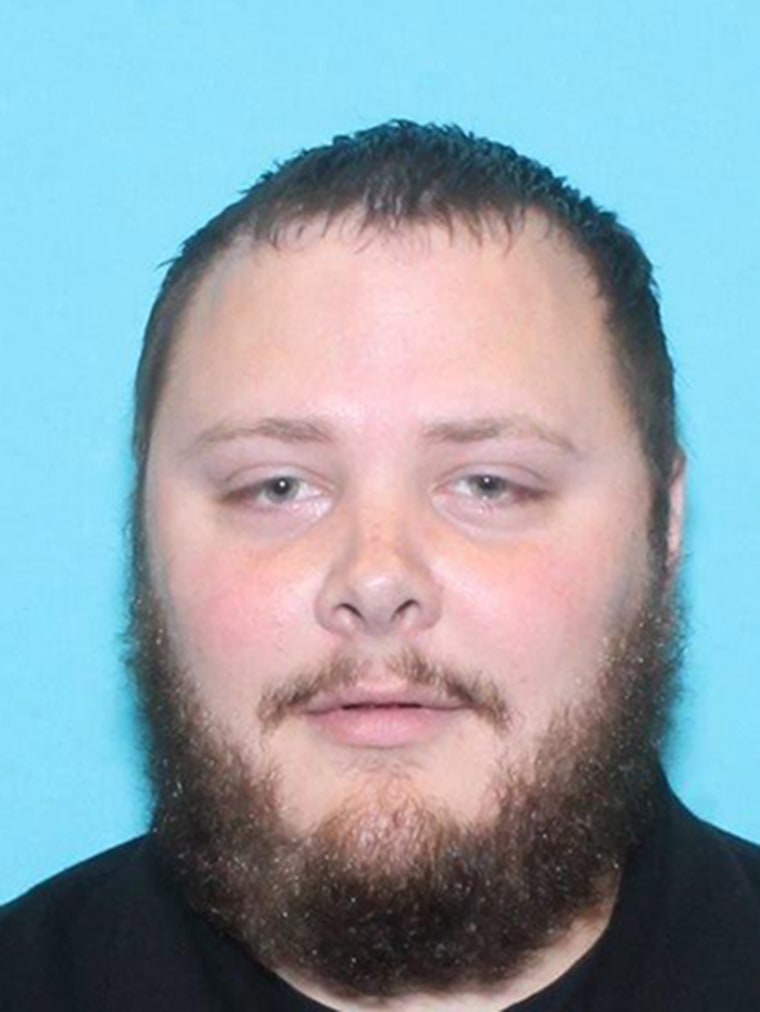 Earlier Monday, Martin warned that the death toll "could rise" because half of the 20 wounded victims were in critical condition.
Kelley was found dead after the massacre in his vehicle — apparently from a self-inflicted gunshot wound, Martin said. A Glock and a Ruger handgun were found inside the Ford Expedition he had been driving, and a Ruger AR-556 rifle was recovered at the church, Martin said.
Kelley, who was 26 and lived in nearby New Braunfels, had been wounded earlier when he got into a gunfight outside the church with a man who lived nearby and was armed with at AR-15 assault-type rife, Martin said.
Martin didn't identify the "hero Texan" who traded shots with Kelley, whose body was found with three gunshot wounds, "two from the citizen, one apparently self-inflicted."
He said that as Kelley raced away from the crime scene, "the suspect did notify his father that he had been shot and that he was not going to make it."
Meanwhile, the Air Force acknowledged Monday that an officer failed to enter Kelley's domestic violence court-martial into a national database that would have barred him from buying weapons. Top Air Force brass ordered a "complete review of the Kelley case" by the service's inspector general, said Ann Stefanek, a spokeswoman for the service.
Kelley was court-martialed in 2012 on two charges of assaulting his spouse and their child. He was confined for a year and then discharged for bad conduct in 2014.
Don Christensen, a retired Air Force colonel who supervised prosecutors when Kelley was brought before a court martial, told NBC News he was convicted of fracturing the skull of his infant stepson.
"I don't know how old the child was, but he was a baby," Christensen said.
Related: Good Samaritan Says Stepping in Was 'Right Thing'
Kelley was also convicted of assaulting his wife, Tessa, in the same incident in 2012, he added. The incident happened while Kelley was stationed at Holloman Air Force Base, New Mexico.
Under federal law, anybody with a domestic violence conviction is barred from buying a gun — but Martin said that because the Air Force failed to record the convictions, a federal records check came up clean.
Texas Gov. Greg Abbott said separately that Kelley had applied for a Texas right-to-carry permit and had been turned down.
"It was after that that he was able to buy this gun," Abbott said. "So there's ongoing information that needs to be gathered."
Sutherland Springs is a tight-knit town of about 400 people about 40 miles southeast of San Antonio.
Dressed in black tactical gear, Kelley opened fire just after 11 a.m. Sunday outside the church and then barged inside and began spraying the sanctuary with bullets.
Terrie Smith told MSNBC she watched the deadly drama unfold from a store across the street.
"He was shooting towards the church, and he ran around the church," Smith said, adding that while this was going on, she and the customers took shelter inside the store.
"Then there was silence," she said. "We didn't hear any more shots for a couple of seconds. And then we heard a massive load of shots."
One of the victims came running into the store and said "his family's in there," Smith said, choking up with tears.
Inside the church, Kelley's rampage was cut short when an unidentified good Samaritan wrenched the rifle out of his hands.
Related: Trump Says Texas Church Shooting 'Isn't a Guns Situation'
Kelley then fled the church, where he was confronted by an armed man who lives nearby, and a gun battle erupted.
After Kelley fled, another man police are calling a hero named Johnnie Langendorff pulled up in his truck and told the neighbor to hop in, and together they began chasing Kelley. When they caught up to Kelley's vehicle about 11 miles north of the church, it was in a ditch and the gunman had already shot himself, Martin said.
While the latest mass killing renewed calls by Democrats for tighter gun control, Sen. Ted Cruz, R-Texas, was quick to praise the man who man who exchanged shots with Kelley.
"The reason that the depraved gunman finally gave up and got in a car and fled, and didn't murder more, is precisely because one individual demonstrated bravery and courage," Cruz said outside the church. "We need to be celebrating that."
Cruz, however, didn't address how Kelley — with his criminal background — was able to purchase the weapons he used.
Two ex-girlfriends told NBC News that Kelley had a short fuse and his behavior was disturbing and even violent after they broke up with him.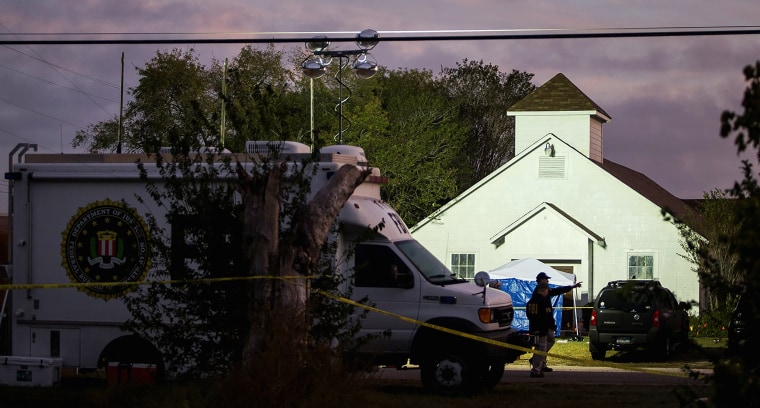 "That was another thing about him — he was very sick in the head," former flame Katy Landry told NBC News in a Facebook message. "He would tell me very sick strange things."
CORRECTION (Nov. 7, 11:50 a.m.): An earlier version of this article misstated the charge that Devin Patrick Kelley was convicted of while in the Air Force. The charge was assault, not sexual assault.