Democratic lawmakers are renewing their calls for gun control, following the largest mass shooting in Texas history, as Republicans, including President Donald Trump and local lawmakers, insisted firearms are not the problem.
The renewed guns debate came after 26 people were killed and 19 more were injured during a shooting at First Baptist Church in Sutherland Springs. Victims ranged in age from 5 to 72, officials said.
Sen. Chris Murphy, D-Conn., led the charge demanding stricter gun control laws with a scathing and lengthy statement.
"As my colleagues go to sleep tonight, they need to think about whether the political support of the gun industry is worth the blood that flows endlessly onto the floors of American churches, elementary schools, movie theaters, and city streets," Murphy said.
"The terrifying fact is that no one is safe so long as Congress chooses to do absolutely nothing in the face of this epidemic. The time is now for Congress to shed its cowardly cover and do something," he added.
House Minority Leader Nancy Pelosi, D-Calif., said, "As we mourn the lives that were cruelly cut short today, we must resolve to denounce all forms of hatred and violence and to drive them from our communities and our nation."
Rep. Ted Lieu, D-Calif., put it even more bluntly. "Screw the @NRA & can you help Dems take back the House," he tweeted.
Sen. Elizabeth Warren, D-Mass., piled on.
"How many more people must die at churches or concerts or schools before we stop letting the @NRA control this country's gun policies?" she tweeted.
Sen. Kamala Harris, D-Calif., posted, "Senseless gun violence has torn apart another community — this time in a house of worship."
"When do we say enough is enough?" she added.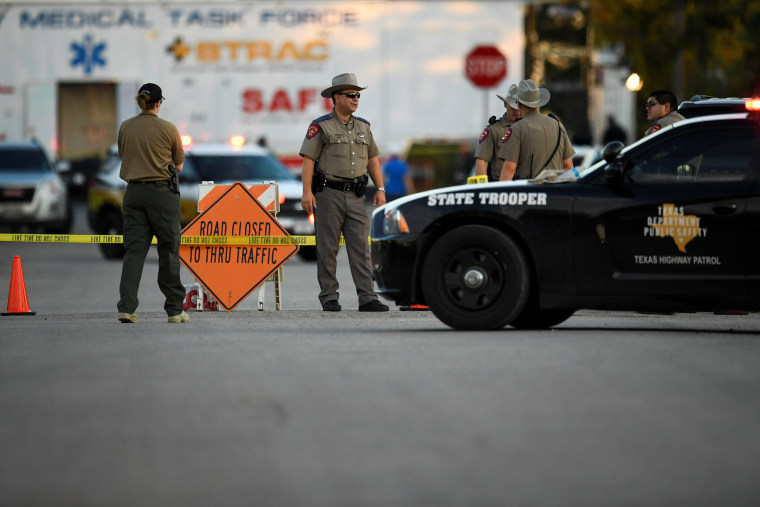 Several Republicans, however, including Trump, said guns weren't to blame, with some suggesting that more guns may have helped bring the tragedy to a quicker end.
"I don't want to create impediments for law abiding citizens having guns," Texas Attorney General Ken Paxton said Monday on MSNBC's "Morning Joe." "The people who slowed this guy down were people who had guns."
Paxton's remarks referred to information from Freeman Martin, a regional director with the Texas Department of Public Safety, who said on Sunday that an armed local resident had confronted the gunman. The resident "grabbed his rifle and engaged that suspect," Martin said.
Trump, meanwhile, called the suspect in the shooting a "very deranged individual," adding that "we have a lot of mental health problems in our country, as do other countries."
At a press briefing in Japan, Trump added: "This isn't a guns situation. Fortunately somebody else had a gun that was shooting in the opposite direction."