SUTHERLAND SPRINGS, Texas — Days after they responded to the worst mass shooting in Texas history, the husband and wife paramedic team that was the first on the scene is haunted by what they saw inside the blood-soaked sanctuary of the First Baptist Church.
"I'm trying to get the horror out of my mind," said paramedic Mike Shaw, of the La Vernia Emergency Medical Service. "But you can't unsee what you already saw."
Shaw and his wife, Jamie, who is also an EMT, arrived just minutes after Devin Patrick Kelley put tiny Sutherland Springs on the map of infamy Sunday by murdering 26 people — a third of them children — and wounding 20 more with a Ruger AR-556 assault-type rifle.
Security video from inside the church showed Kelley methodically shooting people in the head, a federal source close to the investigation told NBC News.
Both Shaws had been on the job for at least four years and they had trained for mayhem like this. But as they entered the church where 23 of the victims were slain, they were taken aback by the carnage.
"For something like that, there's no real training for it," Mike Shaw said.
So, like the professionals they are, the Shaws got to work.
Related: Who Were the Victims of the Sutherland Springs Massacre?
"Put your head on, go in and do what you go to do, what you were trained to do as a medic," Jamie Shaw said. "It's hard, but I mean your training kicks in and you do what you have to do."
Still, there was no blocking out the sheer number of bodies everywhere, especially the dead children.
"Absolute horror," Mike Shaw recalled. "As far as the people, I think I knew a few of them."
"Tragic," his wife chimed in. "There's no words for it. Really isn't."
The Shaws said they heard reports on the radio of "multiple casualties" as they raced to the church. But it really didn't become real, Mike Shaw said, until "we walked in the door."
The Shaws said that after they had done all they could at the scene, they went home and hugged their three kids. They said sleep brought them little relief.
"You have dreams, nightmares," said Mike Shaw, who added that he hasn't "really processed exactly what really happened."
Rebecca Metcalf works with the Shaws but she was off that day. She found out her father, Keith Braden, had been killed, and that her mother, Debbie Braden, and 6-year-old niece, Zoe, had been wounded when she later arrived at the church.
"I'm trying to get the horror out of my mind."
Since then, she hasn't allowed herself to dwell on what happened.
"I've been so busy trying to get everything taken care of and trying to help out with family and all that I still don't think I've had time to register everything," she said. "My sister works with a lot of the kids at the church, so not only is she dealing with Zoe being in the hospital, she's dealing with all the babies that she helped take care of that are gone."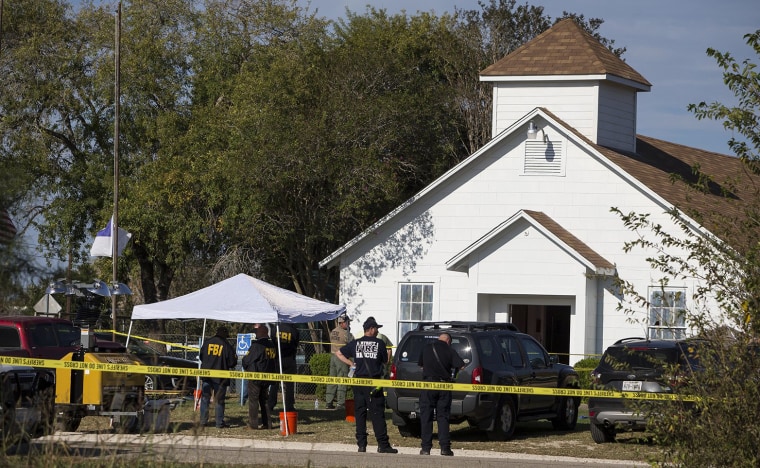 Metcalf said she is overwhelmed by all the support her hometown has received from well-wishers around the world.
"I've had messages from people in Japan telling me they are praying for our family," she said.
But she's angry, too.
"So now everybody knows, everybody knows where Sutherland Springs is, and it sucks that this is the reason why," she said.
Related: Texas Gunman Escaped from Mental Health Facility in 2012
EMS Chief Paul Brunner also wasn't working that day. But when he got word of what happened, he raced to the church. And on the way, he started praying and going through his check list of what needed to be done.
"It's kind of weird, I'm probably a little crazy because I'm talking to myself in my head," he said.
What was he telling himself?
"OK Lord, help me out with this, what do I need?" Brunner recalled. "Boom, boom, boom. I need this, I need that, you know?"
But that mental checklist went out the window, Brunner said, when he saw the nightmare inside.
"It's chaos but you just have to fly through that mentality and just zone-in on all your aspects," he said. "You can't just get wrapped-up in the chaos."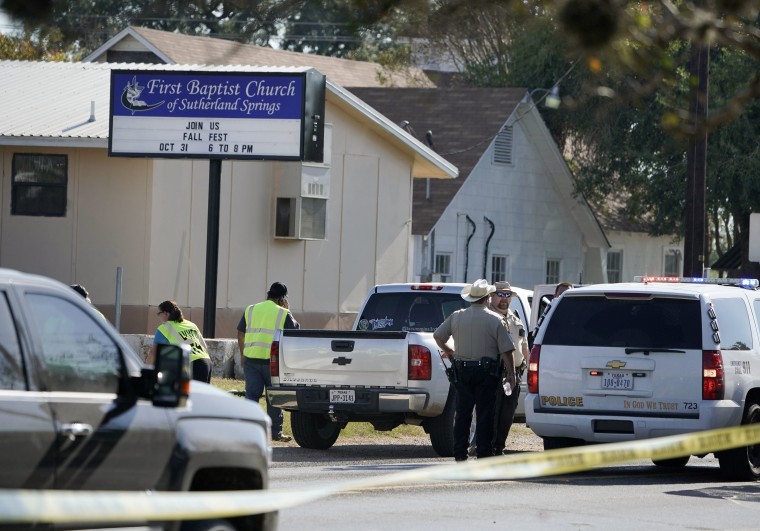 It wasn't until a couple days later, Brunner added, that the "sheer volume" of everything he saw began to register.
"When I was done with the triage and my group was done with the triage and we had moved all the patients out … I literally said I feel great," Brunner recalled.
Later, Brunner said, he began to dwell on the dead, especially all the slain children. He said he can't understand why Kelley, a 26-year-old U.S. Air Force veteran who wound up killing himself after the massacre, targeted so many children.
The tragedy, he added, has been a bitter reminder of why he and the other EMTs do what they do.
"There's certain evil things in the world, I guess," he said. "That's why we're here. Because we do it. And the main thing is understand, no matter what, we are going to be here."
Gabe Gutierrez reported from Sutherland Springs, and Corky Siemaszko reported from New York.