Once again, President Donald Trump pointed to Chicago's crime rate to say that stricter gun laws wouldn't necessarily stop the spate of mass shootings or gun violence across the country.
"Chicago is a disaster, a total disaster," he told reporters Tuesday during his stop in South Korea — two days after a gunman killed 26 people at a church in rural Texas. Trump was asked whether the shooting had changed his position on gun control legislation.
Related: Why Mass Public Shootings Are Getting Deadlier
But researchers say Trump's incorrect claim that Chicago has the "strongest gun laws" in the U.S. but still grapples with a high rate of gun violence shows that America's third-largest city would only benefit from even tighter legislation.
That's because most of the traceable guns that are funneled into Chicago and used in crimes are actually trafficked in from other states, a report released last week by the mayor's office and the Chicago Police Department found.
Tracing nearly 15,000 weapons recovered from 2013 to 2016, Chicago police discovered about 40 percent originated from Illinois firearms dealers, while the remaining 60 percent came from out of state.
Indiana, which borders Illinois, supplied most of the outside guns — about 20 percent, according to the report. Indiana is also home to gun shows where no background checks are required for firearms purchased from private sellers.
Mississippi and Wisconsin, which also have more lenient gun laws, are the source of about 5 percent and 4 percent, respectively, of firearms into Chicago, the city's report says.
Related: Trump Says Gun Control Would've Made 'No Difference' in Texas Shooting
Chicago Mayor Rahm Emanuel responded to the mass shooting at an outdoor concert in Las Vegas last month — the deadliest in modern U.S. history — by calling for more national gun laws to make it harder for people to cross states lines to buy firearms.
"If you really want a gun, you can just drive over the Indiana border and get whatever you want," Emanuel said.
"Chicago's gun laws are no different than New York and Los Angeles," he added. "What is different is New York is right next to New Jersey and Connecticut, which have similar gun laws. We are next to Indiana and Wisconsin."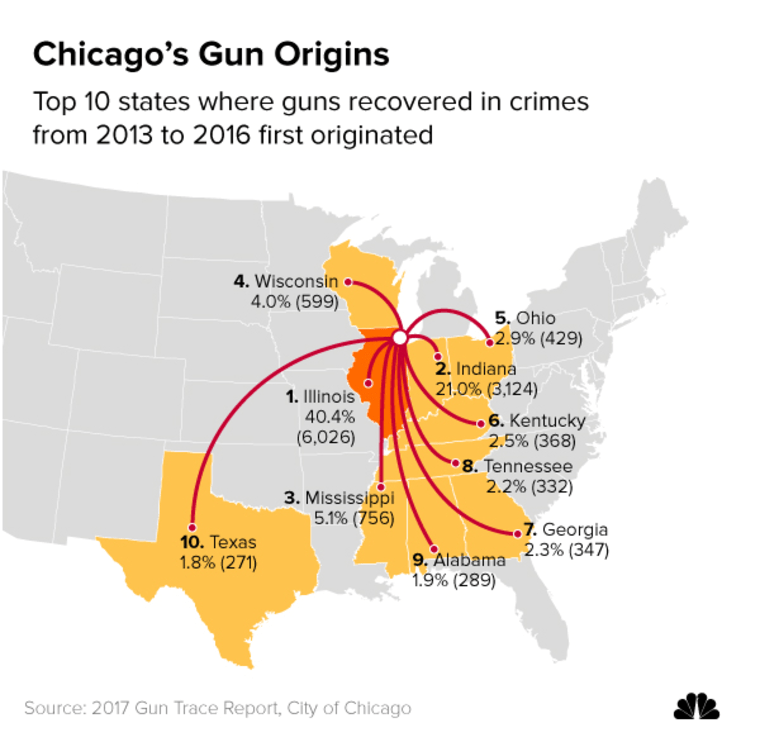 Trump and members of his administration have often name-dropped Chicago for supposedly having the toughest gun laws in America but still failing to curb gun violence. While Chicago's homicide rate last year eclipsed a record from the 1990s and is driving an overall increase in the nation's murder rate, it still falls below several other cities' murder rates per capita, including St. Louis, Baltimore and Detroit.
Overall shootings are down in the city, with about 605 fewer so far this year than the same period in 2016, according to The Chicago Tribune's latest tally.
Overall homicides are also trending downward this year from 2016, when more than 760 people were murdered — mostly with firearms, according to Chicago police.
Gun laws in Illinois are stricter than other surrounding states, but Chicago's laws are not the strongest in the country, as Trump has asserted.
Actually, Chicago's laws are "middle of the road" compared to other cities and states, including New York and California, said Philip Cook, an economist at Duke University who studies underground gun markets.
Related: Trump Offers to Send 'the Feds' into Chicago to Fix Violent Crime
He said that while Chicago has managed to keep gun shops outside of city limits, it has lost a legal battle in recent years to ban handguns and it no longer has a gun registry.
The National Rifle Association responded to the city's gun trace report by reiterating that Illinois remains the state that is the single largest source of guns used in crimes in Chicago.
"The discouraging truth about Chicago's violence is that it is the product of a host of societal factors — including a lack of vigorous criminal prosecution — that cannot be remedied by a change to the current gun laws," the NRA said.
Cook said that surrounding states only make it harder for Chicago when guns flow more freely. Indiana, which is controlled by a Republican Legislature, has rolled back gun laws in recent years and may consider legislation next year that would eliminate licensing for people who can legally own a handgun and want to carry it in public.
"I think what the gun trafficking is doing is making a bad situation worse in Chicago," Cook said. "And while it certainly isn't the only reason why it has a high level of violence, it takes that high level and makes it more deadly."