Sutherland Springs is home to a post office, two gas stations, a Dollar General store and, now, one of the deadliest shooting rampages in American history.
The small, tight-knit community of about 400 people lies in a rural corner of south Texas, an area known for the annual peanut festival in nearby Floresville that was held last month. But on Sunday, more than two dozen people ages 5 to 72 were killed by a gunman at First Baptist Church of Sutherland Springs, officials said.
"We're shocked. Shocked and dismayed," said state Sen. Judith Zaffirini, Democrat from a Laredo, whose district includes Sutherland Springs. "It's especially shocking when it's such a small, serene area. These rural areas, they are so beautiful and so loving."
No one expected this type of violence in a town described as "very tranquil and safe" by Rep. Vicente Gonzalez, D-Texas, on MSNBC.
"It's a rural and conservative community," Gonzalez said. "Mostly farmers and ranchers and people who work out in the oil and gas patches."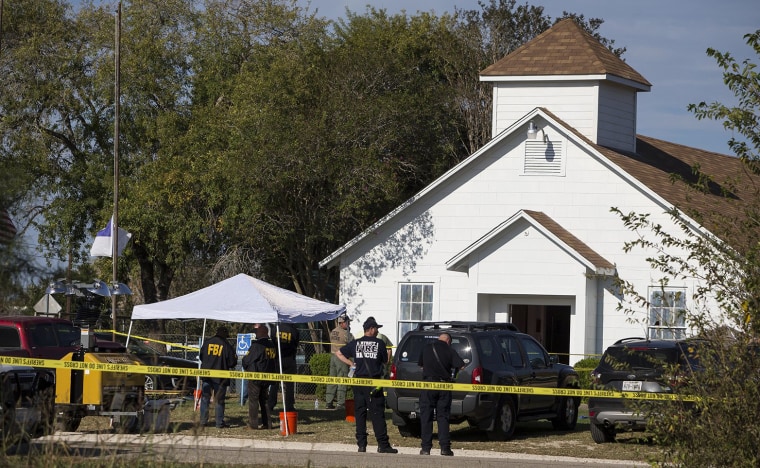 The church is a white, wood-frame building with a double door at the entrance and a Texas flag on a pole at the front area, according to its website, which was down shortly after the shooting. The website says the church schedule was for a fellowship breakfast on Sunday mornings, followed by Sunday school. A morning worship service was scheduled for 11 a.m. The first news reports of the shooting were between noon and 12:30 p.m.
The church has posted videos of its Sunday services on a YouTube channel, raising the possibility that the shooting may have been captured on video.
In the most recent service, posted Oct. 29, Pastor Frank Pomeroy began by speaking in front of a stage with two guitarists and a singer. A few children can be seen moving around and climbing onto the pews. Most people, including Pomeroy, were in jeans.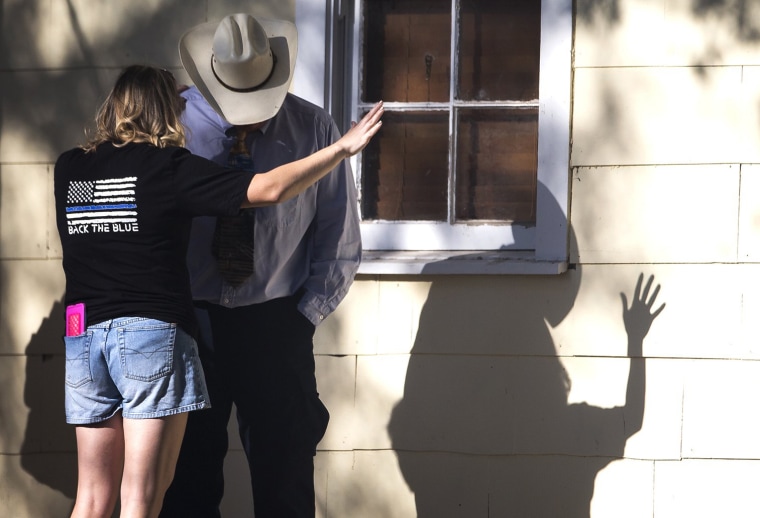 Pomeroy parked a motorcycle in front of his lectern and used it as a metaphor in his sermon for having faith in forces that can't be seen, whether it's gravity or God.
"I don't look at the moment. I look at where I'm going and look at what's out there ahead of me," Pomeroy said. "I'm choosing to trust in the centripetal forces and the things of God He's put around me."
Photos: Two Dozen Parishioners Killed in Texas Church Shooting
And Sutherland Springs is a community that is very trusting, especially because of its size.
"Some of us don't lock our doors at night. That's how quiet this community is," said Carrie Matula, who works at a nearby gas station and heard the gunshots. "There's no reason for security at our churches."
Paul Buford, the pastor of neighboring River Oaks Church a few miles up the road, said he was in the middle of his service when members of his church got a call that there was an active shooter at First Baptist Church.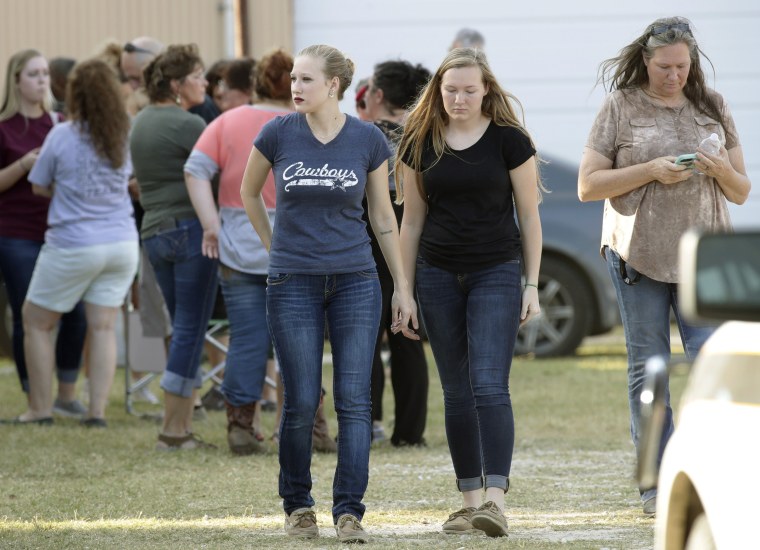 "First responders immediately left our church to come down and help," he said. "Our church immediately went into what we do, and we started praying for everyone that was involved in it — the people of this church and first responders that are going out there."
Buford said he and Pomeroy, who was out of town, often have lunch together. The members of their churches were very close, and many were friends and worked together.
Now, that relationship is more important than ever, as members brought food, ice and supplies to the local community center where neighbors gathered, prayed and waited for news.
"Members of my church are here. Our church stands ready down the road," the pastor said. "I told them 'turn on the air conditioners, get everything ready,' because if we need it, it's ready to go for whatever [anyone] needs."