The world will be watching as a 12-year-old Texas girl undergoes life-changing obesity surgery on Friday, but for now, Alexis Shapiro just wants to pet the penguins.
The 203-pound pre-teen drew international attention earlier this year after NBC News first reported that U.S. military insurers wouldn't cover a doctor-recommended operation to counter the effects of brain surgery that sent her metabolism haywire, piling on extra weight.
TRICARE officials reversed their decision, eventually agreeing to pay for the gastric bypass surgery that doctors say will help her lose weight, curb her ravenous appetite and allow her to lead a normal life.
But this week, as Alexis and her parents, Jenny and Ian Shapiro, prepared for the unusual three-hour operation scheduled at Cincinnati Children's Hospital Medical Center, they took a break from stress and worry at the local Newport Aquarium in nearby Kentucky.
There, on a sunny morning, Alexis gazed at the colorful creatures — "Fishies!" she said — and giggled at the touch of penguins named Blueberry, Simon and Speckles.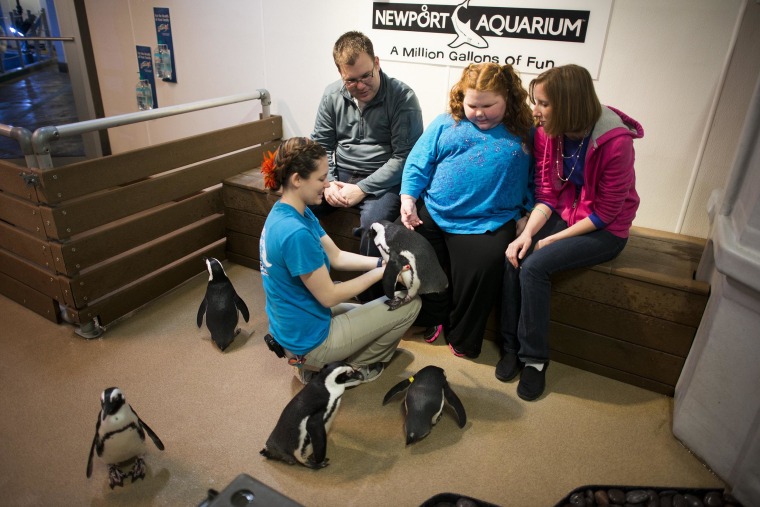 The little girl in the baggy black pants and the women's size 2XL shirt still doesn't like to talk to strangers, even after a flood of publicity from local, national and international media and well-wishes from thousands of people, including those who helped the family raise more than $82,000 for medical expenses.
"It's good," she said, turning to her mom for help.
"She's nervous. Excited, but nervous," explained Jenny Shapiro, 34. "The last time she had surgery, her life totally changed."
That was two years ago when Alexis, then a typical 9-year-old, was diagnosed with a benign brain tumor. The surgery went well, but it left her with hypothalamic obesity and panhypopituitarism, complicated metabolic side effects that the Shapiros say have ravaged their once-normal daughter's life.
"It's been a roller-coaster," said Ian Shapiro, 34, an insurance rep. "You take your faith and you put it in the doctors and then we'll do the part that we can. We got to this point because we were all out of options."
Without the surgery, Alexis would continue to gain an estimated 2 pounds each week, despite a strict diet and enforced exercise. Her diabetes would worsen and she'd develop other problems as she ballooned to as much as 400 pounds on her child's frame, cautioned Dr. Thomas Inge, the pediatric obesity expert who will lead the operation Friday morning.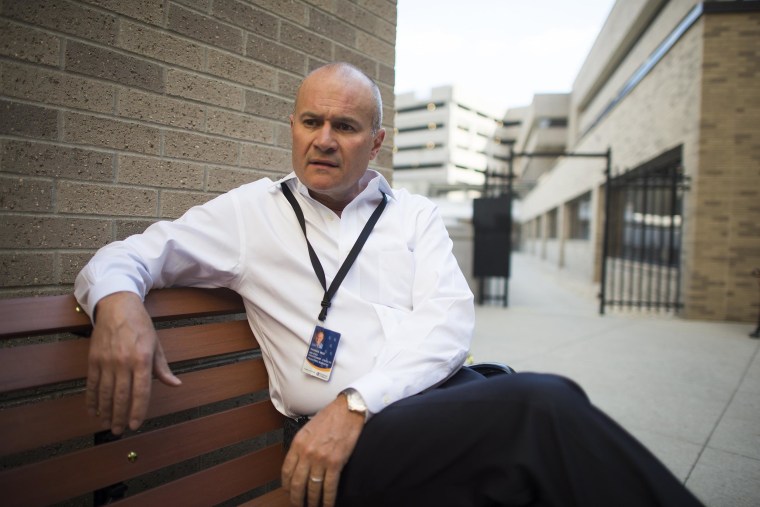 But with the gastric bypass, which makes the stomach smaller and allows food to bypass the small intestine, and a procedure that snips part of the vagus nerve, which controls appetite and the sense of satiety, Alexis will be able to regain more control over her body and brain.
Initially, she could lose up to 5 pounds a week, rapidly reducing her sky-high body mass index of 47.2, improving or curing her diabetes — and curbing the constant hunger that has forced her parents to padlock their kitchen cupboards.
"I think that's possible," Inge said.
Still, the procedure in such a young child is rare and potentially risky. Alexis is among the youngest patients for Inge, whose team has performed weight-loss surgery on 235 teens and children, including just two other 12-year-olds and seven who were 13. Hypothalamic obesity poses even greater challenges, he added.
"Our biggest angst is the fact that metabolically, they're so fragile," said Inge, who will be joined by another surgeon, Dr. Michael Helmrath, and a support team.
They'll be closely monitoring Alexis' kidney function and hormone levels, which are controlled through careful calibration of vital drugs. They'll watch for excessive bleeding and for all the typical hazards involved with anesthesia and surgery, Inge said.
Because of the intense interest in Alexis' case, public relations staff at Cincinnati Children's plan to live-Tweet the operation, offering up-to-the minute updates as the surgery progresses at @CincyChildrens. They have blog posts prepared detailing every step of the surgery, with explanations from Inge and commentary from Jenny Shapiro.
Inge said he and his crew expect the operation to go smoothly. Alexis should be through the surgery by noon and sitting up in a chair that evening. She'll likely remain in Cincinnati for a week before heading home with her parents to Cibolo, Texas, where her sister, Kayley, 9, and brother, Ethan, 8, are staying with their aunt.
Alexis will remain on a liquid diet for about a month to give her new, smaller stomach time to adjust. She'll gradually add new foods to her diet until she's eating a full range of healthy options, Inge said.
It's hard to predict Alexis' progress, he cautioned. Because of her metabolic problems, she'll always have to monitor food and exercise and, like others with hypothalamic obesity, she could lose weight more slowly. He estimates that she'll lose about 20 percent of her weight, or a little more than 40 pounds, in the first year.
"They don't get back to 'normal,' typically," said Inge. "I don't know that we'll be able to tell them to expect that."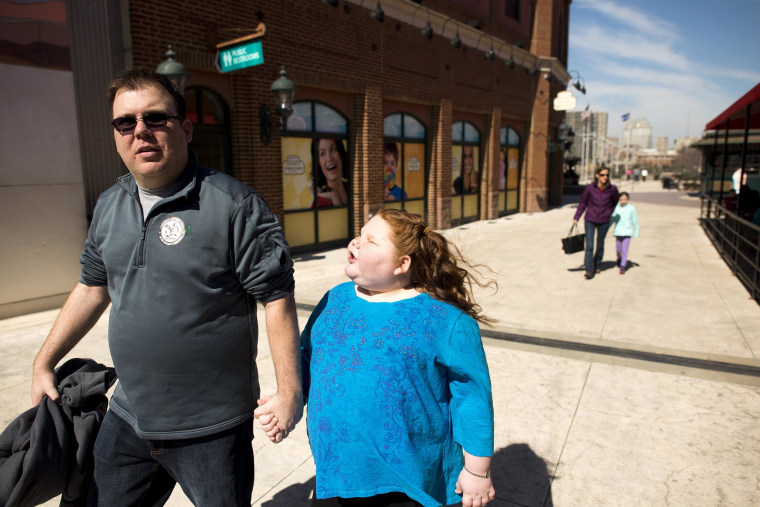 But the Shapiros say they have a realistic view of how the surgery will help Alexis. Jenny Shapiro says she wants her oldest daughter to be able to ride bikes with her brother and sister, to go swimming in the summer, to walk through a grocery store or amusement park without anyone staring at her.
"Right now, I just tell her, 'Don't look. Just concentrate on what you're doing'," Jenny Shapiro said. "But it's hard."
The Shapiros say they take comfort in the outpouring of support from people who've heard Alexis' story and responded with kindness and understanding. Other parents of kids with hypothalamic obesity have reached out and now there's new momentum for research into the rare condition.
They say they've used some of the donated money to pay for travel costs and insurance co-payments and for normal living expenses because Ian and Jenny Shapiro have both exhausted leave from their jobs. But they'd also like to help families in similar circumstances.
"It's been really crazy, but it's been nothing but positive," Jenny Shapiro said. "Did I ever think I'd be on TV? No. But as a parent, you would do anything for your child."