A Texas pre-teen, 50 pounds lighter after life-saving obesity surgery, returned to class Monday — a joyous yet jittery milestone as a school nurse stood ready with a walkie-talkie, emergency medicine and a muscle-piercing needle.
Just in case.
Alexis Shapiro, 12, is regaining her health, smile and confidence, recently bouncing on a trampoline and feeling, she said, "reborn" months after surgery to control rare, medically induced obesity. But challenges remain, including a hormone condition that leaves her susceptible to an "adrenal crisis," which must be treated via a drug injection minutes after symptoms surface to avert shock or coma.
For her mother, Jenny Shapiro 35, that medical reality tempered an otherwise celebratory day — and cranked the concept of helicopter parenting to new heights.
"It's exciting and nerve-racking for her and for me, a huge step in the right direction, but it's just so hard to let go," Jenny Shapiro told NBC News. "I'm her security blanket. I've always been with her so I've learned her symptoms."
If something were to go wrong, Alexis would need — within 30 minutes — a dose of the drug Solu-Cortef, which is not stocked in ambulances, her mother said, adding that if it's not administered in rapid fashion, "their bodies are already in shock and her organs are shutting down, and sometimes they just don't come back from that."
Alexis takes oral steroids to manage the adrenal insufficiency, another side effect of a benign brain tumor and the operation she had three years ago to extract the mass. NBC News has followed Alexis' journey since December.
The surgery unleashed a metabolic storm, leaving the 4-foot-7-inch girl always ravenous and causing her weight to rise past 200 pounds. In March, after several years of insurance battles, Alexis underwent a gastric-sleeve procedure that reduced her stomach size and curbed her appetite by targeting messages to her brain.
Due to the tumor's location, however, the girl's pituitary gland (at the brain's rear base) stopped doing its job — to signal her adrenal gland to release hormones that regulate metabolism, respond to stress and control blood pressure.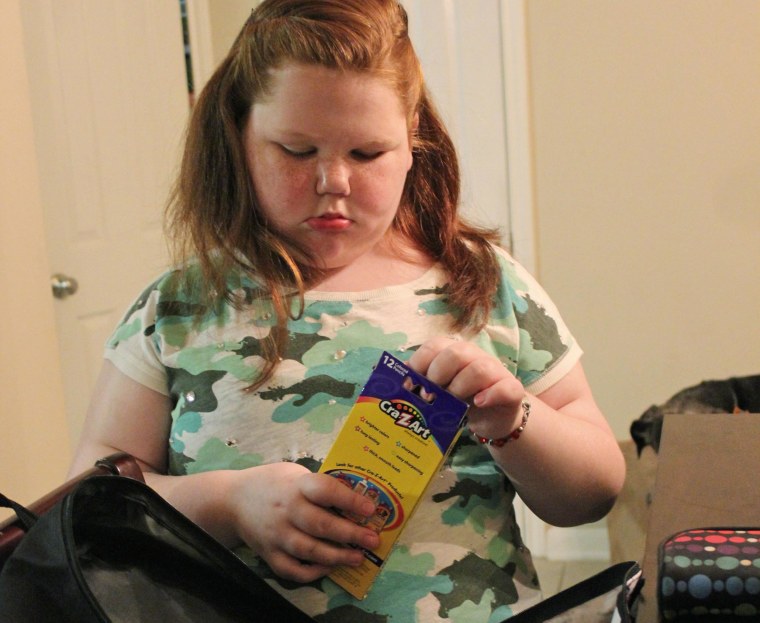 Alexis has felt the symptoms of an impending adrenal crisis: the room starts to appear dark and she gets a headache, vomiting and low blood sugar. Her mother has always been nearby to administer extra oral drugs to restore Alexis' hormonal balance.
But an adrenal crisis also can be triggered by stress — something the sixth-grader expected to endure during her first day in a classroom in almost two years, Jenny Shapiro said.
Handing her over to teachers, Jenny Shapiro acknowledged, requires a mother's leap of faith.
"If I ever want her to be independent, I have to let her gain some independence, even though it's really, really hard."
At her top weight, just above 200 pounds, Jenny worried that because Alexis couldn't see her feet, she might trip on an undetected step, tumble and break a bone. She fretted the girl might even fall out of a chair.
At 150 pounds, however, the pre-teen's world already has changed for the better.
"She can do so much more. She can bend down and get around so much more," Jenny Shapiro said. "It's a relief for me because I know accidents aren't so likely."
The mother recalls how Alexis — once stung by questions and remarks from other children about her sudden, extreme weight gain — generally avoided talking to people and tended to look away when someone spoke to her.
Now, she's happier, speaking more freely and making eye contact. The mother can't help but hope school is welcoming place for her child.
Jenny has urged Alexis to tell teachers at her Cibolo, Texas, school if she's sensing her warning signs. The teachers, not authorized to give the emergency injection, have been instructed to radio the school nurse, who totes a walkie-talkie. The mom would prefer that Alexis keep a needle and the drug in her backpack "so you don't have to worry about somebody forgetting it or not knowing where to find it."
Earlier, Alexis' mom met with the nurse (who has emergency room experience), several teachers and Yvette Ross, principal of Elaine S. Schlather Intermediate School.
"We're just excited about her being here and her progress," Ross said. "It's just a great story. We were like, 'Wow that's impressive.' We're just looking to do all that we can to support her academic and social needs and make sure she's successful here like all the other 860 students we have."
Jenny also would have liked, she said, to give her daughter a cell phone so she could monitor the situation via text, but mobile phone use is not allowed in the classroom. Instead, she planned to make several calls to the school Monday. The first update Jenny got from a teacher was promising: "Alexis is talking and warming up a bit. So far, so good."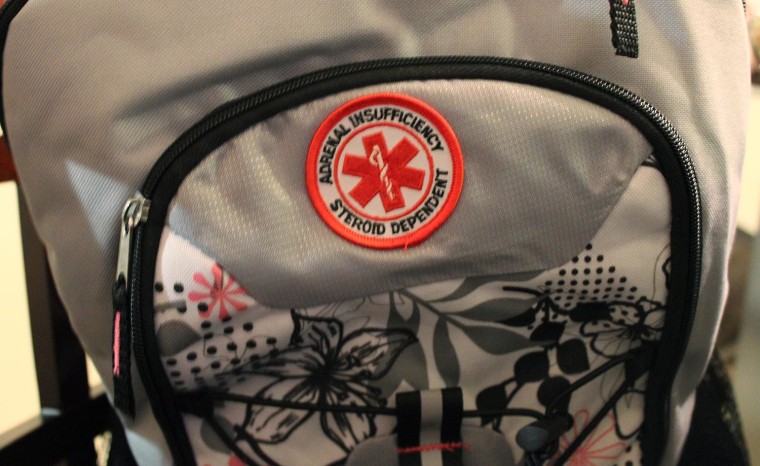 The mom also has affixed a medic alert patch to Alexis' backpack, indicating she is "steroid dependent" in case the symptoms swiftly arise and she falls in a hallway or on campus. Alexis didn't love the idea of the patch — another sign to other kids that she is different.
"I just want to be a normal kid," Alexis told her mom after spying the patch. "But I understand. It's OK. Go ahead."
A recent conversation she had with Alexis about the pre-teen's self image, Jenny Sharpiro said, "melted my heart."
"You know what? I used to see this fat little, chubby girl (in the reflection)," Alexis told her. "I looked in the mirror and I saw somebody pretty. I like that girl."