TAORMINA, Italy — World leaders braced for contentious talks Friday with President Donald Trump at the G-7 summit in Sicily after he earlier lambasted NATO allies for not spending more on defense.
Trump's confrontational remarks in Brussels, on the eve of the two-day summit in the Mediterranean resort town of Taormina, cast a pall over a meeting at which America's partners had hoped to coax him into softening his stances on trade and climate change.
The summit will kick off with a ceremony at an ancient Greek theater perched on a cliff overlooking the sea, before the leaders of Britain, Canada, France, Germany, Italy, Japan and the United States begin talks on terrorism, Syria, North Korea and the global economy.
"We will have a very robust discussion on trade and we will be talking about what free and open means," White House economic adviser Gary Cohn told reporters late Thursday.
He also predicted "fairly robust" talks on whether Trump should honor a U.S. commitment to cut greenhouse gas emissions under the 2015 Paris Agreement.
Trump, who dismissed man-made global warming a "hoax" during his election campaign, is not expected to decide at the summit whether he will stick with the Paris deal, negotiated under his predecessor Barack Obama.
Even if a decision is not forthcoming, European leaders have signaled that they will push Trump hard on the Paris emissions deal, which has comprehensive support across the continent.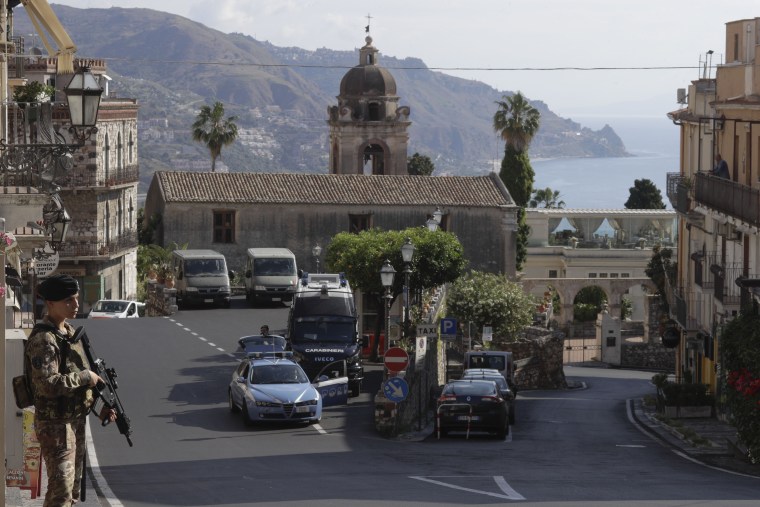 The summit, being held near Europe's most active volcano, Mount Etna, is the final leg of a nine-day tour for Trump — his first foreign trip since becoming president — that began in the Middle East.
On Thursday in Brussels, as NATO leaders stood alongside him, Trump accused members of the military alliance of owing "massive amounts of money" to the United States and NATO — even though allied contributions are voluntary.
Italy chose to stage the summit in Sicily to draw attention to Africa, which is 140 miles from the island at its closest point across the Mediterranean. More than half a million migrants, most from sub-Saharan Africa, have reached Italy by boat since 2014, taking advantage of the chaos in Libya to launch their perilous crossings.
Italy is eager for wealthy nations to do much more to help develop Africa's economy and make it more appealing for youngsters to stay in their home countries.