RIYADH, Saudi Arabia — That Melania and Ivanka Trump arrived in Saudi Arabia on Saturday with their hair uncovered is not unprecedented. But that Donald Trump previously slammed former first lady Michelle Obama for making the very same fashion choice two years ago has not gone unnoticed.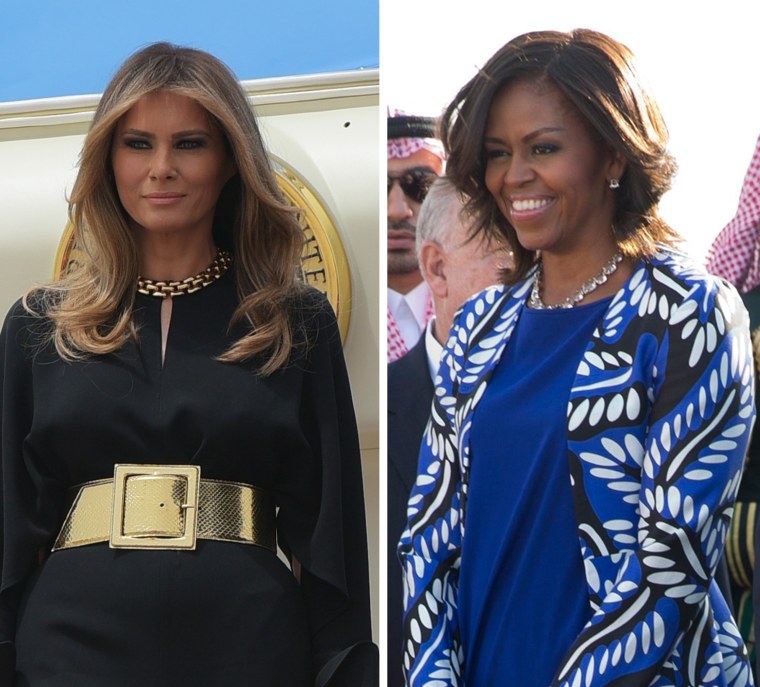 The wife and daughter of now-President Trump are in good company for eschewing the traditional Saudi headscarf, although they did abide by the norm of dressing in long sleeves and long pants expected in the culturally conservative kingdom. Covering is in line with a more modest appearance in Islam.
Gallery: President Trump Receives Royal Welcome in Saudi Arabia
Former Secretary of State Hillary Clinton, former first lady Laura Bush, British Prime Minister Theresa May and German Chancellor Angela Merkel all made the choice not to sport a scarf on similar recent visits to the region.
So, too, did Obama in January 2015 — a decision that led Trump, who at the time had no official political aspirations, to say something about it on Twitter. He wrote in a tweet that "many people are saying it was wonderful that Mrs. Obama refused to wear a scarf in Saudi Arabia, but they were insulted. We have enuf enemies."
But politicians such as Sen. Ted Cruz, R-Texas, applauded the then-first lady for "standing up for women worldwide," he posted on Facebook.
Others agree that there's nothing wrong with any woman — whether it was Obama or now Melania Trump — deciding they don't want to hide their hair.
Related: Donald Trump Lands in Saudi Arabia on First Overseas Visit of Presidency
"I think it's perfectly tasteful and appropriate," Middle East politics expert Christopher Davidson told NBC News. "We've now had a number of prominent Western women who have visited Saudi in recent months, Angela Merkel and Theresa May. Neither of them covered their hair and they both wore trouser suits."
The Saudis literally rolled out the red carpet for Trump's arrival on Saturday, feting the start of the U.S.-Saudi summit with trumpets, and even jets streaming red, white and blue-colored smoke over the airport.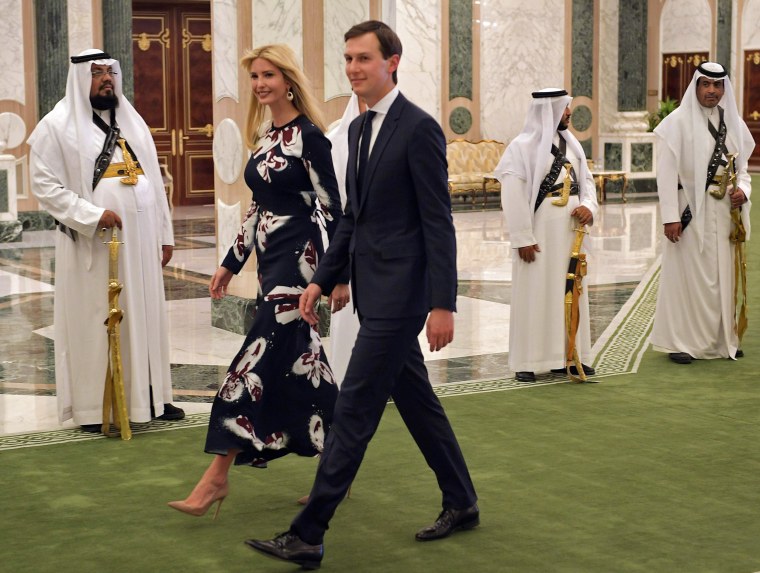 And after walking down that red carpet, Trump earned praise from conservatives for the absence of a simple gesture — not bowing to King Abdullah. That move was quickly contrasted with President Barack Obama's first trip to Saudi Arabia in 2009, during which he offered the king a handshake and a brief bend of the waist.
Conservative media blasted Obama for the gesture at the time and Republicans quickly ran a national internet ad asking the question: "Should America Bow to a King?" Unsurprisingly, Trump recalled the incident during the 2012 election and took the former president to task for it.
But hours later on Saturday, Twitter lit up with debate about what exactly constituted a bow after Trump bent over to accept the Collar of Abdulaziz Al Saud, Saudi Arabia's highest civilian honor.
Some said it wasn't quite a bow, and parsed out what that particular movement of the body indicates. A few conservative stalwarts were less than thrilled.