JERUSALEM — I've discovered the joys of a 15-minute falafel.
We're in Jerusalem on Day 4 covering President Donald Trump's first international trip, and everyone keeps telling me Israeli food is legendary. Producer Stacey has been talking up the breakfast spread here before the trip even began: Fresh fruit! yogurt! Mediterranean buffet!
My stomach started rumbling on the flight from Riyadh. We left Saudi Arabia about an hour after "Nightly News" last night, and landed in Israel just in time for the "TODAY Show." Luckily, I had a row on the plane to myself and a sympathetic flight attendant who tossed me an extra blanket. I also scored a pair of comfy plane socks in the deal, and four hours' sleep. All in all, a win.
We landed in Tel Aviv, and took a bus to our hotel in the Old City in Jerusalem. After check-in, I was the first one to the buffet. "Coffee," I mumbled, bleary-eyed, to the startled server.
Then: Quiche. Smoked salmon. Something with chickpeas. More coffee. It doesn't disappoint.
Food on the road can be a hit-or-miss deal. Just ask Trump: Caterers in Saudi made sure to have his favorite steak with ketchup available alongside the local menu, according to Julie Pace at the Associated Press.
I'm not big on red meat. But I do like to be prepared, which is why I pack snacks like fruit bars when I'm in the field. On the campaign trail, we never knew where our next meal would come from, so a stocked suitcase proved essential. (One of my colleagues, as we speak, has a stash of Larabars in her bag.)
This trip, though, I was so rushed that I didn't bring anything (remember the phone charger debacle?) In this instance, I don't mind. We're headed to some excellent food cities. When in Rome…try the pasta (and I will when the president heads to the Vatican on Wednesday.)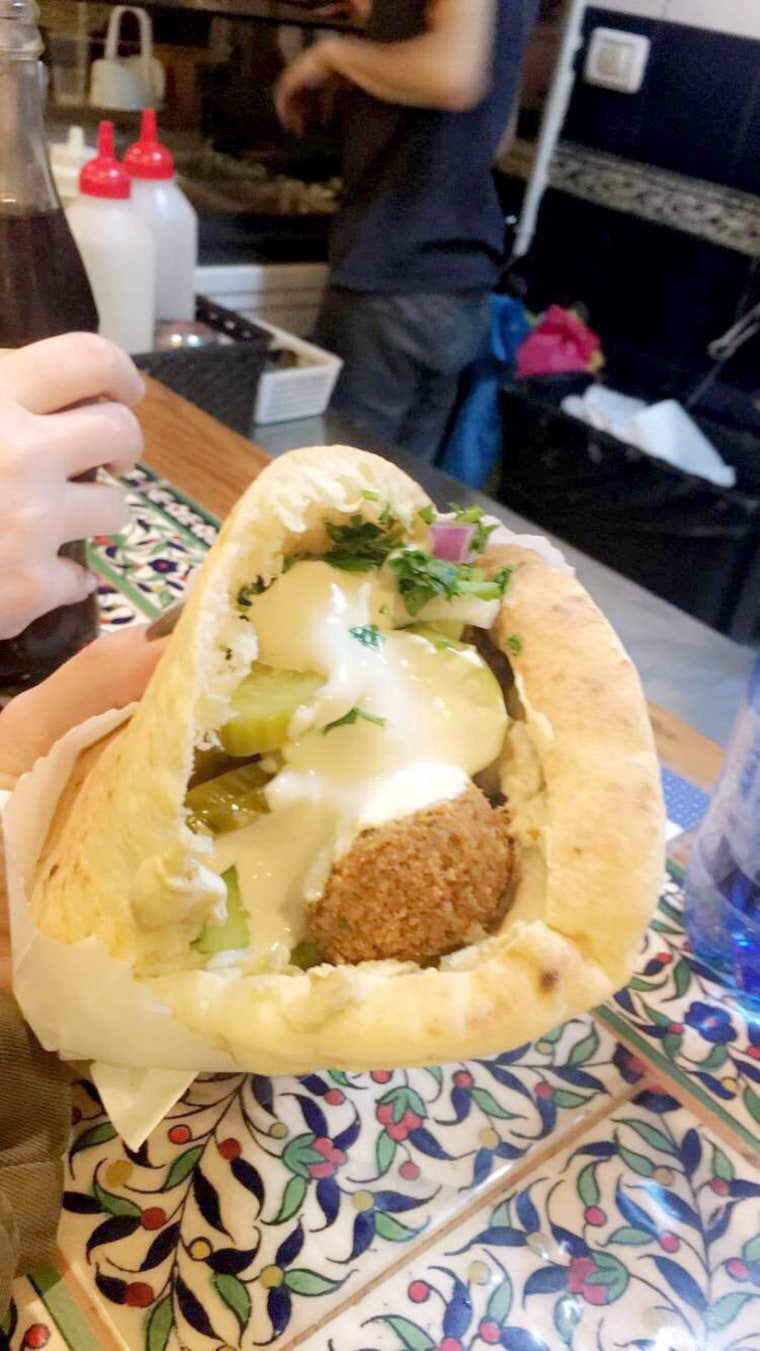 And when in Israel, try the falafel — at least, that's what everyone tells me. Only problem: Between sleeping on a plane, doing the "TODAY Show," filing for MSNBC, standing by for a special report on Trump's joint statement with Israeli Prime Minister Benjamin Netanyahu, and turning a package for Nightly News — I haven't had time.
It's only after finishing my script, making a round of calls, and taking a deep breath that I grab my producer, Alicia. She's on the phone. "C'mon." It's midnight in Jerusalem, and we have a few free minutes before we have to be back at the hotel.
Ben Sira Hummus is open until 2 a.m., according to Google, and it's a five-minute walk.
When we arrive, one guy's sitting at the counter, and another couple's at a table behind us. Mobb Deep's blasting from the speakers. The guy behind the counter smothers a pita with hummus. Yes, please.
I order, then take a bite. And another. It's a little bit of the local flavor — just a little — but it's worth the walk.
Fifteen minutes later, the phone rings: Time to go.