BRUSSELS, Belgium - Thousands of protesters took to the streets Wednesday to protest U.S. President Donald Trump's arrival in the city he previously likened to a "hellhole."
"If you don't want Trump in Belgium clap your hands," chanted some, while others opted for "hey hey, ho ho, Donald Trump has got to go."
Marchers carried colorful flags and banners inscribed with slogans such as "Fight Donald Trump and his billionaire friends" and "stay out of our hole," a reference to an interview Trump gave last year in which he described Brussels as "like living in a hellhole right now."
According to capital police, 9,000 people attended the rally.
The president and first lady Melania Trump arrived in Brussels Wednesday for the fourth leg of his first foreign trip as commander-in-chief. He will spend just over 24 hours in the city before flying to Sicily for the G7 summit.
The main reason for his visit to this city — the heartland of the European Union — is to attend a NATO summit in which he is expected to push for members to boost defense spending to the equivalent of two percent of their GDP, in an effort to better share the cost of the alliance's budget.
But for the Belgians protesting in the streets on Wednesday, the president was not welcome in their country as long as he continued to push "his war agenda."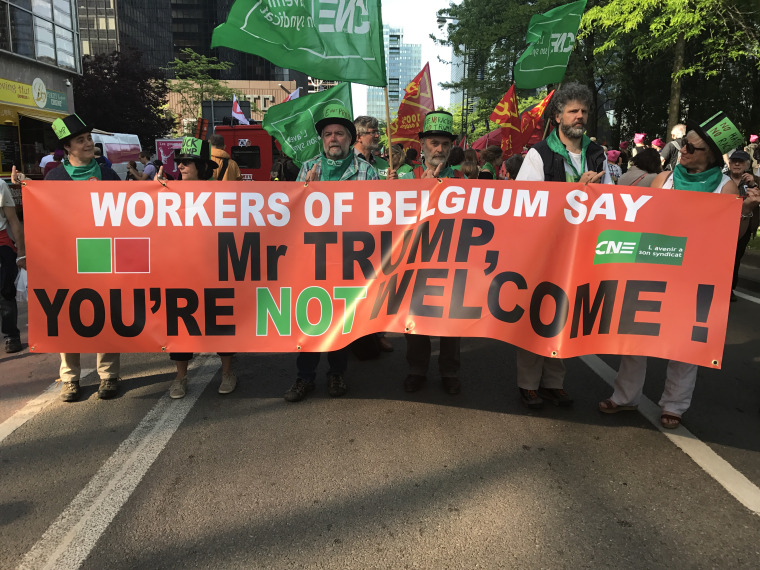 "He wants Europe to spend more money on war when he should be investing in peace," said Ludo De Brabander, one of the organizers of the demonstration. "If all the EU member states pay two percent of their GDP on military spending, that's billions of dollars that should be spent helping the poor, not investing into a war machine," he added.
Many of the protesters out in the early summer sun were a mix of pacifists, women's and student groups, left-wing trade unionists and environmental activists all marching under an anti-Trump banner. Members of the extreme-left anarchist group black bloc also turned up, lighting torches which billowed black plumes of smoke.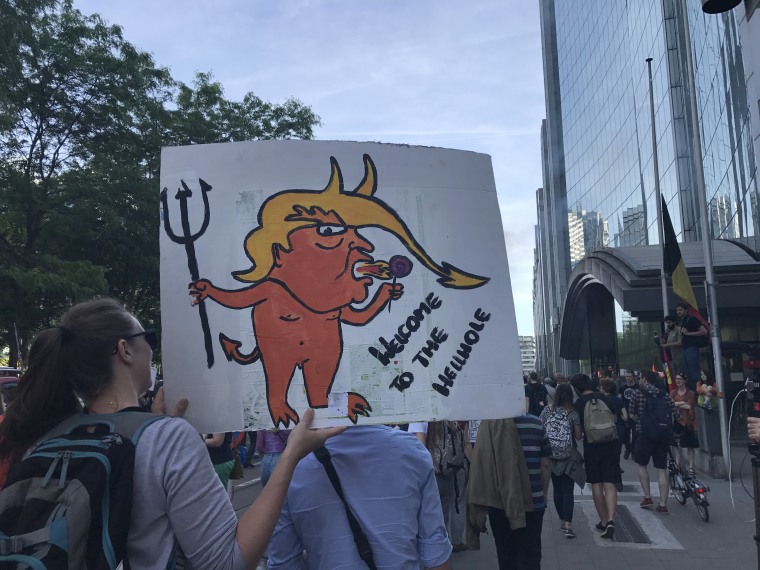 Others were unaffiliated members of the public who simply wanted to voice their objection to Trump's policies.
"I came particularly to fight against climate change," said Katrien Vandevelde, 49. "Trump is accelerating the melting of the ice caps. I so wish the moment he gets home he will be impeached and we can get Bernie Sanders and have the whole world fighting against global warming."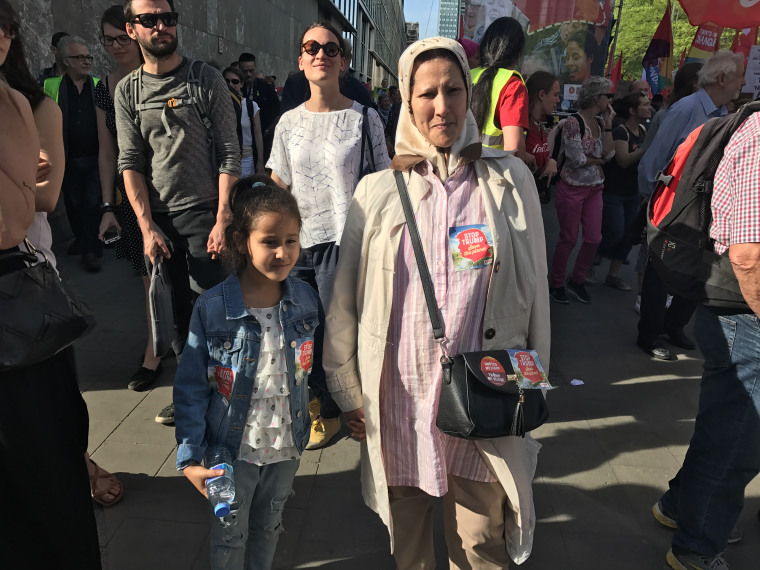 "Trump is a dangerous man," said Malika Bali, a 62-year-old from Brussels who was protesting with her granddaughter.
"He doesn't like foreigners, he doesn't like women and he is not welcome here," she added.