President Donald Trump kicks off his first overseas venture by visiting longtime U.S. ally, Saudi Arabia, the birthplace of Islam and a deeply conservative regional power.
It is a trip made all the more significant because no other president has chosen the country as their first destination as Commander in Chief.
The trip is also unique in what Trump leaves behind.
Shortly after he departed, American media reported two surprising and potentially damaging developments that could hang over the president's trip.
The Washington Post reports investigators are zeroing in on a current White House official close to Trump as a person of interest in their probe into the administration's ties to Russia. In a second story, according to The New York Times, Trump reportedly told Russian officials FBI Director James Comey was "a real nut job" and his dismissal relieved "great pressure" during the president's meeting with them earlier this month.
During a roughly two day stay in Riyadh, Trump will attend a royal banquet, inaugurate a counterterrorism center, take part in a Twitter forum and participate in three major meetings with Arab and Muslim leaders from around the globe, including an international event organized by the Saudis around his visit entitled the "Arab Islamic American Summit."
The highlight of the Saudi leg of Trump's trip is a highly anticipated speech to the Muslim world that national security adviser H.R. McMaster said is "intended to unite the broader Muslim world against common enemies of all civilization and to demonstrate America's commitment to our Muslim partners."
The Associated Press reported Friday evening that it had obtained a draft of the speech and noted that "Trump will abandon some of the harsh anti-Muslim rhetoric of his campaign."
"...Trump will issue a call for unity in the fight against radicalism in the Muslim world, casting the challenge as a 'battle between good and evil,'" the AP said, adding the White House said it was not a final draft and could change by Sunday.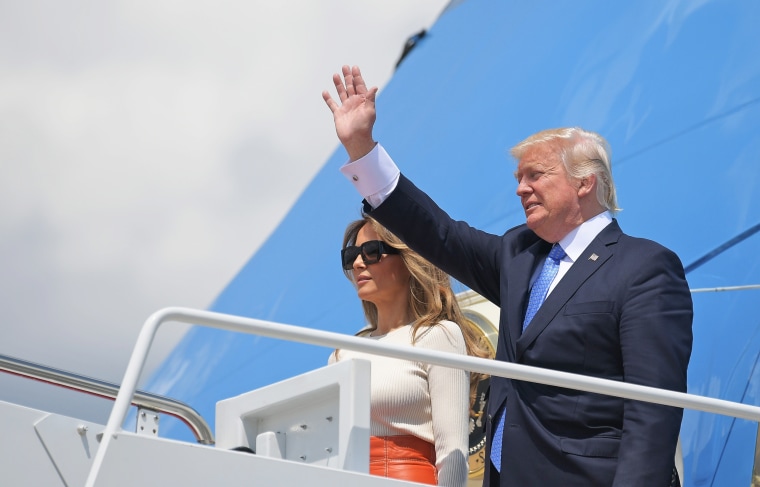 The royal fanfare awaiting Trump stands in stark contrast to the greeting found by President Barack Obama in Riyadh last year after a term marked by worsening U.S.-Saudi relations.
The reception also underscores the stakes as the Trump administration seeks to improve relations with an oil-rich nation that is seen as an ally in the fight against terrorism and could play a role in helping craft a peace accord between Israel and Palestine.
Working to Repair Relations
The Obama White House was supportive of Saudi Arabia through record weapons sales and regular military deals, but the U.S.'s refusal to more directly help rebels fighting the government of Syrian President Bashar Assad and policies surrounding the Arab Spring upset their longtime ally.
The Saudis were especially troubled by the U.S.-led multilateral negotiations in 2015 to curb Iran's nuclear program in exchange for an easing of sanctionsand Iran's re-entry into the international financial system. Those nuclear talks also helped open conversations between the U.S. and Shiite Muslim Iran — a close ally of the Syrian regime and the country Saudi Arabia sees as an existential threat.
Saudi senior officials say Saudi Arabia and fellow Sunni powers welcome the Trump administration's understanding of the Middle East, specifically "giving priority to supporting allies" and "countering terrorism and its extremism in all of its forms be it ISIS, terrorist groups or proxies backed by Iran."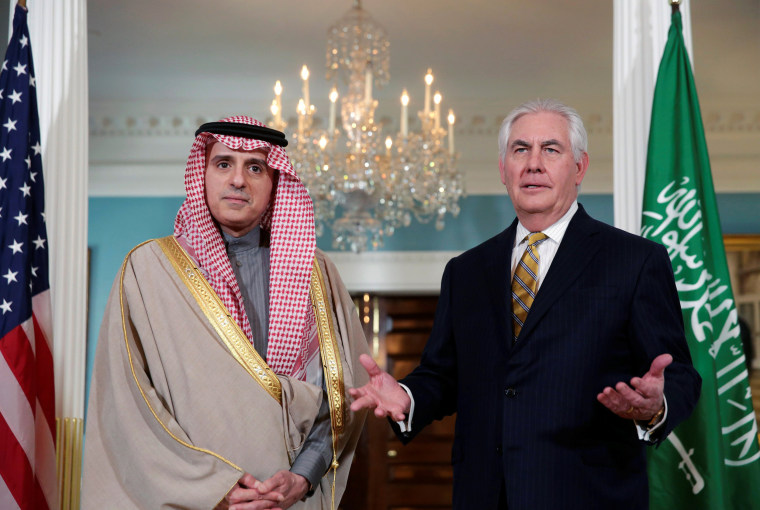 "The current administration views challenges in the region in the very same way to what we are viewing. We think countering any destabilizing behavior is a priority," one Saudi senior official told NBC News.
Trump has frequently lashed out at Iran, called the nuclear pact "the worst deal ever," and promised to "rip up" the agreement. Last month, Secretary of State Rex Tillerson advised Congress that, although Iran is in compliance with the agreement, the administration is weighing breaking the deal. Tillerson cited, in part, Iran's continued support of terrorism.
The Trump administration has also signaled it may be less likely to focus on Saudi Arabia's human rights abuses, which according to a 2016 State Department report include "restrictions on universal rights, such as freedom of expression, including on the internet, and the freedoms of assembly, association, movement, and religion; and pervasive gender discrimination and lack of equal rights that affected most aspects of women's lives."
A U.S. official said that while the United States works closely with senior Saudi officials on a range of bilateral and regional issues, they also "regularly raise human rights concerns with the government of Saudi Arabia as part of that ongoing dialogue."
Finding Common Ground
Trump's visit will begin with an extravagant welcome ceremony followed by meetings with Saudi King Salman, the Crown Prince and the Deputy Crown Prince. He will also participate in a signing ceremony of several agreements that "further solidify U.S.-Saudi security and economic cooperation."
In one such agreement, the Saudis are expected to sign to purchase more than $100 billion in U.S. military equipment over the next 10 years.
Critics of U.S. arms deals with Saudi Arabia point to the thousands of civilians killed during Saudi airstrikes in Yemen. Last October, one Saudi coalition airstrike hit a funeral ceremony in Yemen's capital of Sanaa, killing over 140 people and wounding more than 500 more, including children. The Saudi Arabian government blamed the attack on "erroneous information."
The Saudis are also expected to make a significant investment of close to $40 billion in the U.S. energy sector through Aramco. The Saudi oil company is the largest in the world.
On the sidelines of the president's events will be a CEO forum where the press release promises new licenses will be issued for U.S. companies "to establish their footprint in the Kingdom, further strengthening the established ties of economic inter-dependency."
It's All About Iran
Trump will sit down again with Saudi Arabia, this time with the Gulf Cooperation Council countries, including the United Arab Emirates, Qatar, Bahrain and Oman. These Gulf Arab countries, like Saudi Arabia, are hoping the United States agrees to further engagement against Iran including working to curb Iranian support for Houthi rebels in Yemen and taking a greater leadership role in Syria.
Thirty-seven heads of state and six heads of government will be among the over 50 representatives from Muslim countries across the world meeting with the U.S.
Sudanese President Omar Bashir, who is wanted by the International Criminal Court for war crimes, was among the list of invitees, but the official Sudanese news agency is now reporting he has turned down the invitation.
In a deliberate slight, Iran was not invited to participate despite being part of the Organization of Islamic Countries. Syrian President Assad was also left off the list.
This meeting will focus on the president's campaign goal of defeating "radical Islamic terrorism." On top of inaugurating "Global Center for Combating Extremist Ideology," the president is expected to make a major address on counterterrorism and confronting radical ideology.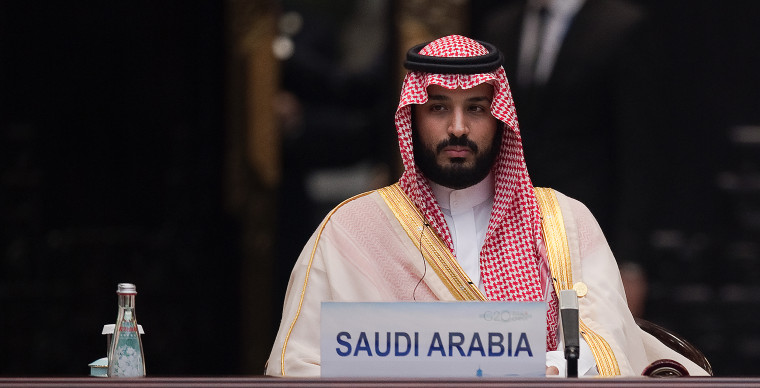 McMaster said the speech would be "inspiring yet direct."
According to both Saudi and White House officials, the U.S. is expected to call on countries to sign on to a pledge aimed at cutting the funding and financing of terror institutions. This will prove extremely challenging for the U.S. and many of the countries attending the meeting who do not see eye to eye.
Saudi Arabia funds and backs schools, social programs and non-governmental organizations that have long been suspected of promoting an extreme version of Islam, Wahhabism. Qatar is also known to support Hamas, a group the U.S. designates a terrorist organization.
A senior White House official told NBC News that Saudi Arabia is supposed to announce that they will "stop funding radicalization." Another senior White House official clarified to say the agreement would be to that effect and they will "work on enforcement mechanisms" later.
Pushing for Peace
The president is also expected to have a series of bilateral meetings on the sidelines of the larger summit where peace between Israel and the Palestinians is certain to be a topic of conversation.
Senior Saudi officials expressed optimism over the success of Trump's unconventional approach and pointed to the 2002 Arab Peace initiative as the start of a solution.
"We are in the forefront of pushing for peace in the Middle East," said one Saudi official. "We will work with the administration and other regional partners to ensure that we have significant progress."
Overall, the Trump administration sees the visit as a chance for the president to build a new relationship with the Arab world after a campaign heavy in anti-Muslim rhetoric and a controversial travel ban on seven Muslim majority countries. McMaster said "the president's leadership has been welcomed enthusiastically" by Arab allies.
"There was a perception that America had largely disengaged from the Middle East in particular, and that disengagement coincided with this humanitarian and political catastrophe in the region," McMaster told reporters last week. "Now there's a broad recognition among all of our partners in the region that American leadership is necessary to help address this catastrophe and to begin to move the region toward the peace."
But the view of Arab and Muslim government officials may differ from that of their citizens.
A recent poll by ASDA'A Burston-Marsteller, a public relations agency, found that almost two thirds of Arab youth view Trump's presidency with concern, anger or fear. An overwhelming majority of those polled think that Trump is anti-Muslim.