President Donald Trump capped the end to his first foreign trip by pledging his "unwavering support" to the military and their families Saturday during a visit with American troops stationed in Italy.
Arriving on Marine One, the presidential helicopter, Trump and first lady Melania Trump were greeted by military members in a pre-Memorial Day visit to Naval Air Station Sigonella in eastern Sicily.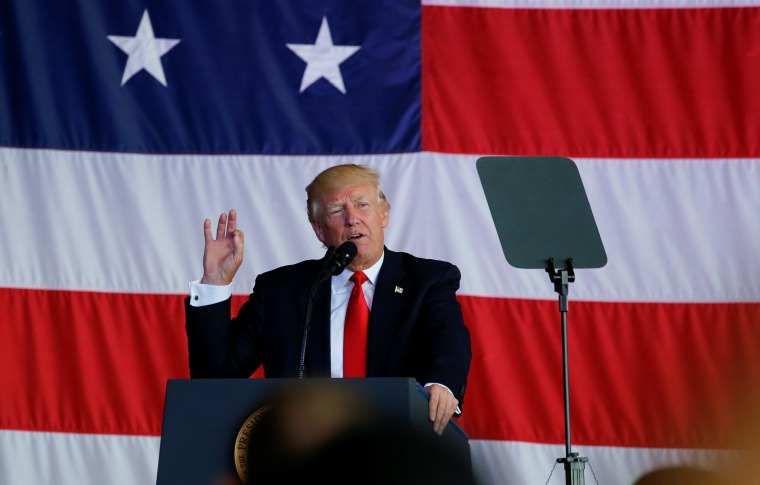 Trump praised the troops for their continued efforts to fight terrorism in the Middle East and North Africa, and said the attacks that include a suicide bombing in Manchester, England, earlier this week and against Coptic Christians in Egypt underscore the need for a strong military.
"The single greatest strength to our armed forces is you, you, all of you," Trump said to the troops. "You have poured out your hearts, your souls and even your blood for this nation, and we will pour out our gratitude for you, in return."
Related: Trump Declines Endorsing Paris Climate Change Deal at G7 Summit
The president vowed to provide troops with new equipment and vehicles, and touted his budget proposal — which calls for a $54 billion increase in defense spending for the next fiscal year — as an indication of his commitment to the military.
"You saw what we did with our military budget — way up," he said. "Took a little heat on that one, but it's OK with me."
Trump's new budget proposal seeks to cut programs for low-income Americans while boosting defense spending.
Throughout Saturday's speech, the president recounted the highlights from his nine-day trip, which began with meeting Arab leaders in Saudi Arabia a week ago, a trip to see Pope Francis at the Vatican and concluded at the G7 Summit on Saturday.
Trump during the summit thanked other members for their support following 9/11, but was far from explicit on Article 5 of the NATO alliance's charter, which pledges that all member countries would have one another's backs during an attack. He also griped how other NATO members don't pay their share of 2 percent of their gross domestic product on defense.
Related: Trump's Defense Budget Doesn't Add Up, Experts Say
Finally, he declined to support the Paris climate change deal with the other G7 countries, saying he would decide where he stands on it in the coming days.
But while Trump told the troops that his meetings with global leaders have restored his confidence in the strength of America's alliances, he stressed that the joint effort to defeat terrorism would not be possible without the American men and women who dedicate their lives to military service.
"You are the warriors of freedom, you are the protectors of that great American flag," Trump said. "And you are the ones who protect the God-given freedoms that are the birthright of every single American child. I am honored to have had this time to spend with you."
Trump and the first lady were scheduled to return to Washington, D.C., following the trip that had them globetrotting for nearly 30,000 miles.