WASHINGTON — Donald Trump just returned from his first trip abroad and White House watchers hope he learned a lot during the week.
Not about the Middle East and Europe, but about the value of acting presidential.
On its face, the trip seemed to placate lawmakers, adversaries and even supporters who worried about the say-anything president at large on the world stage.
But Trump — known for making unforced errors large and small — largely stuck to script, giving no press conferences, ignoring most shouted questions from reporters, and even keeping quiet on Twitter.
On the ground in Saudi Arabia, Israel, Italy and Belgium no utterances of "James Comey" or "Russia" came from Trump — leaving news on those issues to break on the home front without the president adding extra fuel to extend the coverage.
When NBC News exclusively reported Thursday that son-in-law and senior adviser Jared Kushner is under scrutiny in the FBI's Russia probe, Trump, who was in Sicily when the news broke, stayed uncharacteristically mum.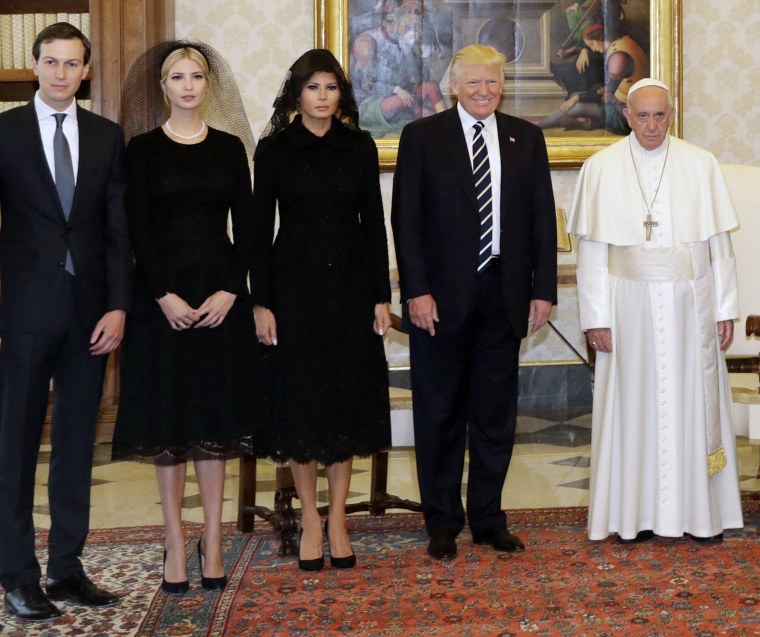 The man who campaigned on the "Muslim ban" was greeted warmly by Muslim and Arab leaders in Saudi Arabia, talked up Middle East peace in meetings with Palestinian President Mahmoud Abbas and Israeli Prime Minister Benjamin Netanyahu, carried a tough (though somewhat awkward) message to NATO allies that they needed to boost their contributions on defense, and he survived a white-knuckled handshake from newly minted French President Emmanuel Macron.
"It's clear that they were looking to reduce risk and reduce any likelihood of an unscripted moment," said former President Obama Press Secretary Josh Earnest, an NBC News and MSNBC political analyst. "That clearly was one of their goals going in."
The White House celebrated the trip as a win after weeks of negative news cycles and the drip, drip, drip of Russia-related news reports consumed the administration.
"He had a message. He actually had a policy that he wanted to drive that wasn't a personal point, it was a policy point...He needs to up-play policy and downplay personality" — President George W. Bush's former press secretary Ari Fleischer
"No big speed bumps," one administration official told NBC of the trip.
"Imagery from the trip has been great," added the official, who requested anonymity because the official was not authorized to speak publicly about the president's trip. The "general mood here is that it has been a great success."
Before returning home, Trump himself proclaimed of his trip, "I think we hit a home run."
RELATED: Trump's first trip abroad: All the coverage
Critics had a more subdued reaction, but even they gave the president a passing grade.
"It wasn't a disaster," former Obama communications director Jennifer Palmieri told NBC News. "It could've been a disaster, could've easily been a disaster." Then again, she added, "the bar is so low."
Much-needed discipline
Though the foreign trip was on the books well before the president's decision to fire former FBI Director James Comey and the Department of Justice's appointment of a special counsel to oversee the Russia probe, putting thousands of miles between domestic controversies and a frustrated president couldn't have come at a better time.
"Foreign trips can help shuffle the deck when you are in a bad downward spiral," Palmieri said. "I think the foreign trip helped them because they…desperately needed something that was going to change the subject from Comey and Russia."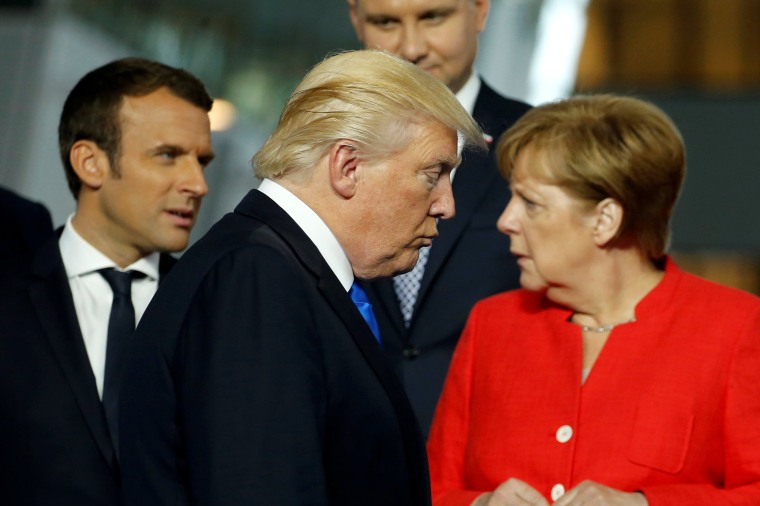 Senator Bob Corker, R-Tennessee, said there was "no question" that the president showed discipline during the whirlwind five-nation journey. "Everything's been laid out for him in that matter," Corker told NBC.
Trump's decision to stick to the script is not one to be taken for granted given the number of times he's tossed aside prepared remarks and launched into news-making riffs of his own. In fact, the one time he went off-script to answer a reporter's shouted question on the trip ended up giving fresh legs to reports that he disclosed highly classified information to the Russians during a meeting in the Oval Office.
"Folks, folks, just so you understand, just so you understand, I never mentioned the word or the name Israel during that conversation" with Russian Foreign Minister Sergey Lavrov in the Oval Office, Trump said Monday in Jerusalem with Netanyahu standing beside him.
The administration official called the opening Saudi Arabia leg of the trip "huge" from an optics vantage point, including a speech to the Muslim world and announcement of a $110 billion arms deal with Saudi Arabia that Secretary of State Rex Tillerson called a "strong message to our common enemies."
The administration official said the president's messaging wasn't the result of pre-trip conversations about the necessity of staying on topic, but came from Trump being "dialed in on communicating exactly what he wants folks to take away from each stop."
Some Democratic lawmakers, like Sen. Tim Kaine, D-Virginia, scoffed. "I don't think he's been disciplined because he went on travel, I think he's been disciplined because he's had a lot of lawyers telling him you better be careful about what you say," Kaine told NBC News.
A glaring gap in rhetoric
For all the talk of sticking to the script, those scripts were noticeably lacking in a discussion of American values abroad, critics said.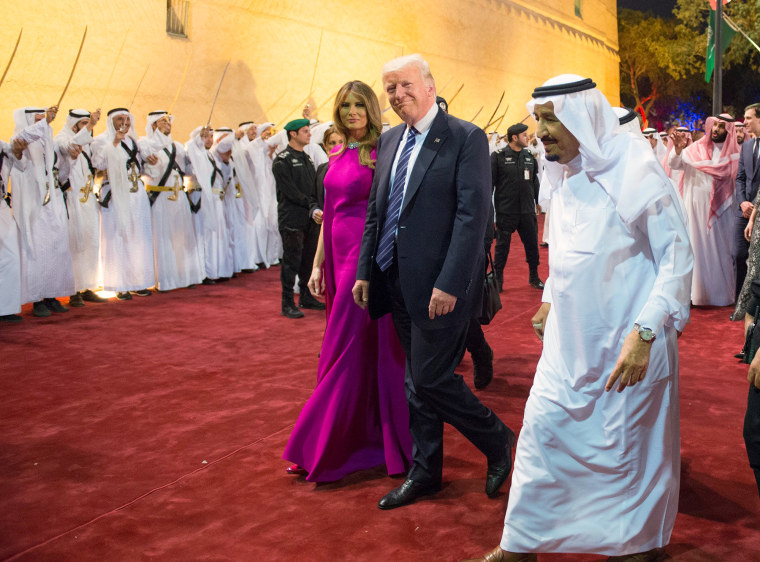 Speaking to Muslim and Arab leaders in Riyadh, Trump said he was "not here to lecture" but "to offer partnership."
"By downplaying or even obscuring the differences in values…that has made Trump's meetings with other leaders look much more harmonious," Earnest said.
"When President Trump goes to Saudi Arabia and doesn't stand up for our values, the leaders of some of the Arab countries breathe a sigh of relief and have fonder feelings or warmer feelings for the president," he added. That allows him to tell a story of improving relations with other countries around the world and I guess the question the American people have to ask is, at what cost?"
Trump's Thursday remarks to NATO also brought another case of necessary words left unsaid. The president did not explicitly commit to Article 5 of the NATO charter — a promise that the United States would come to the defense of its NATO allies if they ever came under attack. A senior White House official later told NBC that the commitment was implicit in the president's being at the gathering.
Can Trump stay on message?
Now that the president is back on his home turf, the question becomes can the no-drama, on-message approach stick or was the trip merely a temporary respite from a roiling wave of controversy still playing out in D.C.?
"I hope he comes back from this trip recognizing the power of a disciplined president, how he needs to now repeat this domestically," said Ari Fleischer, former press secretary to President George W. Bush, adding that he was hopeful yet uncertain the president would make a sustained pivot to presidential.
"He had a message. He actually had a policy that he wanted to drive that wasn't a personal point, it was a policy point," he said. "If he could do the same on tax reform, repealing and replacing Obamacare, if he can do the same on immigration, energy development, he could be so successful domestically. He needs to up-play policy and downplay personality."
Trump has shown that he can modulate his shoot-from-the-hip behavior only for a short time. He's self-sabotaged past attempts to pivot — during the campaign and as president — and in the face of conflict, reverted back to his instinct to counter-punch, even if his defense only worsens the crisis.
That's what happened after his widely applauded joint address to Congress when Trump's glowing "presidential" moment was trampled on less than 24 hours later by further reporting on Russia that put his administration on defense. And the president capped off that week with a series of tweets alleging without any evidence that Obama had his "wires tapped" at Trump Tower.
The lesson from the past four months is not to stop the spontaneity that propelled Trump to office and endeared him to his base, said American Conservative Union Chairman Matt Schlapp, but instead to find ways to weave it into the environment he's returning to, where a special counsel is now leading an investigation into the Trump's campaign alleged ties with Russia.
White House aides told NBC News Friday that they're preparing for a "new reality" going forward, including creating a "war room" headed up by Kushner, Steve Bannon, and Reince Priebus to deal with all things Russia-related.
"I don't think the lesson from the last four months is that you should never be spontaneous or genuine or tell them what you really think," Schlapp, a longtime Trump supporter, told NBC.
"I want him to keep doing that, but, by the same token, I think the staff has to up their game and the president as a leader has to look for all the ways in which he can improve as a leader," he continued. "When they come back, they need to understand that there's a special counsel and this has gotten quite serious politically and they've got to perform at a better level."