RIYADH, Saudi Arabia — On the first stop of his inaugural foreign trip, President Donald Trump signed his name Saturday to a nearly $110 billion arms deal with Saudi Arabia effective immediately — plus another $350 billion over the next 10 years.
The White House trumpeted the agreement as a "significant expansion" of the two nation's "security relationship" that includes promises for future defense capabilities to support Saudi Arabia's defense needs.
"That was a tremendous day. Tremendous investments in the United States," Trump, following a day of pageantry upon his arrival, said during a meeting with Saudi Arabia's Crown Prince Mohammed bin Nayef. "Hundreds of billions of dollars of investments into the United States and jobs, jobs, jobs."
Secretary of State Rex Tillerson and Saudi Arabian Minister of Foreign Affairs Adel bin Ahmed Al-Jubeir also touted the agreement while briefing reporters Saturday, stressing the need for economic security and joint counterterrorism efforts.
Tillerson previewed "ongoing engagement and dialogue" as well as regular meetings to review how the deal's tenets will progress. Saturday's announcement, Tillerson added, shows a "strong message to our common enemies."
Related: Trump Tasked With Mending U.S.-Saudi Ties
Among those that the U.S.-Saudi military sales agreement is meant to send a signal to: Iran. Asked if he would ever call Iranian counterpart Mohammad Javad Zarif, Tillerson said he's never "shut off the phone" and suggested an openness to dialogue — at least in the future.
"I have no plans to call my counterpart in Iran, though in all likelihood we will talk at the right time," Tillerson said.
A White House official said the arms deal package demonstrates "the United States' commitment to our partnership with Saudi Arabia and our Gulf partners, while also expanding opportunities for American companies in the region, and supporting tens of thousands of new jobs in the U.S. defense industrial base."
The deal — which was already anticipated as a tangible outcome of the trip — also includes a "letter of intent" to assemble 150 Lockheed Martin Blackhawk helicopters to the tune of $6 billion.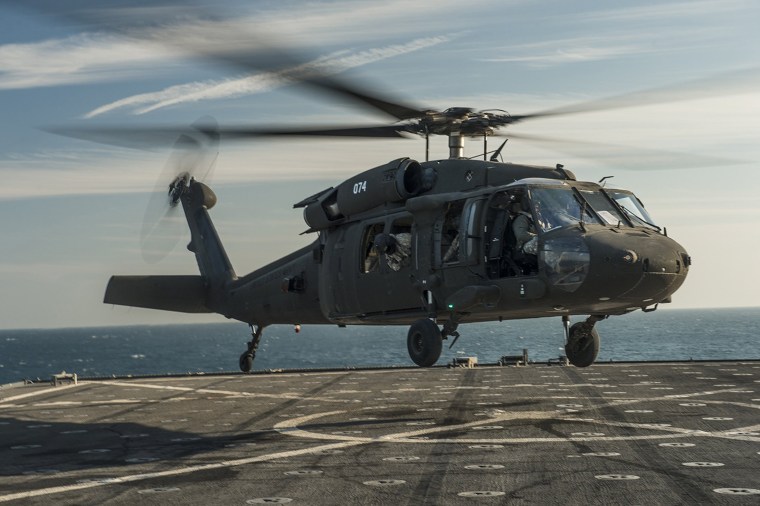 In addition, eight letters of acceptance and a joint vision statement were released, said White House Principle Deputy Press Secretary Sarah Huckabee Sanders.
According to the State Department, the sales fall into five broad categories, including border security and counterterrorism; air force modernization; air and missile defense; maritime and coastal security; and cybersecurity and communications upgrades.
Jared Kushner, the president's son-in-law and senior adviser in the administration, reportedly took a hands-on approach early on in the arms deal negotiations, calling Lockheed Martin CEO Marillyn Hewson to see if anything could be done about the price of a sophisticated radar system. She told him she'd look into it, according to a New York Times account.
The arms deal, however, may receive pushback from human rights organizations who have previously called out Saudi Arabia for actions taken in Yemen that they say violate human rights. These new weapons beg questions about how Saudi Arabia will use the equipment going forward.
The arms announcement also comes amid new private sector agreements after U.S. and Saudi Arabian companies gathered Tuesday for a Saudi-U.S. CEO Forum.
A statement released by the 2017 Riyahd Summit applauded other agreements with GE and Dow Chemical as achieving "the goal of creating jobs and driving economic diversification" and providing jobs in the country, "cementing partnerships for generations to come."
GE, the U.S. technology and engineering giant, also said Saturday it had signed $15 billion worth of business deals with Saudi Arabia.
Tillerson praised the multibillion-dollar "direct investment" move, predicting it will "result in literally hundreds of thousands of American jobs."
President Trump arrived in the kingdom on Saturday morning, greeted by Saudi King Salman on a red-carpeted tarmac.
The trip, which marks Trump's first overseas venture since becoming president, comes as the leader of the free world faces political blowback at home for his firing of former FBI Director James Comey and Washington reels from the appointment of a special counsel by the Department of Justice to investigate allegations of Russian meddling in the 2016 presidential election.
Before departing on his trip, Trump said he believes the special counsel decision "hurts our country terribly because it shows we're a divided, mixed-up, not-unified country."