The proliferation of media outlets has long meant that, with the click of a remote control or a mouse, Americans can choose their news.
In the Trump era, that means that different media consumers are experiencing different realities when it comes to the presidency and the state of the country.
In the latest NBC News/Wall Street Journal poll, respondents were asked to identify one or two of the top sources they use to get information about politics and current events. Those options were: broadcast networks like NBC and ABC, Fox News, CNN, MSNBC, social media, national newspapers, and "conservative news outlets" or "progressive news outlets" including blogs, websites and talk radio.
The data show that viewers of different media outlets often had wildly divergent views of the president's job performance, the state of the country, the wisdom of various policy proposals and the bias of the media itself.
Among all the media outlets tested, FOX News viewership had the most notable correlation with vote choice in 2016, as well. Fifty-two percent of Donald Trump voters said FOX is one of their top choices for news, compared to 23 percent of Trump voters who said they favor other conservative outlets like web and talk radio. Among Clinton voters, 53% said they watch other networks like MSNBC and CNN and 11 percent cited "progressive news outlets." Broadcast networks were cited as a favored news source for about three-in-ten Trump and Clinton voters alike.
Trump has made no secret of his own media preferences, lambasting outlets like the "failing" New York Times, promoting conservative-leaning websites and declaring "Fox & Friends" as "the most honest" of the morning television shows.
So it's perhaps no surprise that the viewers of Trump's most frequently criticized media outlets — CNN, MSNBC and national newspapers — have the least positive assessments of Trump's job performance so far, while a whopping 78 percent of Fox News viewers and 75 percent of conservative news outlet users approve of the job he's doing.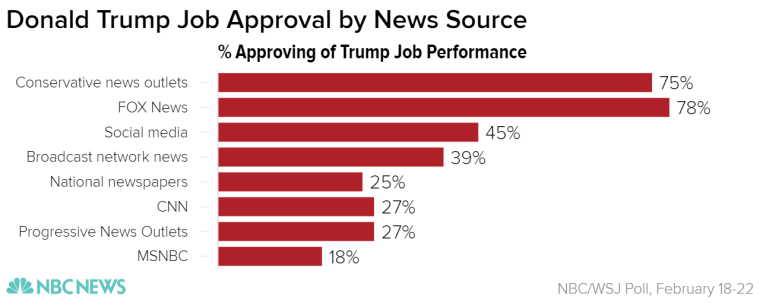 The same two groups – FOX News viewers and conservative media outlet users -- are also dramatically more optimistic about the future of the country, saying that the country is heading in the "right direction" by margins of nearly 30 points higher than other media audiences.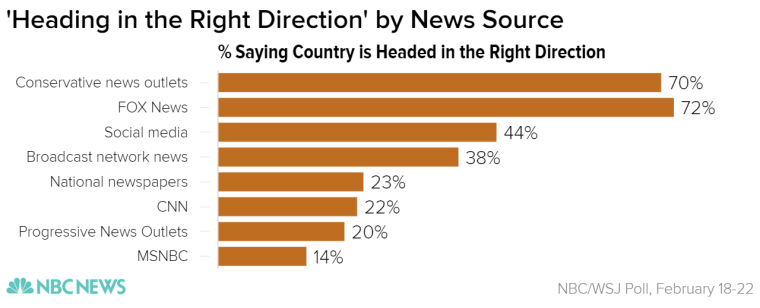 The same big gap in perceptions goes for views of Trump's proposal to temporarily ban travel to the United States by citizens of seven majority-Muslim countries.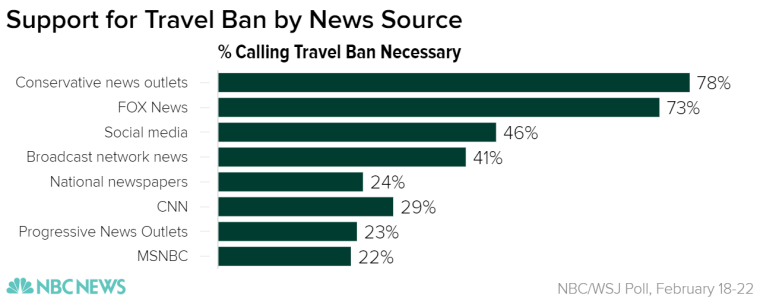 Those numbers are inverted when it comes to views of Obamacare, with big majorities of progressive news outlet users, MSNBC viewers and national newspaper readers saying the health care law is a good idea.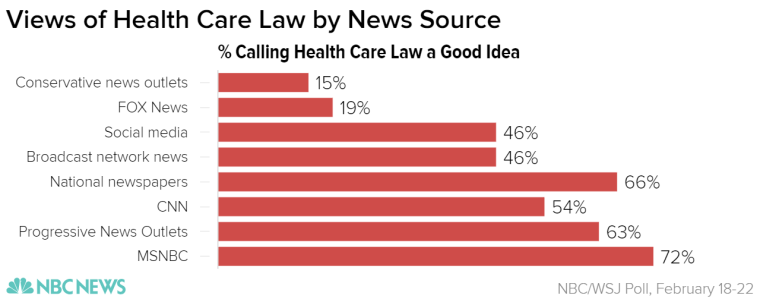 While debate rages in Washington about alleged improprieties in Trump's dealings with Russia, few fans of FOX News or other conservative-leaning outlets see any problem with Trump's consistently favorable comments about Russian President Vladimir Putin.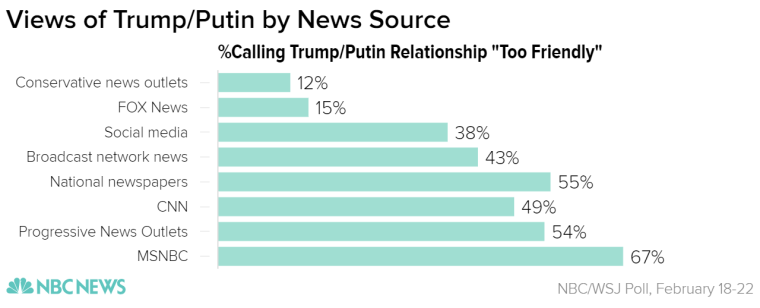 But perhaps the starkest difference between media consumers actually has to do with the media itself. About eight-in-ten FOX news viewers say that coverage of the president has been "too critical." Only a third (or fewer) agree among readers of national newspapers and viewers of CNN and MSNBC.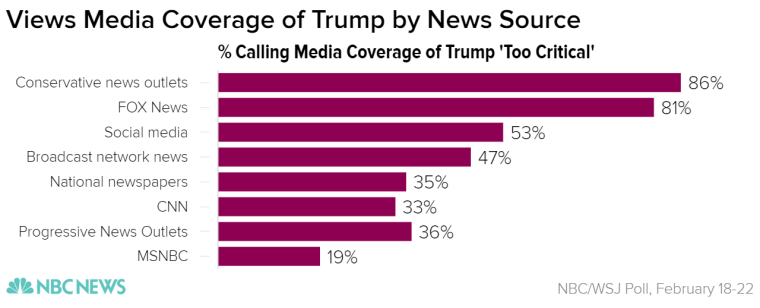 The poll of 1000 respondents was conducted February 18-22. The margin of error for all adults is +/- 3.1 percent; the margins of error for subgroups are higher.