It was Donald Trump at his most presidential.
In his first address to Congress, President Trump defended controversial policies pushed by his administration and optimistically outlined a bold agenda highlighted by immigration reform, an expansive infrastructure program and reform of the nation's health care system.
While Trump advocated many of the hot-button issues he championed during the 2016 presidential campaign, he also struck a more conciliatory tone than the bombastic new president has done since entering the White House.
The bipartisan tone was especially apparent in the hour-long address as he spoke about the issue of immigration. "I believe Republicans and Democrats can work together to achieve an outcome that has eluded our country for decades," Trump said in a speech that stuck closely to the prepared script.
In a conversation with TV anchors earlier in the day, Trump signaled a willingness to make a potentially seismic shift in his immigration policy by saying the "time is right" for a bipartisan immigration bill that could include a path to legal status for undocumented immigrants who have not committed serious crimes. He also said individuals seeking legal status would not need to leave the country first.
Related: Full Coverage of Trump's Address to Congress
It was a remarkable suggestion from Trump, whose signature campaign promise was to build a wall on the southern border with Mexico and pledged to crack down on undocumented immigrants currently in the country. Trump's supporters rallied behind his hard-line stance on immigration and hammered his Republican rivals for taking softer stances on the issue.
A new Department of Homeland Security immigration policy unveiled last week that expanded the power of authorities to deport those here illegally was uniformly slammed by Trump's opponents in Congress, prompting Democrats to invite dozens of accomplished immigrants to attend the speech. Trump countered by inviting the family members of victims killed by undocumented immigrants.
Still, Trump made a greater effort in his speech to reach out to the millions of Americans who did not vote for him than he did during a notably dark inauguration address that painted a gloomy picture of America under eight years of President Barack Obama's leadership.
Trump declared that "a new chapter of American greatness" was now beginning and "the time for small thinking is over."
Related: DHS Immigration Crackdown: What You Need to Know
"The time for trivial fights is behind us. We just need the courage to share the dreams that fill our hearts, the bravery to express the hopes that stir our souls, and the confidence to turn those hopes and dreams to action. From now on, America will be empowered by our aspirations not burdened by our fears," Trump added.
And he began his speech by denouncing the recent threats against Jewish cemeteries and community centers and a possible hate crime in Kansas, declaring, "we are a country that stands united in condemning hate and evil in all its forms."
PHOTOS: Scenes From Trump's Address
Though Trump provided a broad outline of his intended agenda, he offered few new details to Congress on how to get there — although he said lawmakers should be guided by lower costs and expanded choice. He also called for $1 trillion in public and private investment in the country's crumbling infrastructure, while providing no ideas on how to offset the costs.
He also made no mention of Russia, which has cast a shadow over the administration as questions continue to swirl about the relationship top aides had with Moscow during the campaign. And while he promised to "soon" begin construction on his promised wall on the U.S.-Mexico border, he did not mention who will pay for it as Mexican leaders continue to say they will not fund the barrier.
Trump's budget, which was unveiled earlier this week, came under fire from some in his own party for cutting State Department funding and not giving a bigger increase to the Department of Defense. But Trump pointed to the military to justify his proposed spending outline.
"My budget will also increase funding for our veterans...Our veterans have delivered for this nation and now we must deliver for them," he said.
The most moving moment of the speech came when he introduced the widow of Chief Petty Officer William "Ryan" Owens, the Navy SEAL killed during a raid in Yemen last month.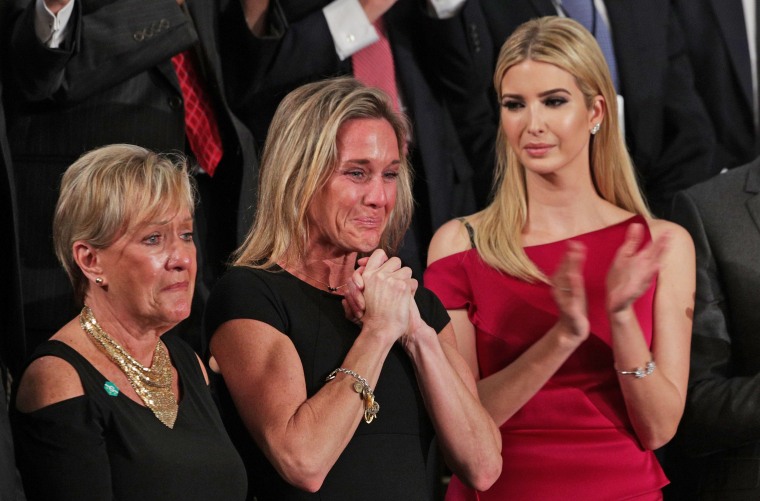 "Ryan died as he lived: A warrior, and a hero — battling against terrorism and securing our nation ... Ryan's legacy is etched into eternity," Trump said before a minutes-long applause for Carryn Owens, who was seated next to Ivanka Trump.
Trump did not shy from using the term "radical Islamic terror" when describing the war on ISIS. Trump used the term multiple times as a candidate, and attacked then-President Barack Obama for not doing likewise.
Related: Trump Meets With Insurance Execs on Obamacare Repeal
Trump's address came less than 40 days into a presidency that has so-far been defined more by controversies than legislative action.
He has yet to sign any substantial bills into law, and actions taken on his biggest campaign promises have largely stalled. A hastily introduced executive action restricting travel from seven Muslim-majority countries was blocked by a federal court, tensions continue to grow between the U.S. and Mexico over a proposed wall on the southern border, and Republican lawmakers have been lambasted at town halls over promises to repeal and replace the Affordable Care Act.
It's led to Trump, one of the most unpopular presidential candidates ever to take the oath of office, holding a record low job approval rating for a newly inaugurated commander-in-chief. Just 44 percent of Americans say they approve of how Trump has handled his new job, while 48 percent say they disapprove.