A group of Democratic women intended to make an impression when they filed into the House chamber Tuesday night for President Donald Trump's address to Congress.
The look they went for: all white.
The move is a nod to the women's suffrage movement, which encouraged followers to dress in white as a symbol of purity. During last year's election, Democrat Hillary Clinton — the first woman to be nominated for president on a major political party's ticket — was known for wearing white pantsuits during key campaign appearances and also wore all white at Trump's presidential inauguration.
On Election Day, some women went to the polls dressed in white attire — spawning the social media hashtag #WearWhiteToVote.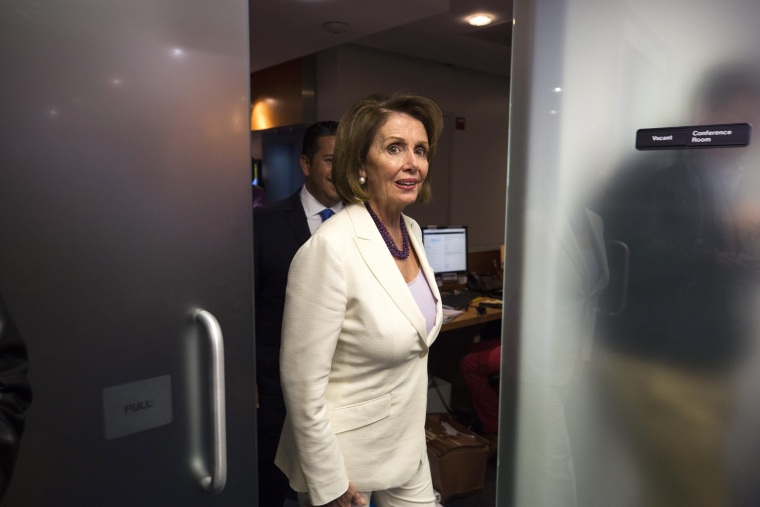 The call to wear white for Trump's speech was devised by the House's Democratic Women's Working Group and will be a symbol of "the ongoing fight to attain equal rights for all women," members said.
Related: Trump's Big Promises Come Due In Major Congress Address
"We wear white to unite against any attempts by the Trump Administration to roll back the incredible progress women have made in the last century, and we will continue to support the advancement of all women," Rep. Lois Frankel, D-Fla., the chair of the party's Women's Working Group, said in a statement.
The future of women's health care, equal pay and other related issues have come under question with the new Trump administration. Just days after taking office, Trump reinstated a policy that barred foreign aid or federal funding for international programs that provide abortions or even information on getting them.
And during the campaign, audio surfaced of Trump saying that, because he was a celebrity, he could "grab" women by their private parts without their consent.
Tens of thousands of women marched on Washington, D.C., the day after Trump's inauguration in opposition to his agenda.
House Minority Leader Nancy Pelosi, D-Calif., was on Capitol Hill on Tuesday in a white jacket and purple shirt — the latter color representing loyalty in the suffragette movement. She called her outfit a "statement of values," and said many of the women will be dressed similarly.
"Our House Democratic caucus will be very dignified tonight," Pelosi said on MSNBC's "Andrea Mitchell Reports."