On Tuesday, President Trump's motorcade will leave Israel's 1967 boundaries for a meeting with Palestinian President Mahmoud Abbas in Bethlehem, a Palestinian city in the West Bank.
On the way, he will pass several Jewish settlements whose presence underscores the challenge Trump has ahead of him as he seeks to seal what he sees as the "ultimate deal" — peace between Israelis and Palestinians.
During brief remarks before dinner at the residence of Israeli Prime Minister Benjamin Netanyahu, Trump said on Monday he has "heard it's one of the toughest deals of all but I have a feeling we're going to get there eventually, I hope."
However, any perceived support of the West Bank settlements, which many countries and international bodies consider illegal under the Fourth Geneva Convention, may present a problem for any effort to move peace talks forward, foreign policy experts said.
Experts fear that as such settlements expand they will render the two-state solution moot.
"They probably do already," Alon Liel, former director general of the Israeli Foreign Ministry, told NBC News.
Related: What It's Like to Live in an Israeli Settlement
The recent debate over the Amona settlement, which was ultimately deemed illegal by the Israeli government and eventually evacuated earlier this year, is an example of the heightened tension and profound acrimony in the region over the issue of Israeli settlements in East Jerusalem and West Bank.
"This land is like a heart for my family, if you take the heart from the body you will die," said Ibrahim Yacoub, a Palestinian farmer who for 20 years watched in frustration as the Amona settlement enterprise slowly chipped away at his land as roads, water and electricity were implemented, solely for settlers' use.
"This land is five generations in our family, we have stories and memories ... about this land," he told NBC News in November.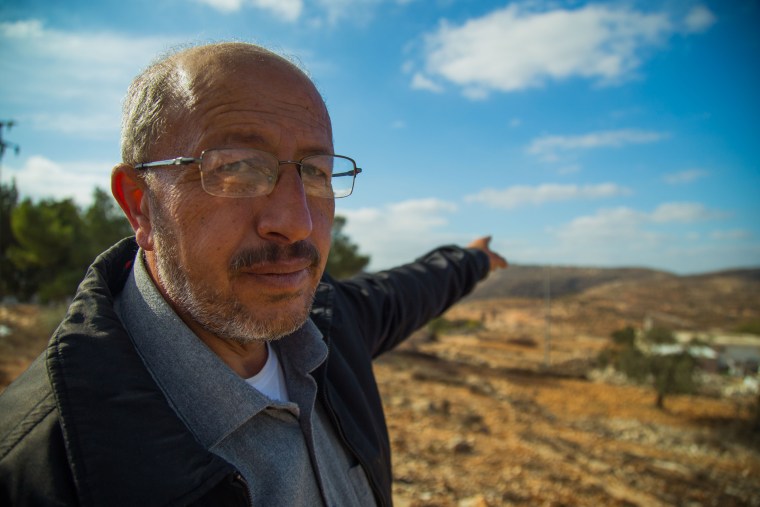 While Trump has expressed optimism at being able to help achieve a peace deal, he has also been unclear as to what that might entail.
For decades, the two-state solution has been the foundational premise for U.S.-backed negotiations.
In the meantime, at a joint press conference earlier this year Trump asked Israeli Prime Minister Benjamin Netanyahu to "hold back on settlements".
Experts say Trump entrusting his son-in-law, Jared Kushner, to help lead the peace initiative and his choice of bankruptcy lawyer David Friedman as ambassador to Israel offer some indication of the administration's possible direction.
Kushner's family's charitable foundation has donated tens of thousands of dollars to settlements inside the occupied West Bank.
Friedman opposes "imposing a two-state solution on Israel," and staunchly supports settlements. He chairs the American Friends of Beit El Institutions fundraising group, which has also donated large sums to the settlement.
"They would concern me if in fact the president is just going to relegate this issue to them because I don't see where in their history they show an understanding of both sides in a way that would make you believe they're going to weigh in in a way that is conducive to a compromise on settlements," Shibley Telhami, the Anwar Sadat professor for peace and development at the University of Maryland, said.
Some groups do not believe settlements present a conflict. "The settlements have served as an excuse by Palestinian leaders for postponing negotiations and for rejecting all possible peace offers from Israel," Roz Rothstein, CEO of the pro-Israel group StandWithUs, said in a written statement.
Telhami disagreed.
"Unless you take a stand on settlements, at least a freeze or refrain or some idea that would give the Palestinians confidence that they're able to engage in serious negotiations, not much is going to happen," Telhami said. "It's very quickly going to become an issue for (Trump), which is going to propel him to make a decision."