JERUSALEM — President Donald Trump said Monday he never mentioned the word "Israel" as the source of intelligence about ISIS during a meeting with the Russian Foreign Minister, while Israeli Prime Minister Benjamin Netanyahu insisted that "intelligence cooperation is terrific" with the United States.
"Folks, folks, just so you understand, just so you understand, I never mentioned the word or the name Israel during that conversation" with Russian Foreign Minister Sergey Lavrov at the White House, Trump said.
"Intelligence cooperation is terrific," Netanyahu said.
The brief comments from Trump and Netanyahu came in response to reporters' questions to them during a meeting between the two ahead of a dinner with their wives at the Prime Minister's residence.
However, it was not alleged that Trump identified Israel as the source of the highly classified intelligence regarding ISIS he divulged to Russia — because the president didn't know the source, according to National Security Advisor H.R. McMaster.
"The president isn't even aware of where this information came from," McMaster told reporters early last week.
Earlier, Secretary of State Rex Tillerson told reporters that no apology would be forthcoming following news media reports that the information Trump disclosed came from Israel.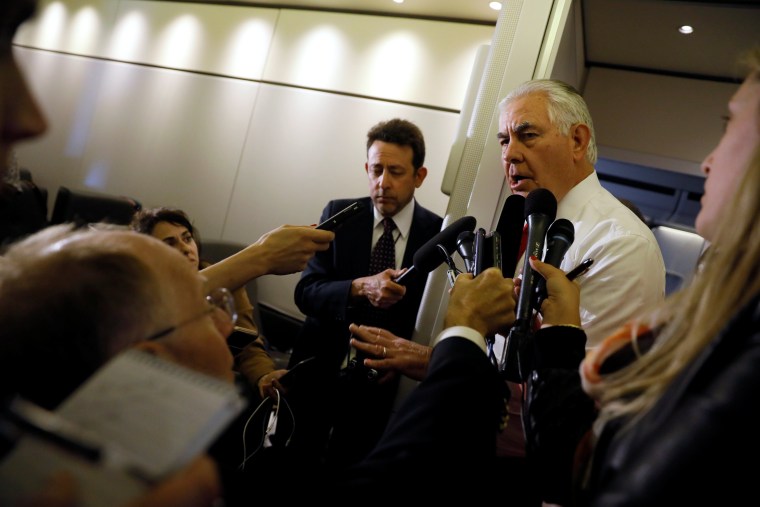 En route to Tel Aviv from Riyadh, Saudi Arabia, aboard Air Force One, Tillerson balked at the idea of the president saying sorry for sharing that information without first telling Israel.
"I don't know that there's anything to apologize for," Tillerson said. "To the extent the Israelis have any questions, or clarification, I'm sure we're happy to provide that."
After news of the disclosure leaked, Trump at the time defended himself on Twitter — saying he had an "absolute right" to brief Lavrov on the intel.
But intelligence officials and lawmakers have warned of the repercussions it could have with international partners regarding future intelligence sharing with the United States.
Lester Holt will anchor NBC Nightly News from Jerusalem on Monday. Tune in at 6:30 p.m. ET