JERUSALEM — You've heard of armored vehicles for world leaders and A-list celebrities. Now President Donald Trump is about to get an armored hotel suite.
A huge security operation has been launched that aims to envelop the president and his 1,000-person entourage during his visit to Jerusalem and Bethlehem, which began Monday.
Trump's accommodation during the second stop on his trip will be a bomb-proof, poison gas-proof and bulletproof hotel room built to withstand the collapse of the entire building, according to Sheldon Ritz, operations manager for Jerusalem's King David Hotel.
"Nothing is taken for chance so Trump and his family will be very safe"
"The presidential suites have independent air conditioning in case of a gas attack and are built to withstand a RPG [rocket-propelled grenade]," he said of the super-luxurious suites that cost around $5,700 per night. "But still the U.S. is bringing rocket-proof glass to put in front of the window."
"If the whole hotel blows up the suite will come down in one piece, so maybe a few broken bones, but they will be alive," said Ritz, adding that the King David would become a "mini White House."
In order to prevent explosives-laden cars from ramming the hotel, two buses full of heavy equipment will be placed at the entrance to the main road. Balloons carrying infrared cameras will float above the building while bomb-spotting robots will lurk in sewers beneath it.
Every piece of food for the president will be certified as safe, with a tester overseen by Israeli and U.S. security officials perusing every meal destined for Trump and his family.
The hotel — which has been targeted before, most famously in 1946 when militant Zionists fighting for an independent state bombed the building and killed 91 — is only part of the plan to safeguard the president.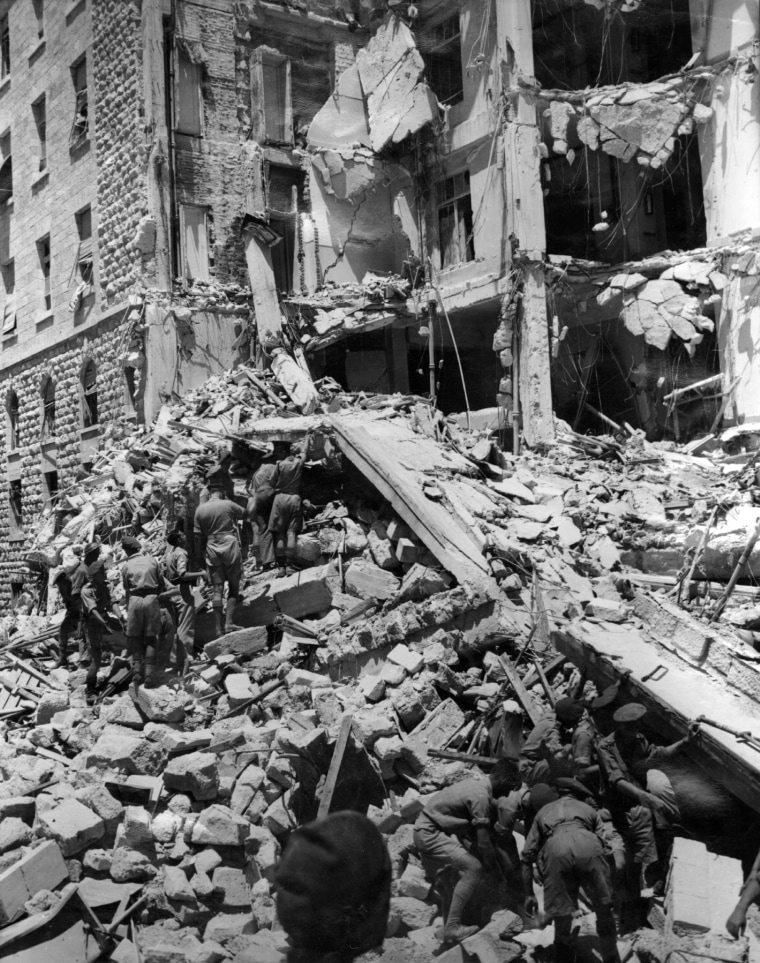 Israel's Operation "Blue Shield" will involve undercover police, special patrols, motorcycle officers, sniffer dogs and helicopters.
More than 10,000 police officers will be tasked with securing his trip throughout Jerusalem, the restive holy city that both Israelis and Palestinians claim as their capital.
"The level of security will be at its highest," said Micky Rosenfeld, a spokesman for the Israeli police. "It is a top priority that there is close coordination with the U.S., making sure the visit goes exactly according to plan."
Palestinian officials also said they were working with the U.S. on logistics, such as Trump's crossing from Jerusalem to Bethlehem and meeting with Palestinian leader Mahmoud Abbas.
"All the roads he will be passing through will be secured and emptied of vehicles," said Maj. Gen. Adnan Damiri, the spokesperson for the Palestinian security forces. "Armored cars and police dogs trained to detect explosive materials will be used in cooperation with American security."
On Thursday, local media began reporting that a full-blown U.S. airlift had begun. Laden with equipment and dozens of vehicles, around 30 C-17 military planes arrived in Israel.
The sprawling security operation in Israel and the West Bank underscored the longstanding tensions in the region. At the heart of the conflict is the Palestinians' desire for an independent state in the West Bank, Gaza Strip and east Jerusalem — land captured by Israel during the 1967 Six-Day War.
According to Israeli emergency services, some 48 Israelis have been killed and 608 wounded in attacks by individual Palestinians since August 2015 — the latest bout of violence. During the same period, around 260 Palestinians were killed by Israeli forces and more than 18,000 wounded, according to Palestinian officials.
Coordination between different countries' security agencies will be a major priority given the size and importance of the operation, said Christopher Hagon, managing director of Florida-based security consultancy Incident Management Group.
"The more resources you have, the more someone has to organize them — that would be a really big task," said Hagon, who was a personal protection officer to Britain's Queen Elizabeth II in the 1980s. "People tend to look at this stuff as basic protection that they can see, but what they don't see is that 90 percent is underwater. And it is made more complicated by other agencies wanting this, asking for that."
He added: "I always had concerns that if it was overkill it might jeopardize the operation."
And there certainly will be a lot going on during Trump's visit.
The president's entourage will include his wife Melania, daughter Ivanka and son-in-law Jared Kushner.
Trump, who professes to have an exceptionally warm relationship with Israel, will also be traveling to the occupied West Bank city of Bethlehem, where Christians believe Christ was born.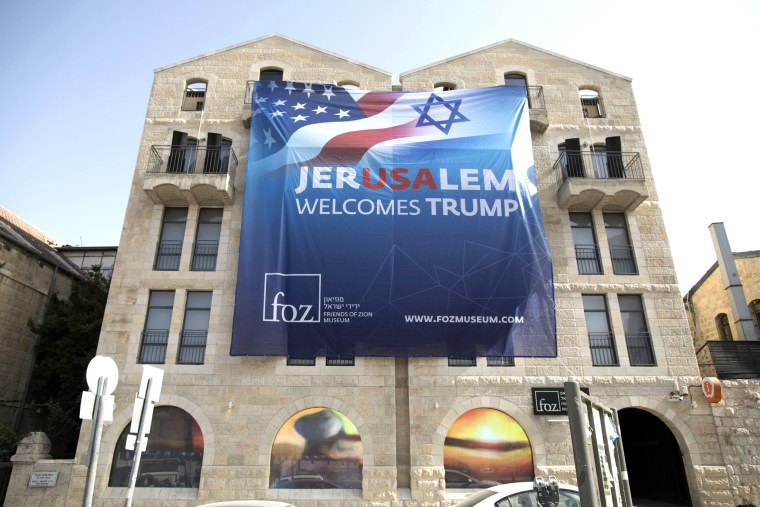 His trip will include a visit the one of Christianity's holiest sites, the Church of the Holy Sepulchre, and he will be the first sitting president to visit the Western Wall in East Jerusalem.
Trump has said he is hoping to broker a peace deal between the Palestinians and Israelis, a feat that has eluded world leaders for decades.
Back at the King David, the U.S. delegation spent Sunday transforming the hotel into a fortress ahead of the president's arrival.
The hotel's 233 rooms will be occupied not only by Trump and his family but also the Secret Service, Army Rangers, Navy SEALs, as well as Israeli security officials, according to Ritz.
He added: "Nothing is taken for chance so Trump and his family will be very safe."
F. Brinley Bruton reported from London.