A Turkish air base widely believed to house U.S. nuclear weapons continued to rely on backup generators Wednesday, five days after a failed coup plunged the country into crisis.
Commercial power was cut to Incirlik Air Base in southern Turkey and the airspace above it closed within hours of Friday's attempted military takeover in the NATO country. Turkish commanders at the site were later arrested and led away after they were accused of allowing at least one tanker aircraft to refuel jets involved in the thwarted mutiny.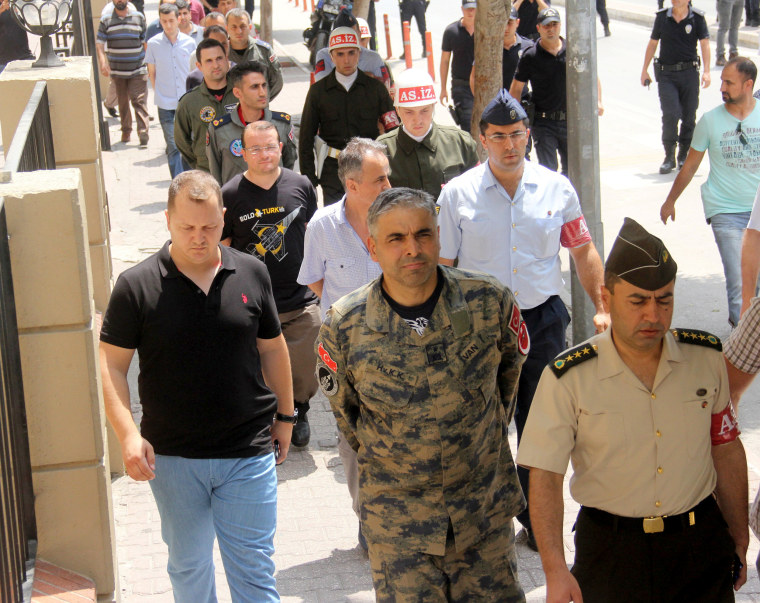 As the government of President Recep Tayyip Erdogan deepens its purge of military and civilian officials accused of being involved in the putsch, there were few indications when exactly electricity to Incirlik would be turned back on.
Secretary of State John Kerry said Wednesday that he was confident that power would be restored, and it could happen within a day or so.
No one is locked anywhere on the base, which has about 2,700 Defense Department civilians and military personnel, officials said. But people were not permitted to leave Wednesday for security reasons.
Turkish officials did not respond to requests for comment and information on the power cut. Erdogan told CNN earlier this week that power was shut off at military bases around the country to reduce the risk that conspirators might be able to use them.
On Tuesday, State Department spokesman Mark Toner acknowledged power had been cut to the site — which is used by the U.S. to launch anti-ISIS strikes.
Related: Ex-Air Force Chief Quizzed Over Coup
"There are redundancy measures in place, specifically for this kind of outage or this kind of instance," he said. Some U.S. flights have also resumed from the base, U.S. officials say.
Air conditioners, food storage and preparation, and other daily living requirements on the base depend on power as much as the runway lighting and air operations systems do.
A senior State Department official told NBC News that the U.S. was "working through" these problems.
"The Turks have some issues at Incirlik, obviously," Special Presidential Envoy for the Global Coalition to Counter ISIL Brett McGurk told NBC News. ISIL is another term for ISIS.
President Barack Obama brought up the situation at Incirlik with Erdogan during a telephone conversation on Tuesday, McGurk added.
Behind-the-scenes discussions between the two leaders come amid an unprecedented crackdown on those with suspected links to Fethullah Gulen, the U.S.-based cleric Erdogan accuses of masterminding the military coup.
As of Wednesday, some 8,660 people had been detained throughout the country — most of them members of the military. Some 15,200 Education Ministry workers, 8,777 Interior Ministry officials and 2,745 judges had been fired from their jobs, according to the government. The government has also "requested" that 1,577 university deans resign from their jobs.
Turkey has asked the U.S. extradite Gulen, who lives in Pennsylvania and denies any involvement in the attempted coup.
Washington said it was reviewing documents it had received from Ankara but was still determining if the materials constituted a formal extradition request. Kerry said he discussed Gulen with the Turkish Foreign Minister and asked that he send evidence, not allegations.
Despite the tussle over Gulen and escalating U.S.-Turkey tensions after suggestions that the U.S. was behind the plot, McGurk said the country's leaders "have been very clear that there should be no slowdown" in counter-ISIS operations.
"We obviously look to increase that cooperation but they have a number of things they are dealing with in Turkey and we'll support them as they work through that," he said.
A year ago, Ankara agreed to let the U.S.-led coalition launch airstrikes against ISIS from Incirlik.
After the power cut, some adjustments were made to launch strikes from locations other than Incirlik, Air Force Lt. Col Chris Karns told The Associated Press.
The location of aircraft around the region provide options so that the U.S. can "deliver air power where needed," said Karns, a spokesman at Air Force Central Command.
Related: Will Failed Coup Make Turkey's Strongman Even Stronger?
But these are temporary measures and do not provide a long-term solution for Incirlik.
Not only is Turkey the main gateway for foreign fighters traveling in and out of Syria, it is widely believed that NATO nuclear warheads are stored under the base. The U.S. has never admitted it houses such weapons at Incirlik.
According to Jeffrey Lewis, of the James Martin Center for Nonproliferation Studies, references to "special weapons" kept at the facility was a way of saying "nuclear" warheads.
The New Yorker magazine also quoted Hans Kristensen, the director of the Nuclear Information Project at the Federation of American Scientists, as saying that vaults beneath the base have about 50 B-61 hydrogen bombs — more than 25 percent of NATO's nuclear weapons stockpile.
Nazli Avdan, assistant professor of political science at the University of Kansas, said the chaos, uncertainty and Erdogan's crackdown may eventually result in the U.S. leaving the site.
"There's the possibility of Incirlik Air Base being shut down for good because there's a nuclear arsenal there," she said.