As chaos unfolded in Turkey on Friday amid what the nation's president said was an attempted coup by the military, it was unclear how NATO might respond to the unrest in the member country.
"Just spoke to Turkish FM. I call for calm, restraint & full respect for Turkey's democratic institutions and constitution," NATO Secretary General Jens Stoltenberg wrote in a tweet, without saying what actions, if any, NATO would take.
Turkey joined NATO in 1952 and has maintained its membership in spite of past military coups and other institutional turmoil. As a member, Turkey is protected under Article 5 of the pact in which member nations agree that an armed attack against one or more of them shall be considered an attack against them all. Consequently all members agree that, if such an armed attack occurs, each of them will assist.
But that doesn't mean NATO member nations are obligated to respond to or intervene in a coup.
"NATO will not interfere with domestic affairs in Turkey. It is an organization built to defend its members against aggression from enemies outside the national territory," said Michael Werz, Ph.D., a Senior Fellow at the Center for American Progress who focuses in part on security issues in Turkey.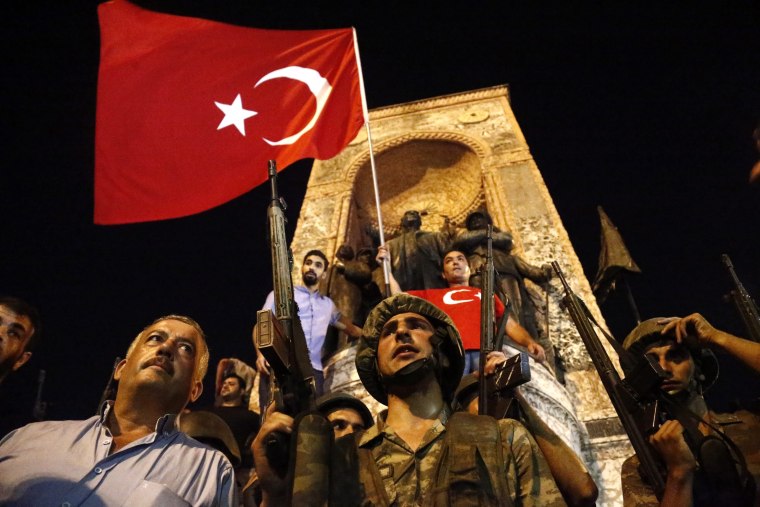 Secretary of State John Kerry said the State Department was monitoring a "very fluid situation," and "emphasized the United States' absolute support for Turkey's democratically-elected, civilian government and democratic institutions."
The U.S. is essentially forced to stand by the democratically-elected government of their ally, Werz said. President Recep Erdogan was elected president in 2014 in the country's first direct presidential election, after serving as prime minister for three terms.
"For the U.S., this situation creates a dilemma," Werz said. "The U.S. government will have to defend the elected government ... knowing, that the military can count on considerable support among Turks that are tired of an increasingly authoritarian president and continuing terrorist attacks in their country."
"Erdogan's relationship with the (U.S. government) is strained and marked by increasing distrust," Werz told NBC News. "There are few in the U.S. government that are willing to do the Turkish government any favors."