ANKARA/ISTANBUL – Turkey dismissed 15,000 more state employees on Tuesday, from soldiers and police officers to tax inspectors and midwives, and shut 375 institutions and several news outlets, deepening purges carried out since a failed coup.
The dismissals, announced in two decrees, bring to more than 125,000 the number of people sacked or suspended in the military, civil service, judiciary and elsewhere since July's coup attempt. About 36,000 have been jailed pending trial in the crackdown condemned by Western allies and rights groups.
President Tayyip Erdogan said the measures had significantly weakened the network of U.S.-based cleric Fethullah Gulen, whose followers are blamed by Ankara for infiltrating state institutions over several decades and carrying out the attempted putsch.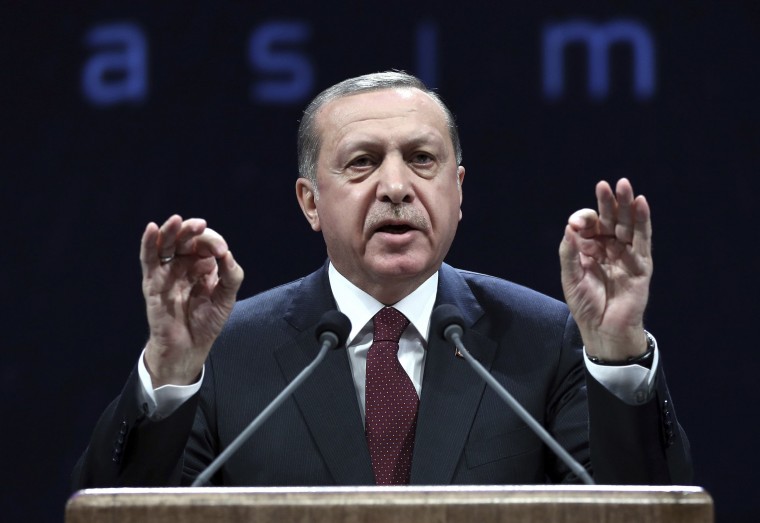 But he made clear the purges were not yet over.
"We know they have not been completely cleansed. They are still present in our military, in our police force, in our judiciary," he told a conference on policing in his palace.
"We will not leave our country to them, we will not let them consume this nation. We will do whatever is necessary," he said.
The coup and its aftermath have shaken confidence in the stability of Turkey, a NATO member key to the fight against Islamic State and a bulwark for Europe against the conflicts raging in neighboring Syria and Iraq.
The crackdown has covered a vast range of professions -often where links to Gulen's network are unclear - including doctors, nurses and midwives. Dismissals are announced in the Official Gazette with no reasons given beyond "membership of, or links to, terrorist organisations or groups deemed to be acting against national security interests."
Some of the accused have been targeted for having accounts with a bank once controlled by Gulen's followers, being members of an opposition union, or using a smartphone messaging app seen by the authorities as a Gulenist communications tool, according to Turkish media reports.
European allies have criticized the breadth of the purges, and EU parliament lawmakers called on Tuesday for a freezing of Turkey's EU membership talks. A senior U.N. official has described the measures as "draconian" and "unjustified."
Erdogan has rejected such criticism, saying Turkey is determined to root out its enemies at home and abroad, and could reintroduce the death penalty. He has accused Western nations of siding with coup plotters and of harboring terrorists.
Ankara blames Gulen and his network, which it refers to as the "Gulenist Terror Organisation" (FETO), for the events of July 15, in which more than 240 people were killed as rogue soldiers commandeered tanks, fighter jets and helicopters, bombing parliament and other key buildings.
Gulen, who has lived in self-imposed exile in Pennsylvania in the United States since 1999, denies involvement.
Erdogan's opponents say the purges go well beyond a crackdown on suspected Gulenists and are being used to crush dissent. Those accused are often unable to find other work and ostracized in their community, with Turkish media reports saying some have committed suicide before their trials can begin.
Pro-Kurdish politicians have been detained in a parallel crackdown, accused of links to the PKK, including the leaders of parliament's second-largest opposition grouping the Peoples' Democratic Party (HDP).
Guy Verhofstadt, head of the Liberals in the European Parliament, said the assembly was calling for EU officials to suspend negotiations with Turkey over membership of the bloc.
"Dozens of media outlets closed, members of parliament penalized or put in jail, there is a debate on the death penalty, there is more and more political control of the judiciary ... Our relationship with Turkey becomes more and more of a liability," he told a news conference on Tuesday.