New pictures emerged Thursday of a senior Turkish government aide apparently kicking a grieving protester, adding to anger at prime minister Tayyip Erdogan's handling of the Soma coal mine disaster.
Erdogan's adviser, Yusuf Yerkel, clashed with the unidentified man during protests when the leader visited the tragedy-stricken town on Wednesday.
A picture of the incident was circulated on social media, stoking anger at the government's response.
Yerkel told Turkish news site Hurriyet that he would make a statement about the clash Thursday, but two more pictures emerged that appear to confirm the adviser kicked out.
Erdogan was booed during the visit and his entourage was jostled by angry crowds. Protesters shouted "Murderer!" and "Thief!" and Erdogan was forced to seek refuge in a supermarket, surrounded by police. At least ten protesters were taken away from the scene.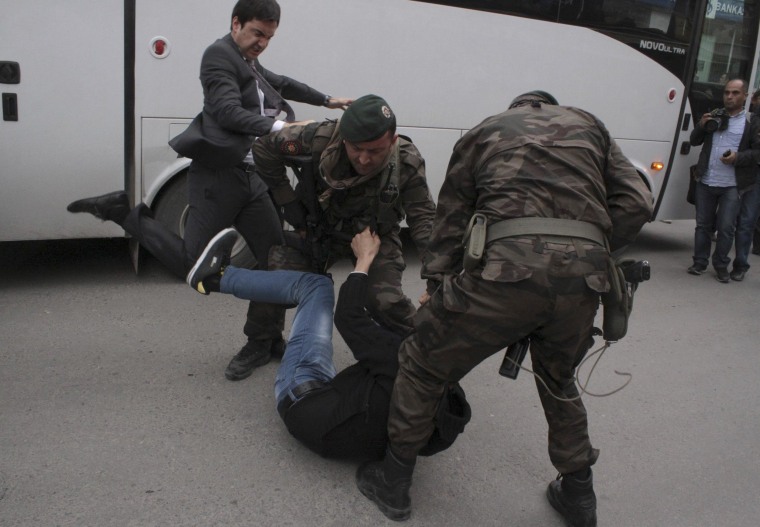 There was also anger at Erdogan's comments in the grieving town 150 miles southwest of Istanbul, in which he added insult to injury by reciting a list of other mine accidents around the world with higher death tolls.
"These types of things in mines happen all the time," he said. "It's not possible for there to be no accidents in mines."
As hopes faded for approximately 150 miners still trapped more than one mile below ground in smoldering tunnels filled with toxic gases, four major unions called for a nationwide one-day protest strike.
Alastair Jamieson