ISTANBUL - The death toll in a Turkish coal mining accident has climbed to 274, the nation's energy minister said, making it Turkey's worst mining disaster in history.
Tuesday's explosion and fire in the western town of Soma trapped hundreds of others more than a mile under the earth's surface.
Anxious family members gathered at the entrance to the mine as bodies were pulled out, but Energy Minister Taner Yildiz said "hopes are diminishing" of finding more survivors.
The new death toll from the accident tops a 1992 gas explosion that killed 263 workers near Turkey's Black Sea port of Zonguldak, the Associated Press reported.
The fire from the initial explosion overnight continued to burn into the morning, hampering rescue efforts and sending a pall of smoke over the scene.
Air was pumped into the mine to help trapped workers, with most of the victims killed by carbon monoxide poisoning.
"May god wish mercy upon our brothers who lost their lives, and I hope our wounded brothers will get well soon," said Turkey's Prime Minister Tayyip Erdogan, who declared three days of national mourning.
Yildiz said 787 people were inside the coal mine in Soma, some 155 miles south of Istanbul, at the time of the explosion. He said 80 people were wounded including 20 of the rescue workers.
Nearly 450 other miners had been rescued, the mining company said, but the fate of an unknown number of others was still unclear Wednesday.
The explosion took place during a change in shifts, meaning there was uncertainty about the exact number of miners still trapped.
Where miners had once toiled to extract coal, rescuers scrambled instead to bring out workers during the night.
Cheers and applause broke out at the entrance to the mine as some trapped workers emerged, their faces and hard-hats covered in soot.
But more often there were more bodies - and scenes of grief. One woman wailed in anguish and lashed out at officials on hearing a family member had been killed. Soldiers were brought in to prevent scuffles between relatives and authorities.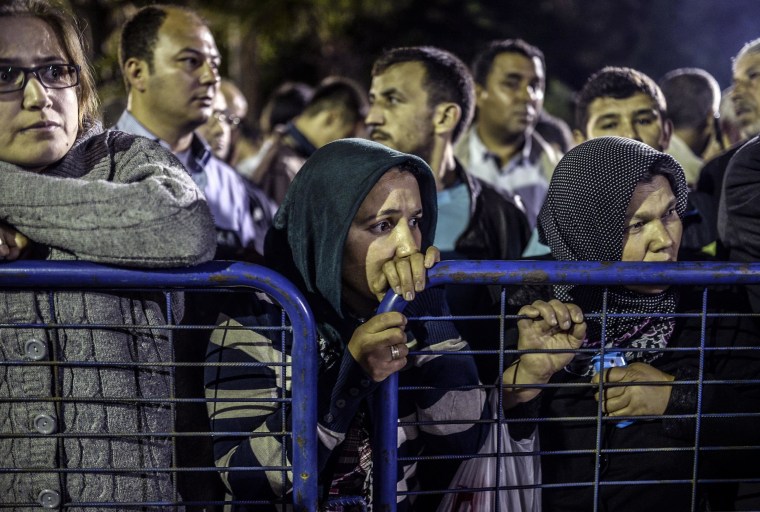 Emine Gulsen, part of a group of women who sat wailing near the entrance to the mine, chanted in song, "My son is gone, my Mehmet." Her son, Mehmet Gulsen, 31, has been working in the mine for five years.
Mehmet Gulsen's aunt, Makbule Dag, held out hope. "Inshallah" (God willing), she said.
A cold storage warehouse, usually used for food, and freezer trucks served as makeshift morgues as hospital facilities overflowed.
The Labor Ministry said late on Tuesday its officials had carried out regular inspections at the mine, most recently in March this year, and that no irregularities had been detected.
Turkey's worst mining accident was in 1992, when a gas explosion killed 263 workers in the Black Sea province of Zonguldak. The country has a poor health and safety record in mining, particularly coal.
A proposal to investigate previous deaths at the Soma mine was defeated in Turkey's parliament last month.
Reuters contributed to this report. Alastair Jamieson reported from London.