More blackened bodies were pulled from the Soma coal mine Thursday, taking the death toll to 283 as Turkey launched three days of national mourning amid mounting anger over the disaster.
As hopes faded for 141 others still trapped more than one mile below ground in smoldering tunnels filled with toxic gases, four major unions called for a nationwide one-day protest strike.
Anguish at the country's worst-ever mining disaster has quickly turned to anger, engulfing Prime Minister Recep Tayyip Erdogan in a political crisis.
Tear gas was used to break up anti-government protests in Istanbul and in the capital, Ankara overnight - and water cannons were used in the city of Izmir on Thursday morning.
It has been more than 18 hours since anyone was brought out alive from the mine, where an explosion and fire filled tunnels with deadly carbon monoxide on Tuesday.
Energy Minister Taner Yildiz told reporters early Thursday that rescue efforts were focusing on two areas inside the mine, where a fire was still burning. The government has said 787 people were inside the coal mine at the time of Tuesday's explosion and 383 were rescued, including scores who were injured.
Many Turks are angry at the country's shoddy workplace safety record.
Turkey's Labor and Social Security Ministry said the mine had been inspected five times since 2012, most recently in March, and that no safety violations were detected. But an opposition party proposal to investigate a series of small-scale accidents at the region's mines was defeated in Turkey's parliament just last month.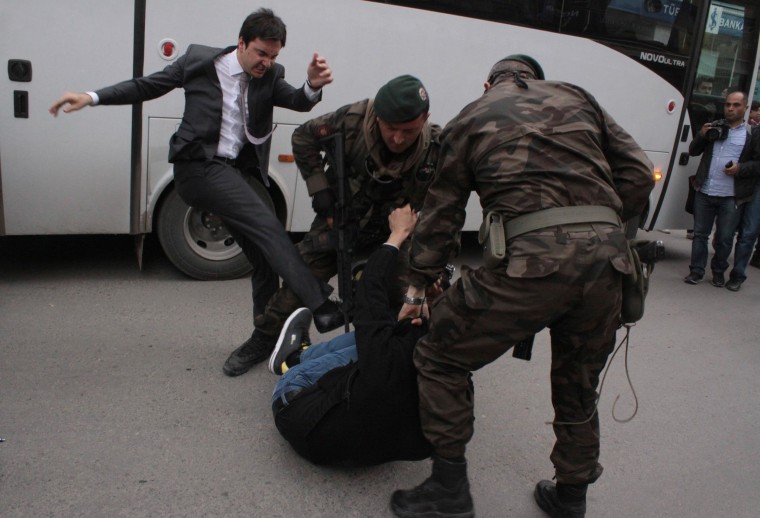 Erdogan was booed during a visit to Soma Wednesday, and his entourage was jostled by angry crowds. Protesters shouted "Murderer!" and "Thief!" and Erdogan was forced to seek refuge in a supermarket, surrounded by police. At least ten protesters were taken away from the scene.
One of his aides, Yusuf Yerkel, was pictured in local media apparently kicking a protester – an image that triggered further outrage on social media.
There was also anger at Erdogan's comments in the grieving town 150 miles southwest of Istanbul, in which he added insult to injury by reciting a list of other mine accidents around the world with higher death tolls.
"These types of things in mines happen all the time," he said. "It's not possible for there to be no accidents in mines."
The fallout from the disaster could have significant repercussions for Erdogan, who is widely expected to run for president in the August election, although he has yet to announce his candidacy. Turkey is deeply divided politically, and Erdogan attracts fierce support as well as opposition.
Angry unions say Soma is a man-made disaster caused by the privatization of mines, not an accident.
"Hundreds of our worker brothers in Soma have been left to die from the very start by being forced to work in brutal production processes in order to achieve maximum profits," a statement from the unions said. "We call on the working class, laborers and friends of laborers to stand up for our brothers in Soma," it said, urging people to wear black Thursday.
One rescue worker who declined to be named said he led a 10-man team about a half-mile down into the mine's tunnels, where they recovered three bodies before being forced to flee because of smoke from burning coal.
Giza Nergiz, a 28-year-old English teacher, told some of the victims had complained about safety at the mine. "We buried three of our high school friends today," she said, walking with her husband Onur Nergiz, a 30-year-old mine administrator. "A lot of people were complaining about safety, but nobody (in management) was doing anything about it."
The United States expressed its formal condolences to victims of the Soma disaster. "Our thoughts and prayers are with those suffering during this difficult time," the State Department said in a statement late Wednesday.
Secretary of Labor Thomas E. Perez echoed the condolences, adding that Americans understood the difficulties of mine rescues – and the grief of victims' families.
"Tragedies like this remind us once again of the need to ensure that all workers return home safely at the end of their shifts," he said in a statement. "No one, anywhere in the world, should have to risk his or her life to earn a living."
Reuters and The Associated Press contributed to this report.