HAVANA, CUBA — Odalys Garcia, 38, was explaining why she teared up watching the flag-raising ceremony in Havana Friday.
"It had been so many things for so long — the hate, the arguments. But for the last few months, I have seen how things are really changing, and I realized my son was born in a new era," said Garcia, a television producer and mother of an 8-month-old son who has been helping NBC crews during the last few frenetic days in the country's capital.
Cubans as well as Cuban-Americans who came down to Havana for the historic event conceded the flag-raising ceremony is only the beginning of a long and uncertain process. But regardless of what eventually happens down the road, Cubans like Garcia say it's a turning point.
"Some people I know are skeptical, but I've seen the change," she said.
Whereas American modeling agencies in the past would not book Cuba so as not to deal with any hassles, she recently worked on productions with Victoria Secret's Angels and worked on a commercial for Western Union.
During his historic press conference in Havana Friday, flanked by the Cuban and American flag, Secretary of State John Kerry said, "It's a big agenda," that will require resolving tough issues that "won't be dealt with overnight."
Cuban Americans supportive of the growing ties between the two countries concede that the road ahead is uncertain.
"We've had over five decades of acrimony — I think it's going to take time for leaders on both sides of the Florida straits to really reach an accommodation if you will," said Gustavo Arnavat, former executive director of the Intergovernmental Development Bank under President Barack Obama, and who is now with the Center for Strategic and International Studies, in Havana Friday.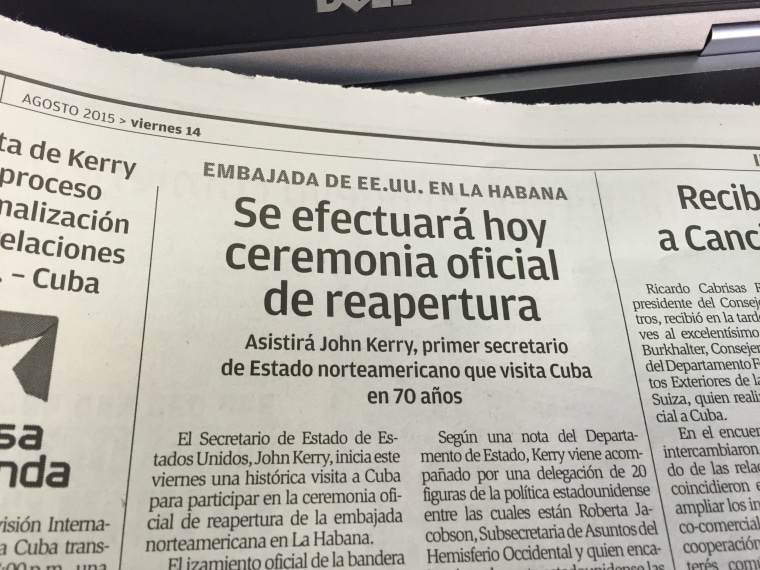 Arnavat says that after 55 years, Raul Castro's government has been making some changes on the economic front, such as promoting an increase in the independent business sector.
"My hope is that the U.S. will see opportunities. They (the Cuban government) have been studying the Chinese model and the Vietnamese model, among others, and they understand that the way forward has to include foreign capital," he said.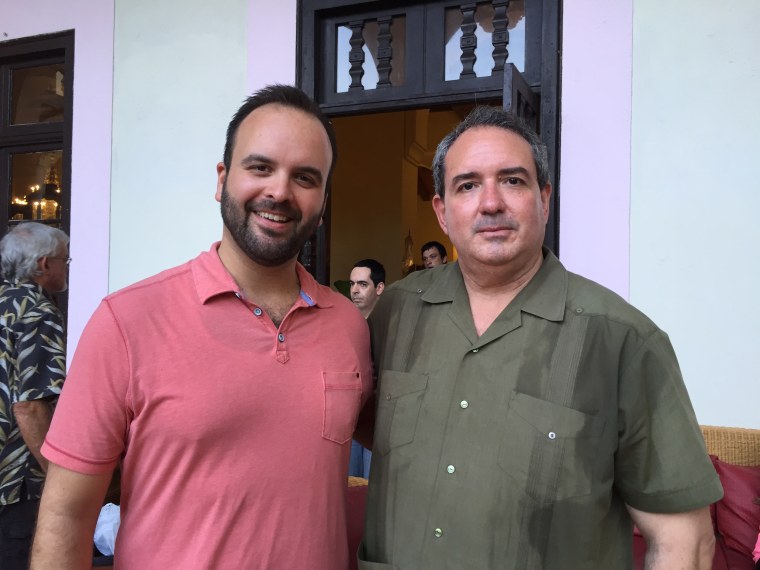 Alana Tummino, the director of policy at Americas Society/Council of the Americas, tells NBC that the opening of the embassy has been both practical and symbolic.
"It's a way of giving insurance that the U.S. supports a company that imagines doing business with Cuba," she said.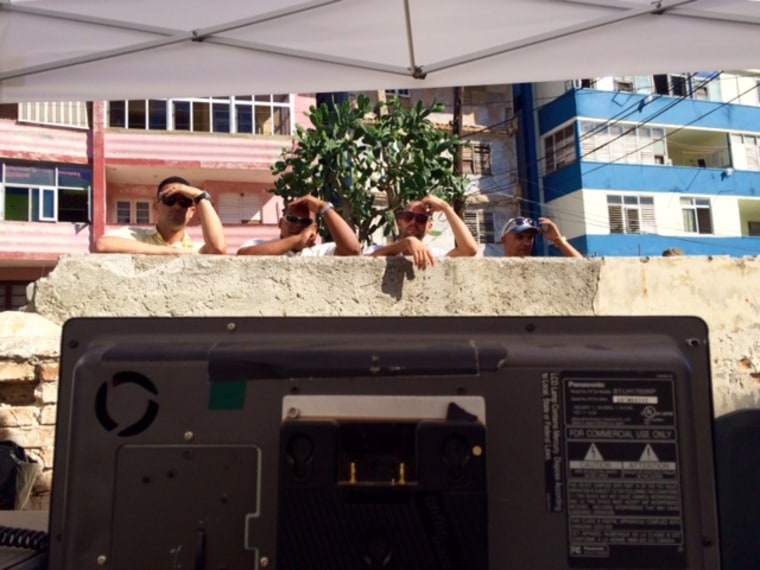 Alberto Amorós Laguna, 44, is one of the new class of entrepreneurs, or "cuentapropistas." He has his own businesses making and selling fruit drinks.
Watching the flag-raising ceremony with his family in his living room in a working-class Havana neighborhood, Amorós said he hopes the increasing ties bring changes in the economy.
"We are in need of things, merchandise. We live every day praying there is a bigger market," he said.
Amorós' father-in-law, Angel Corcho, said there are certain things he would like the U.S. to do.
"There are things that have to change, as is the bloqueo (embargo) and the Guantanamo base — they are things that really affect us," said Corcho, then adding, "but there will come a day that that will be solved."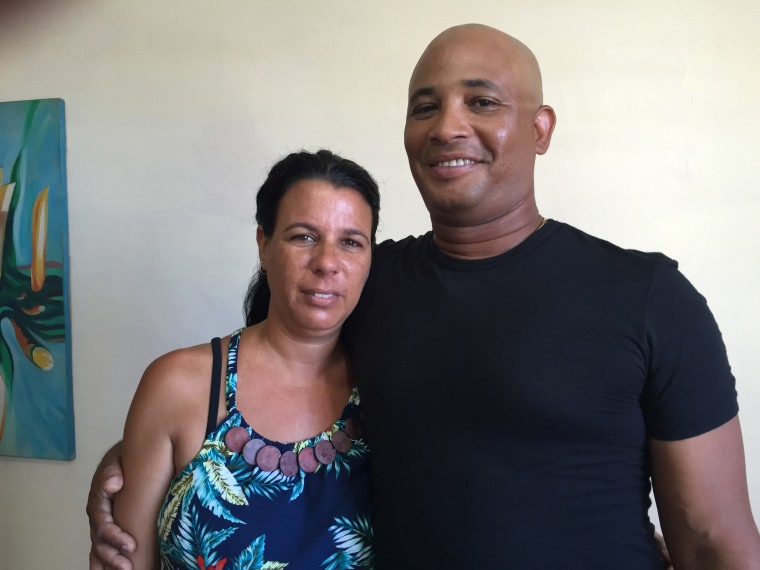 Kerry reiterated in the press conference that the Obama administration supports lifting the embargo.
In Havana, Ric Herrero of the organization Cuba Now, which advocates for increased U.S. Cuba ties, said his organization would be working to foster a change of mind in Congress regarding the trade restriction.
"The more positive flow of development that members of Congress are hearing from their constituents as they visit Cuba, the more inclined they will be in supporting of lifting all remaining sanctions," Herrero said.
But for Cuban-American members of Congress such as Ileana Ros-Lehtinen, it's not just about the embargo; it's also about the issue of Cuba's political dissidents, citing arrests last Sunday in Havana.
"As Secretary Kerry changes the sign on the door at our post and shakes hands with officials from the dictatorship, political prisoners will still languish in Castro's gulags and the regime will continue to try to prevent Cubans from even reaching our building," she said in a statement.
Prominent dissidents such as Antonio Rodiles from Estado de SATS have spoken against the Obama administration's new policy.
AS/COA's Tummino said negotiations between the two countries are complicated. But she thinks on issues such as human rights, the engagement will be beneficial."The whole idea of 54 years of isolation and not being able to discuss issues from a place where we respect each other is not a place to engage on issues of human rights," she said.
But for many Cubans in the island, the desire to see economic changes seemed to outweigh questions of politics.
"People are leaving Cuba because of the economy, politics is relative," said a man outside a line at the U.S. embassy on Thursday.
For Ailen Corcho, Amoros' wife, it's just a relief to think things may get "mas flexibles," especially to make it easier for families to get together.
"Almost all of us are hopeful. We have to wait."