HAVANA - The Stars and Stripes will fly over the U.S. Embassy in Cuba for the first time in 54 years on Friday as Secretary of State John Kerry traveled there to mark a major step in the thawing of relations between the two Cold War-era foes.
Marines who lowered the flag in January 1961 will raise it once more over the building overlooking Havana's seaside promenade Malecon as part of a ceremony honoring renewed diplomatic ties.
Outside the recently-reopened Embassy, Cubans have been lining up for visas to visit the U.S. or to move permanently to live with relatives since Presidents Barack Obama and Raul Castro announced a historic accord.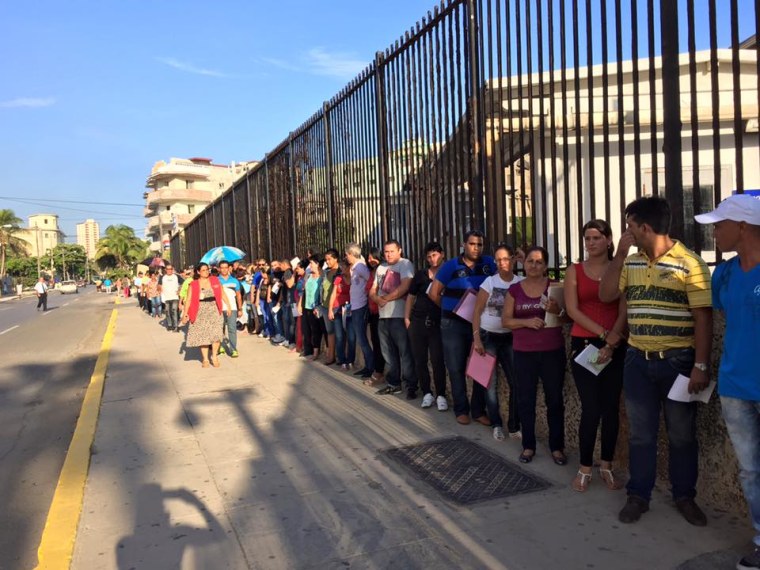 Friday's ceremony also heralds a new era of negotiations aimed at building economic ties and bridging the wide differences that remain between the U.S. and Cuba.
"I think we're ending one phase and entering another," Robert Muse, a U.S. lawyer specializing in Cuba told Reuters. "The handshakes, the fraternal regards, the raising of the flags, that'll end on Aug. 14. Then I think it's very particular conversations begin."
The raising of the flag will be followed by the Star-Spangled Banner performed by the United States Army Brass Quintet. Before it is hoisted, a poem entitled "Matters of the Sea" will be recited by Richard Blanco.
"It's gonna be great," Kerry shouted to reporters as he boarded his plane for Havana.
Cuba's Radio Reloj described Friday's planned events as "a moment that ends years of hostility."
"For the first time in 50 years, Cuba and the US are treating each other as equals," it said. "While we cannot refer to each other yet as friends or allies, we are on the path to normalizing relations that will benefit the people of both countries."
Later, Kerry will meet Cuban dissidents who are not invited to the morning flag-raising in deference to the Cuban government, which views them as U.S.-sponsored mercenaries.
The secretary of state told Univision television ahead of his trip that he hoped to see a "transformation" begin to take place.
"More people will travel. There will be more exchange. More families will be reconnected. And hopefully, the government of Cuba will itself make decisions that will begin to change things," Kerry said.
Despite the gains, there is still disquiet over the White House outreach to Cuba.
As Kerry traveled to Havana, Republican presidential candidate Marco Rubio was expected to make a speech in New York saying Obama had made no efforts "to stand on the side of freedom."
"He has been quick to deal with the oppressors, but slow to deal with the oppressed," Rubio will say, according to excerpts of prepared remarks released by his campaign. "And his excuses are paper-thin."
Separately, Venezuelan president Nicolas Maduro and Bolivian president Evo Morales dropped in to Cuba Thursday to give Fidel Castro a personal birthday greeting, according to Bolivia's Press Agency. Photographs of the meeting were published in Cuban media.
Alastair Jamieson reported from London.