WASHINGTON - The Obama administration's decision to close the open arms it has long had for Cuban migrants surprised many, drawing divided reaction.
Late Thursday afternoon, the administration announced it was eliminating the wet foot, dry foot policy that has allowed tens of thousands of Cubans who arrive on American soil and become legal residents within a year. Eliminating the policies means those who arrive in the future without legal permission can be deported, just like other migrants. Those captured before reaching the U.S., usually aboard rafts or boats in the waters between the two countries, are returned to Cuba or sent to another country.
"This is a very significant move on the part of the president and one that the Cuban government has demanded for decades because of the incentive it provided for Cubans wanting to leave the island," said Gustavo Arnavat, a former Obama administration appointee.
"For better or worse, one effect, among many, is that Cubans will be subject – with respect to entering the U.S. – to the same limitations as other immigrants from Latin America or, for that matter, any other part of the world," Arnavat said.
RELATED: Obama Administration to End 'Wet Foot, Dry Foot' Policy for Cubans
Rep. Mario Diaz-Balart, R-Fla., issued a statement in a news release with the title "Have You No Shame, President Obama?"
Diaz-Balart, who is Cuban American, said the decision was another way to "frustrate the democratic aspirations of the Cuban people and provide yet another shameful concession to Congress."
He and other Cuban Americans in Congress have been critical of Obama's normalization of relations with Cuba.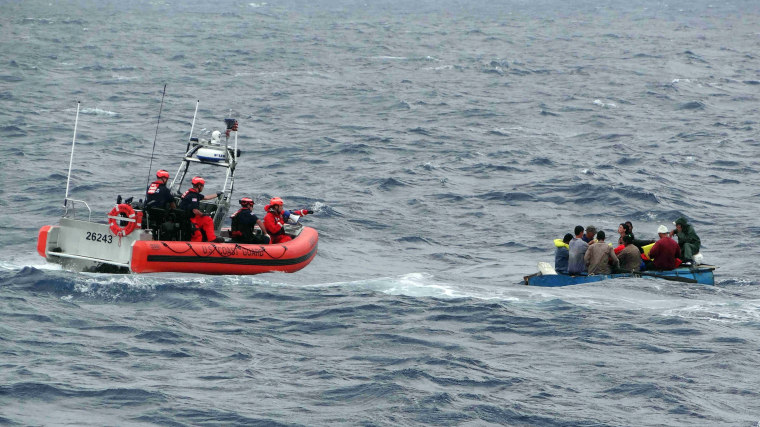 Sen. Robert Menendez, D-N.J., said in a statement that Congress had not been consulted about the change. "The Obama administration seeks to pursue engagement with the Castro regime at the cost of ignoring the present state of torture and oppression and its systematic curtailment of freedom," Menendez said.
But Sen. Bob Nelson, D-Fla., said the policy is outdated and changing it was the right thing to do to be fair and to prevent people from abusing it.
In Miami, reaction was mixed. Armando Gutierrez, who said he is a veteran of the Bay of Pigs invasion, said he agreed that "all those people who come here just to live here and spend one year and one day and then go back to Cuba and take all the money they make to Cuba, I'm against that."
But Armando Flores said "it was unfortunate for the people that really want to live in freedom and are trying to escape the regime."
Rep. Henry Cuellar, a Texas Democrat whose U.S.-Mexico border district has seen an influx of Cuban migrants, applauded the change, saying the policy provided Cubans an "unprecedented special immigration status that no other group of people possessed."
Jaime Suchlicki, director of the Institute for Cuban and Cuban-American Studies at the University of Miami, thinks the Cuban American community is split on this issue. While the majority of Cuban Americans who are eligible to vote are against the favoritism given to recently arrived Cubans, those who have spent less time in the U.S. and have relatives on the island are likely to support it, he said.
"The Cuban government wanted this because they were losing Cubans they don't want to lose," Suchllicki said. But he said, "Cubans will try to escape anyway, no matter what. This is an unending problem."
The U.S had seen a recent uptick in Cubans trying to make it to the country, believing that as the U.S. and Cuba relationship improved, an end to the wet foot, dry foot policy would soon follow.
Sen. Marco Rubio, R-Texas, blamed the rise in Cubans coming to the U.S. on "Obama's failed Cuban policy, combined with the Castro regime's increased repression."
In a statement, he said that while some changes were needed in policies regarding Cuban migrants to stop abuses of the policies, "we must work to ensure that Cubans who arrive to escape political persecution are not summarily returned to the regime, and they are given fair opportunity to apply for and receive political asylum."
He said he discussed the policy change with Vice President-elect Mike Pence Thursday evening and he is heartened that there soon will be a new administration "committed to discarding the failed Cuba policy of the last two years."
President-elect Donald Trump had initially supported Obama's softening of the Cuba policies during his campaign. But he changed his mind and promised to undo Obama's negotiations in a move seen as a political appeal to Cuban American voters.
He also once said that the wet foot, dry foot policy seemed unfair.
"I mean why would that be a fair thing?" he told the Tampa Bay Times.
There was no immediate response from the Trump transition team to a request for comment.
The administration also did away with a policy that encouraged Cuban medical doctors to defect to the U.S. while they are in third world countries fulfilling a Cuba requirement for such work.
The change in U.S. policy drew fierce criticism from Rep. Ileana Ros-Lehtinen, R-Fla., saying the White House "caved" to Castro, calling the medical program "modern-day indentured servitude."
The U.S.-Cuba thaw led some Cubans to try to get to the U.S.-Mexico border by way of South and Central America. Many have been stranded after countries closed their borders. Countries such as Panama ended up airlifting them out and to the U.S. border to deal with the crisis.
Arturo Lopez-Levy, a lecturer at the University of Texas-Rio Grande Valley, said it would be appropriate if the change in policy "happened together with the end of the embargo."
With the U.S. embargo still in place, Cubans still will find their way to the U.S., said Lopez-Levy, who used to work with the Cuban government.
"I'm worried there could be a group of Cubans in the shadows like has happened with people of other countries," Lopez-Levy said.