President Barack Obama formally announced a plan Wednesday for the United States and Cuba to open embassies in each other's capital cities as early as this month.
It wasn't easy getting to this point. It took months of complex negotiations, diplomatic wrangling and no shortage of political capital for leaders on both sides.
And while the U.S. and Cuba have agreed on some general issues — like restoring economic trade — other potential roadblocks still stand in the way of a long-lasting partnership.
Here are the key players and what's at stake:
President Barack Obama
Obama has taken heat from Washington lawmakers of both parties who think the U.S. — by working with Cuba — is essentially backing the communist island's regime. Obama reiterated Wednesday that the U.S. still had "very serious differences" with Cuba on issues like human rights and freedom of speech.
Cuban President Raul Castro
Castro, who assumed office from brother Fidel Castro in 2008, supports re-opening trade between the U.S. and Cuba. But he has emphasized that his country's communist political system isn't going away, and he has offered no concessions on improving Cuba's human rights record.
U.S. Assistant Secretary of State Roberta Jacobson
Jacobson, who works in the Western Hemisphere Affairs division, has been the chief negotiator for the United States during diplomacy talks this year. She told NBC News in January that the meetings were "wonderful," but she had "no illusions" that the Cuban government would change its communist policies once trade reopens.
Cuban Foreign Ministry's Director of U.S. Affairs Josefina Vidal
Leading the talks for Cuba is Vidal, who, along with Jacobson, was part of the negotiations to free American contractor Alan Gross from a Cuban prison in December. She told NBC News earlier this year that she was certain both countries would be opening embassies, but lamented how American travel to Cuba remains difficult.
Chief of U.S. Mission Jeffrey DeLaurentis
DeLaurentis was tasked Wednesday with personally hand-delivering the letter from Obama about restoring relations to interim Cuban Foreign Minister Marcelino Medina. DeLaurentis, a career diplomat and ambassador, could serve as acting ambassador in Havana pending a more permanent appointment, according to The New York Times.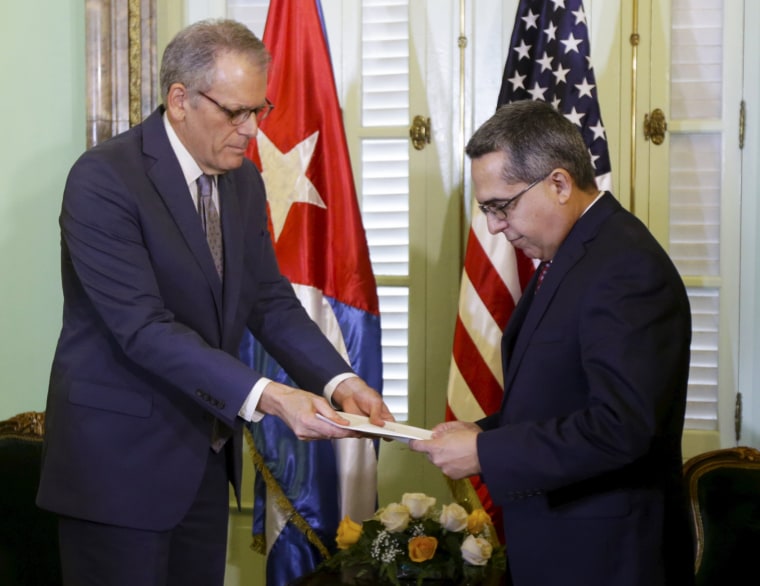 Chief of Cuban Mission Jose Ramon Cabanas Rodriguez
Rodriguez serves in Washington as the head of Cuba's Interests Section, the name for the de facto diplomatic mission between two countries that don't share embassies. Rodriguez, who has been in his post since 2012, could end up as Cuba's ambassador to the U.S.
Secretary of State John Kerry
Kerry had been suggested as the top U.S. official expected to travel to Cuba some time this year. On Wednesday, Obama said that he will indeed go to Havana later this summer, and "formally, proudly, raise the American flag over our Embassy once more."
Former Cuban President Fidel Castro
The 88-year-old revolutionary leader has been largely reclusive since stepping down because of poor health almost a decade ago. He commented on the thawing of relations earlier this year, saying that while he doesn't trust the U.S., he wants a "peaceful solution to the conflicts" between the two countries.
Pope Francis
The pontiff has been credited for helping to broker the shift in U.S.-Cuba relations, and he is set to visit Cuba just before he comes to America in the fall. Obama, when he explained the release of Gross as part of a Cuban prisoner exchange, personally thanked Pope Francis for his "moral example."