WASHINGTON — The U.S. government is consulting with outside experts to determine what happened to American diplomats in the Havana embassy who returned home with damaged hearing, officials told NBC News on Thursday.
What caused the Americans in Cuba to suddenly begin losing their hearing remains a mystery, intelligence officials said. A range of possibilities are being considered, based on the reported symptoms, and it's not clear whether ultrasonic sound waves were to blame. It could also have been radio waves or even attempted poisoning, one official said.
No single U.S. agency is clearly in the lead on the investigation at this point, according to a senior law enforcement official, although State Department Diplomatic Security is the default lead, because it is responsible for the security of U.S. personnel. The FBI and U.S. intelligence agencies are also involved, as are other government agencies with expertise about potential causes.
Publicly, the State Department has said only that the Americans returned home with "physical issues."
One State Department official confirmed reports that the diplomats were experiencing symptoms of hearing loss, and a Cuban government official told NBC News the Americans had complained of an acoustic "incident."
The State Department has also left open the possibility of a third country being involved. Iran, North Korea and Russia all have a significant diplomatic presence in Cuba.
"We don't have any definitive answers about the source or the cause of what we consider to be incidents," State Department spokeswoman Heather Nauert told reporters Wednesday. She stressed that "we don't know where this came from. We can't blame anyone individual or country as of yet."
She said that there are a "variety of physical symptoms in these American citizens who work for the U.S. government. We take those incidents very seriously, and there is an investigation currently under way."
Cuban officials have denied directing any actions against the diplomats and have launched their own investigation.
"Cuba has never, nor would it ever, allow that the Cuban territory be used for any action against accredited diplomatic agents or their families," the Cuban foreign ministry said in a statement Wednesday. "It reiterates its willingness to cooperate in the clarification of this situation."
Also on Thursday, Canadian officials said one of their diplomats in Cuba was treated for hearing loss.
The Canadian government is "aware of unusual symptoms affecting Canadian and U.S. diplomatic personnel and their families in Havana. The government is actively working — including with U.S. and Cuban authorities — to ascertain the cause," Brianne Maxwell, a spokesperson for Global Affairs Canada, said in a statement.
The U.S. first learned of the health issues toward the end of 2016, more than a year after the U.S. reopened its embassy in Havana.
Nauert said the Americans working in Cuba had returned stateside for "medical reasons."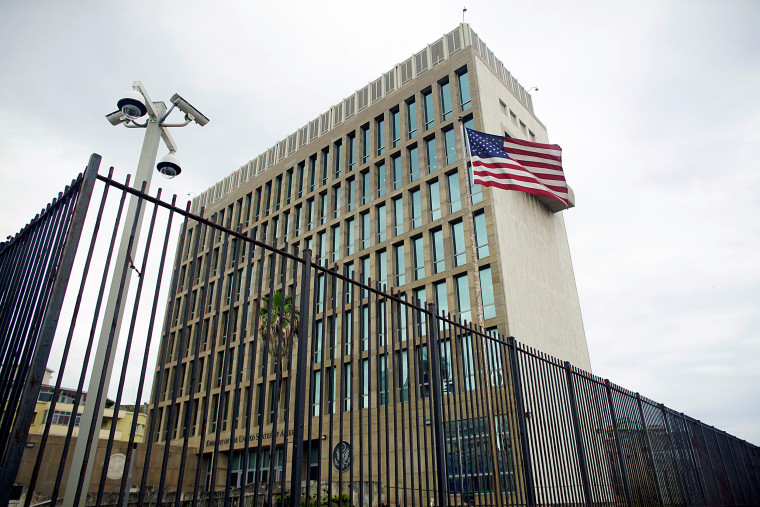 Two Cuban officials in Washington were asked to leave the U.S. in May as a result of the incidents.
The development threatens to set back relations between the two countries, which then-President Barack Obama took major steps to repair. President Donald Trump has undone some of the previous administration's strides, but the U.S. embassy in Havana remains open.
"The Cuban government has a responsibility and an obligation under the Geneva Convention to protect our diplomats," Nauert said. "That is part of the reason why this is such a major concern of ours, why we take this so seriously...in addition to the protection and security of Americans."