A chief political rival of embattled Ukrainian President Viktor Yanukovych was freed Saturday from prison as the defiant leader struggled to hold on to power after protesters seized control of the presidential palace and the parliament voted to remove him from office.
Former Prime Minister Yulia Tymoshenko waved to supporters from a car as she was driven out of the hospital in the northeastern city of Kharkiv, where she has been treated for a bad back while serving a seven-year sentence since 2011.
"Our country can from this day on see the sun, because dictatorship fell," Tymoshenko said.
Parliament members had voted to free her after Yanukovych fled the capital of Kiev a day after announcing a pact with opposition leaders. Yanukovych said he is traveling the country to seek advice and will "do everything to stop the bloodshed" that left at least 77 dead, hundreds injured and nearly collapsed the country into a civil war.
"I am not planning to leave the country," he said in a video televised on local media. "I am not planning to resign. I am a legitimately elected president. I was given guarantees of safety by all the international mediators I worked with."
Yanukovych claimed his car was shot at, but that he didn't fear for his life, denouncing some of the opposition protesters as "bandits."
"I will not sign anything with the bandits who are terrorizing the whole country and Ukrainian people. They are discrediting the country," he said on UBR television.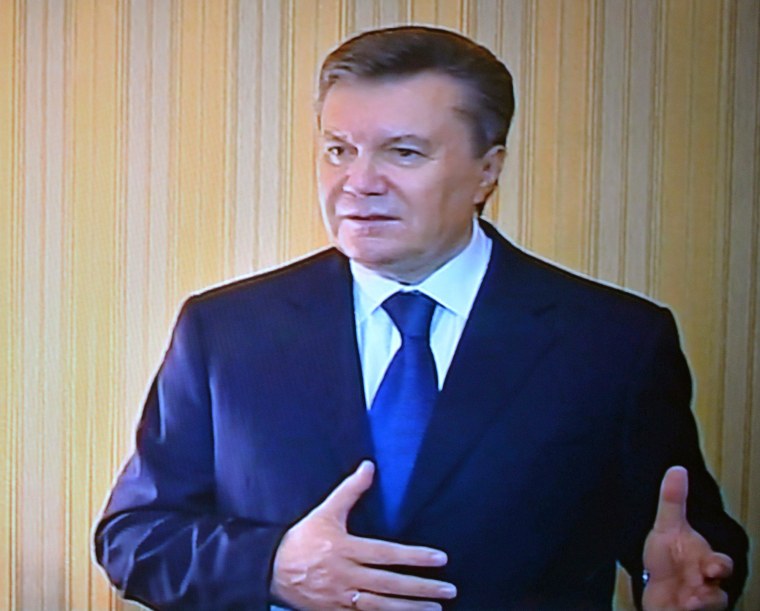 In another strike against the president, the parliament Saturday freed Tymoshenko, who had been imprisoned on charges of abuse of office, which the West had questioned. They also endorsed Oleksandr Turchynov as the new speaker.
The apparent toppling of the pro-Russian looks likely to pull Ukraine away from Moscow's orbit and closer to Europe.
It is also a stark reversal for Russian President Vladimir Putin's dream of recreating as much as possible of the Soviet Union in a new Eurasian Union, in which Moscow had counted on Yanukovich to deliver Ukraine as a central member.
"I will not sign anything with the bandits who are terrorizing the whole country and Ukrainian people."
Members of the Ukrainian parliament, which decisively abandoned Yanukovich after this week's bloodshed, stood, applauded and sang the national anthem after it declared the president constitutionally unable to carry out his duties and set an early election for May 25.
Despite his defiance, the dismantling of his authority seemed all but complete, with his cabinet promising a transition to a new government, the police declaring themselves behind the protesters and his arch-rival Tymoshenko going free.
The newly installed interior minister declared that the police now stood with demonstrators they had fought for days, when central Kiev became a war zone.
At the president's headquarters, Ostap Kryvdyk, who described himself as a protest commander, said some protesters had entered the offices but there was no looting.
"We will guard the building until the next president comes," he told Reuters. "Yanukovich will never be back."
NBC News' Irina Tkachenko and Reuters contributed to this report.