In the latest chapter of the West's confrontation with Russia, President Barack Obama will travel to Estonia on Wednesday to stress U.S. solidarity with the Baltic states, the former Soviet republics rattled by Russian President Vladimir Putin's intervention in nearby Ukraine.
Estonia, Latvia and Lithuania — the trio of tiny nations nestled against the western flank of the Russian Federation — only regained their independence from Moscow in 1991 amid the collapse of the USSR. But as Putin appears to tighten his grip on swaths of Ukraine and the Crimean peninsula, the Baltics fear they may be prey for their former ruler, experts say.
"The turmoil in Ukraine has deeply unnerved the Baltics," James Goldgeier, the dean of the School of International Service at American University, told NBC News. "They feel extraordinarily vulnerable to Putin and they're seeking reassurance from the West."
Obama plans to head to Tallinn, the capital of Estonia, ahead of his scheduled trip to Wales for a NATO summit meeting, where the unrest in Ukraine is expected to be a leading topic of conversation. The White House has said the stop would include facetime with President Toomas Hendrik Ilves of Estonia, President Andris Berzins of Latvia and President Dalia Grybauskaite of Lithuania.
The Baltic states are reeling after Putin's annexation of Crimea in March and Russia's ongoing intervention in Ukraine, reviving calls for troops on the ground and military assistance. The anxiety has struck a nerve: NATO last week dispatched jets to intercept Russian bombers and fighters approaching Baltic airspace. But analysts say the three states have little to fear because — unlike Ukraine — they are members of NATO and therefore protected by the alliance's principle of collective defense, also known as Article V.
"Article V is the heart of the North Atlantic Treaty," Goldgeier said. "It's critical that the alliance be able to make that clear."
Putin is unlikely to wage an all-out military campaign against the Baltics, Goldgeier said. But Russia may hit the former Soviet republics with cyber-attacks and other forms of "soft power."
"The biggest threat at the moment is not an open invasion but so-called 'hybrid warfare,' which encompasses informational warfare, cyber attacks, 'false flag' attacks or attacks with 'plausible deniability,'" Lithuanian political scientist Vykintas Pugaciauskas told Reuters.
The Baltics are also frightened by Putin's claims that he wants to protect ethnic Russians living outside his country — the very justification he gave before invading Crimea, according to Goldgeier.
"Estonia has a significant population of ethnic Russians," Goldgeier said. "And the fear is that even if Putin and Russia didn't engage in any overt aggression, like a military invasion, they could still leverage that population to undermine Estonia's security."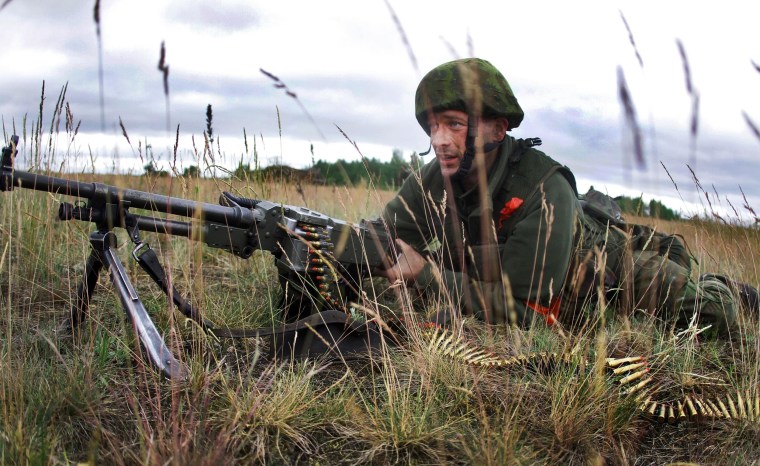 Estonian President Hendrik Ilves has called Russia's apparent incursion in Ukraine "an undeclared war."
And a few leading Western leaders have also criticized Putin's latest moves. In a speech to Parliament on Monday, British Prime Minister David Cameron said the presence of Russian troops on Ukrainian soil is "unjustified and unacceptable."
"Russia needs to understand that if it continues on the current path then its relationship with the rest of the world will be radically different in the future," Cameron said.
Leaders in Kiev, meanwhile, appear to be trying to wrench Ukraine from Putin's grip and move closer to Western security forces and European economic powers.
Ukraine's prime minister, Arseniy P. Yatsenyuk, on Friday announced that a bill had been introduced in Parliament to nix Ukraine's status as a nonaligned country and to "restore its aspirations to become a NATO member."
"This law also reaffirms the main political goal of Ukraine — to become a member of the European Union," Mr. Yatsenyuk said on his Facebook page.
Reuters contributed to this report.