KIEV - Ukraine accused Russian militia of smuggling a convoy of arms across the border Tuesday as a fierce battles continued between Kievs forces and pro-Moscow separatists in the city of Donetsk.
A column of trucks and cars carrying Kalashnikov rifles, rocket-propelled grenades and other explosives was intercepted by border guards in the Lugansk region in the early hours, Ukraine's border security force said in a statement.
Border forces fired at the convoy, which the statement said consisted of "armed militias."
Ukraine said it had recaptured Donetsk airport following an overnight fight with separatists who had seized control on Monday.
The separatists "retreated" and were hiding in nearby homes, "using civilians as human shields," Alexei Dmitrashkovsky, spokesman for Ukraine's anti-terrorism operation, told NBC News on Tuesday.
Amid ongoing clashes, a sports stadium in the city was set on fire.
Ukraine's swift military attack on the separatists came after Moscow said it was ready for dialogue with Kiev's newly-elected president Petro Poroshenko.
The political veteran and billionaire candy factory owner, who looked set for a decisive victory in Sunday's election, firmly rejected any suggestion of negotiations.
"They want to preserve a bandit state which is held in place by force of arms," said Poroshenko. "These are simply bandits. Nobody in any civilized state will hold negotiations with terrorists."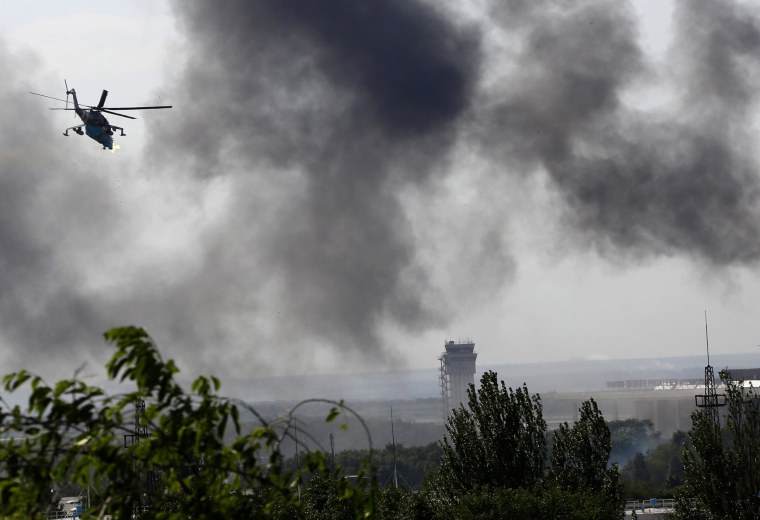 Gunfire and explosions were heard as a warplane flew over the airport. Ukraine said its jets had strafed the area with warning shots and then struck a location where rebels were concentrated, scattering the fighters before paratroops were flown in to face them.
"Fighting continues in the airport, with the use of planes and helicopters," separatist leader Denis Pushilin told Reuters. "It's a full-blown military standoff. I have no information on casualties. Our groups have destroyed one helicopter of the enemy."
The airport serves a city of one million people which rebels have declared the capital of an independent "people's republic", and where they succeeded in blocking all voting in Sunday's election.
Their attempt to seize the airport may have been intended to prevent Poroshenko from traveling there: he has said his first trip in office would be to visit the east.
So far, Ukraine's military forces have had little success against rebels who have declared independent "people's republics" in two provinces of the eastern industrial heartland where about 20 people have been killed in recent days.
Russia's foreign ministry urged Kiev to halt what it called "military operations against its own people" and said it wanted the Organisation for Security and Cooperation in Europe (OSCE) to investigate clashes with pro-Russian separatists in Donetsk.
With 80 percent of votes counted from Sunday's poll, Poroshenko had 54.1 percent of the vote. His closest challenger, former premier Yulia Tymoshenko, had just 13.1 percent and made clear she would concede.
Reuters and NBC News' Alastair Jamieson and CNBC's Craig Moseley contributed to this report.