Vice President Joe Biden called on Russia to pull back its forces from Ukraine's borders and "stop supporting men hiding behind masks" on Tuesday.
Biden also said that Ukraine was in a "struggle for its very future" as the U.S offered a $58-million package to the embattled country.
"We call on Russia to stop supporting men hiding behind masks in unmarked uniforms sowing unrest in eastern Ukraine," said Biden, who spoke at a joint press conference with Prime Minister Arseniy Yatsenyuk in Kiev after the pair met met behind closed doors.
"We have been clear that more provocative behavior will lead to more costs and greater isolation."
Tensions remain at a simmer in eastern Ukraine where pro-Russian separatists have occupied government buildings in at least 10 towns and cities. Biden's talk of Russia supporting masked men was a reference to the claim by the U.S. and Europe that Moscow is backing the groundswell in the East.
Separatists are demanding a referendum to join Russia, following a similar vote held in Crimea last month. The U.S. and Europe said the Crimea vote was illegitimate because of the presence of Russian forces.
President Vladimir Putin has since admitted Russian forces were active in Crimea.
"The White House finally seems to have realized that Russia's word counts for nothing"
Although the U.S. has grown accustomed in recent weeks to talking tough over Russia's actions, London-based analyst James Nixey said Biden's comments represented a shift in U.S. policy.
"The White House finally seems to have realized that Russia's word counts for nothing - that is a change," said Nixey, who is head of the Russia and Eurasia Program at the London think tank Chatham House.
Nixey said that the shift in American thinking was obvious after the U.S., Russia, Europe and Ukraine signed a peace accord in Geneva last week, urging armed groups to give up their weapons and leave occupied buildings.
"Since Geneva, you can see an America which is no longer willing to take Russia at its word," he said. "After those talks Russia has been trying to play nice, and the America of before would have effectively come out saying that it believes Russia and saying, 'Great, diplomacy has worked.' But now that's not happening."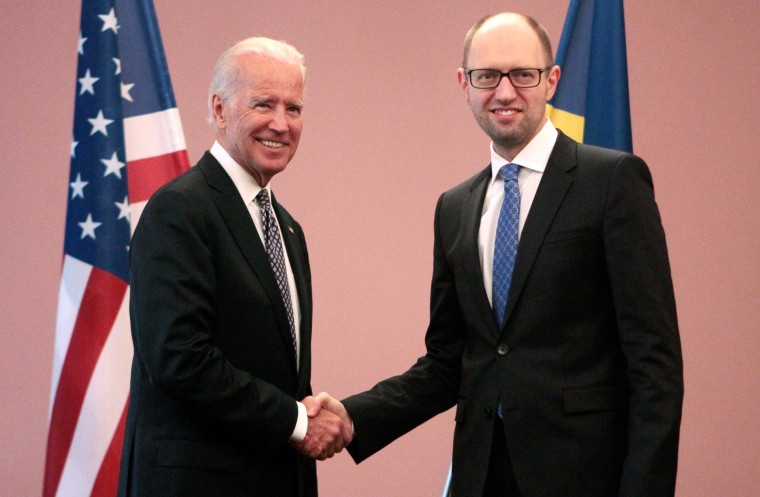 Biden also commented on eyewitness reports that masked men had been handing out leaflets telling Jews to register with pro-Russian separatists. The vice president said there was "no place for anti-Antisemitism or bigotry."
During the visit, Biden pledged $50 million towards political reforms in the country and said that "the United States supports a strong united Ukraine."
The package included $11 million to help with the presidential election on May 25. The U.S. said it would also provide $8 million in non-lethal aid such as bomb-disposal equipment, communications gear and vehicles.
Earlier, Biden told an assortment of Ukrainian political leaders that the United States would stand by them against "daunting problems" and "humiliating threats," hinting at combative rhetoric from Moscow.
Moscow has massed tens of thousands of troops on the Ukrainian border, and approved legal amendments to make it simpler for Russian speakers in ex-Soviet countries, such as Ukraine, to gain Russian citizenship.
Even before these latest developments, it looked unlikely that the Geneva deal would be enforced. Right after it was unveiled, pro-Russian separatists in the East said they would not leave their positions until the Kiev government, which they deem "illegal," left office.
The situation was made worse Sunday when three people were killed during a shootout at a pro-Russian checkpoint.