A newspaper controlled by China's ruling Communist Party criticized the United States and the West on Thursday for what it called their "Cold War mentality" towards Russia over Ukraine.
The People's Daily, one of China's top-selling newspapers, condemned what it viewed as attempts by Washington and Europe to shape the Ukraine's future following the ouster of its Kremlin-backed President Viktor Yanukovych last week.
"The theories related to politics, economics and security during the Cold War period are still influencing many people on their concept of the world, and some Western people are still imbued with resentment towards Russia," Reuters translated the paper as saying.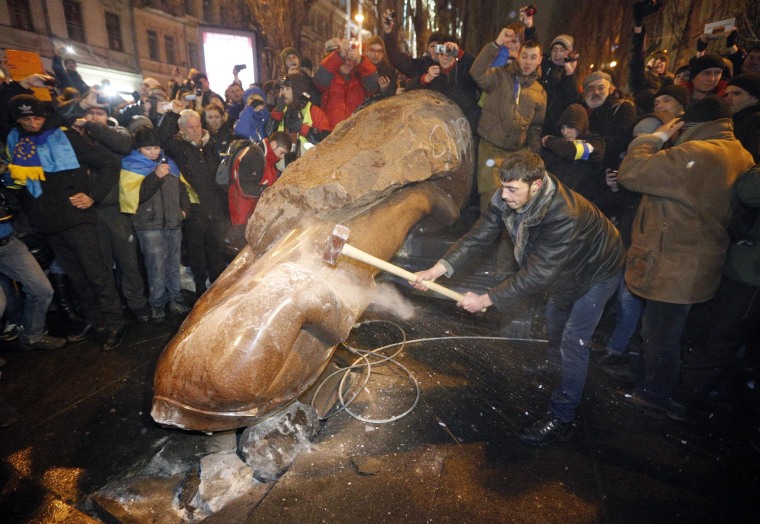 The People's Daily has been under the control of the Communist Party of China since it was founded in 1948 and Thursday's article was written under the name "Zhong Sheng," which means "Voice of China."
It called on Western countries to "abandon their outdated thinking" and focus more on cooperation.
"Ridding the shackles of the Cold War mentality will reduce unnecessary confrontation, thereby allowing for a smoother transition in international relations," it said.
Yanukovych fled Kiev having made concessions to his political opposition on Friday. He had endured months of protests by demonstrators who were angry at Russia's influence over the Ukraine.
Ukraine is now being ruled by an interim government sympathetic to the West. Russia has responded by denouncing this administration as an illegitimate coup by "extremists" and organizing military drills on its border with Ukraine. This has exacerbated fears of a growing separatist movement in the Russian-speaking region of Crimea, in southern Ukraine.
Last year, China and Russia congratulated each other on what they called "coordinated decisions" in stopping a U.S.-led military strike on Syria. Chinese President Xi Jinping said at the time that his nation and Russia "are cooperating very closely to resolve urgent and acute international and regional issues."
Reuters contributed to this report.