The leaders of Ukraine's Crimea region further distanced themselves from last week's regime change in Kiev by announcing plans Thursday to hold a referendum on its political future.
A Black Sea peninsula attached to the rest of Ukraine by just a narrow strip of land, Crimea is heavily influenced by Moscow and support was limited there for the anti-government movement that swept across the country. Separatist sentiment has stoked fears that an east-west split could trigger a civil war.
"Ukraine is sliding towards total chaos, anarchy and economic catastrophe," said Oksana Korniychuk, press secretary for Crimean parliament president Volodymyr Konstantinov.
"Following the basic principles of democracy, the president of Crimean parliament believes the only possible way out of the situation is to apply the principles of direct democracy," Korniychuk's statement added. "We are sure that only conducting an all-Crimean referendum on the issue of improving the status of the autonomous republic and broadening of its authority will allow the Crimeans to determine the future of the autonomous republic without any pressure."
Crimea is Ukraine's only region to feature a Russian-speaking majority.
After days of clashes between pro-Russian and pro-West demonstrators, armed men seized the government headquarters and parliament in the Crimean city of Simferopol on Thursday and hoisted the Russian flag above the building.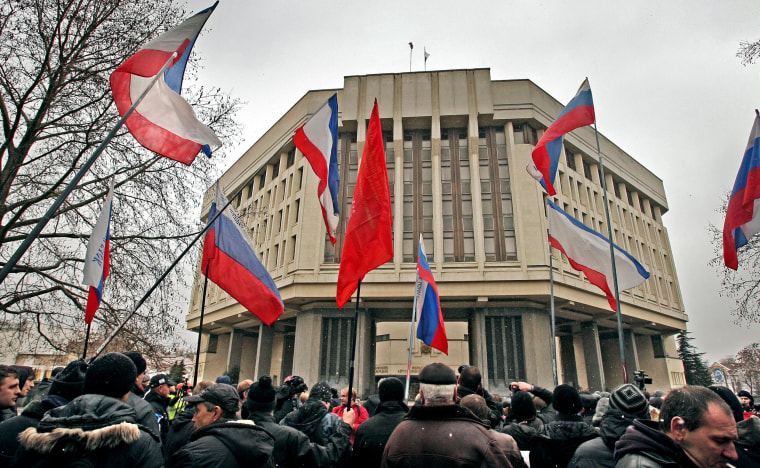 Russia has also launched military drills over the border and Ukraine's interim leader warned Moscow to keep its troops confined to their naval base in Crimea. NATO's secretary-general also urged Russia to avoid taking "any action that can escalate tension."
Ukraine finds itself at the center of a tug-of-war between Russia and the European Union but Secretary of State John Kerry has insisted the country's future is not about "east versus west."
Reuters contributed to this report.