SIMFEROPOL, Ukraine — After weeks of lingering on the margins, pro-Ukrainian Crimean protesters came out in force Saturday in their first sizable demonstration since the peninsula's parliament passed a controversial request to be folded into the Russian Federation.
About a hundred protesters waving Ukrainian flags, chanting "Glory to Ukraine!" and occasionally breaking out into stilted versions of the Ukrainian national anthem marched through the Crimean capital, Simferopol, on an overcast afternoon.
Along the way, they marched through a city park and stopped at a Ukrainian military base where soldiers handed flowers out to the women in the protest — a nod to today's celebrations of International Women's Day.
The protesters encountered no violence during the march, with groups of pro-Russian supporters conspicuously absent for much of it. The situation became tense though, when the demonstrators marched within a 100 feet of Crimea's parliament, where pro-Russian self-defense units and Cossacks linked arms and braced themselves to keep the demonstrators out of the compound.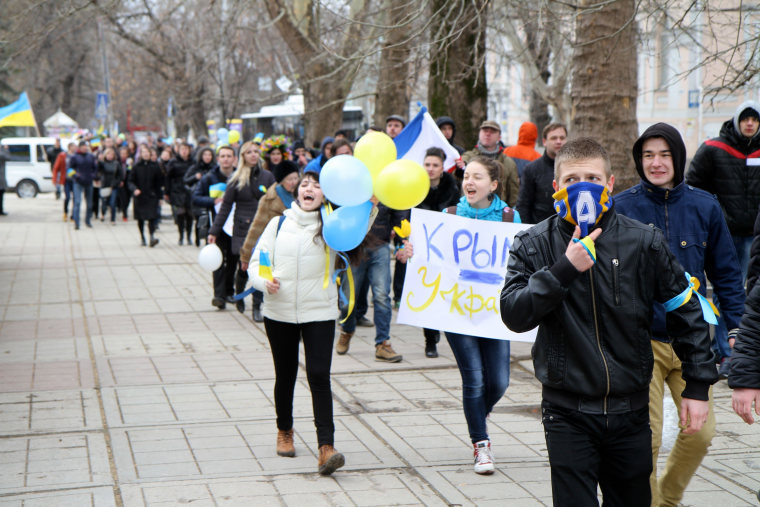 But the demonstrators marched right by the parliament, their cheers and chants nearly drowned out by catcalls and chants of "Russia! Russia!" by the pro-Russian factions.
Pro-Russia hecklers later gathered at the end of the march, barking at demonstrators to "go back home to your broken city, Kiev," among other expletives.
"From our side, we're going to protest and show the world not everyone in Crimea supports Russia," said Ismail Ismailov, 25, a small-business owner in Simferopol and a protest organizer. "Actually, I think it's only a small part of Crimea that actually supports reunification with Russia — it's just that faction is much louder and that's why there is a feeling that Crimea is Russian."
Asked whether he or the other demonstrators that day would participate in the controversial March 16 referendum on the future of Crimea, which the Ukrainian government has denounced, Ismail said absolutely not.
"We're boycotting the referendum because the international community doesn't accept it and we don't accept it as well. It's unconstitutional and blatantly illegal," he said.
That was a sentiment shared by a 16-year-old student from Simferopol who also marched Saturday.
"Crimea is Ukraine and we don't want any war with Russia," said the teen, who only gave her name as Anna. "Russia is our brother and we don't want war with them. But I want their troops to stop their intervention and leave, and for Crimea to stay Ukrainian and free."